Articles
| American Ensemble
Lisa Parrott:
Returning to Joy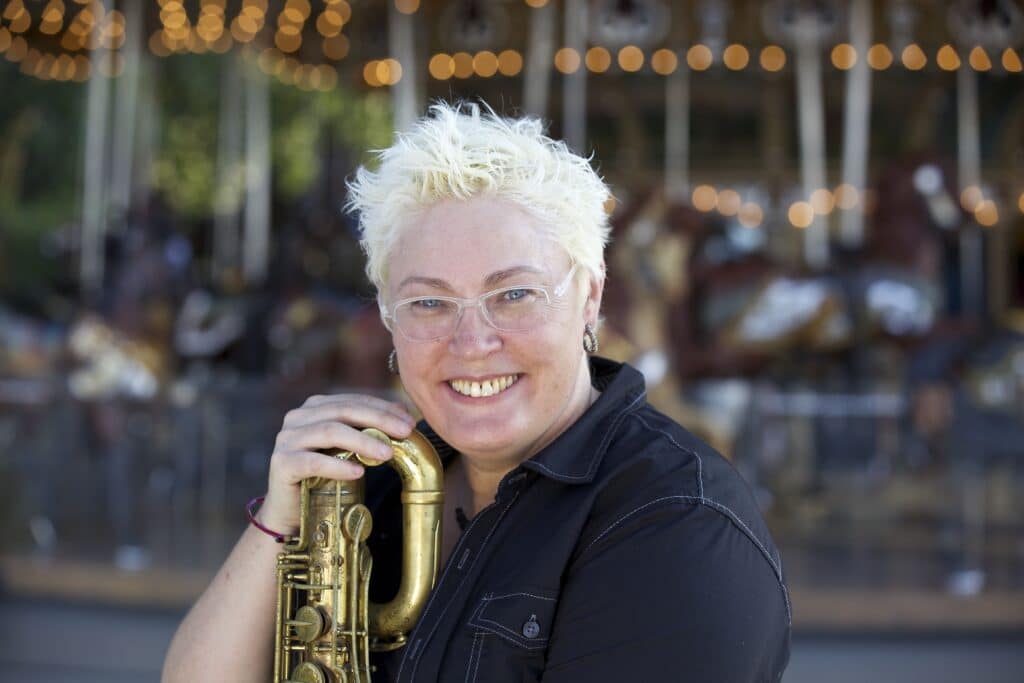 Alto and baritone saxophonist Lisa Parrott was already problem-solving one dilemma when New York City issued its March 2020 stay-at-home order: "I bought a whisper booth in December 2019 because neighbors were complaining about noise," she says. It became nearly impossible to find the same equipment once the reality of pandemic isolation sank in. Parrot's fellow musicians had to scramble to create similar setups as they navigated the sudden transition to working and teaching from home. 
Parrott and her wife lived in Brooklyn's Windsor Terrace neighborhood during the peak of New York's Covid-19 crisis. "We locked down very hard," she says; near-constant ambulance sirens became their new soundtrack. To cope, Parrot dove headfirst into new skills. She taught herself to use Logic Pro and the video editing program Final Cut, and produced a series of Covid-19 music parodies with her wife. "Think, David Bowie's 'Life on Mars,' but it's 'Life Post-SARS-CoV-2," she says. 
Still, these projects hardly filled the gap left by the sudden decimation of Parrott's performing career. "Surviving with teaching and videos doesn't get to the core of who I am," she says, "which is improvising with other musicians, in front of an audience that's there in the moment." Her instinct to try and keep up pre-pandemic levels of activity as a coping mechanism didn't quite work. "Putting something out, even if it's silly, was my way of dealing. But I have half-finished projects everywhere." 
A year-plus later, the base-level of anxiety, as Parrott describes it, is starting to lift. She's looking around at the projects that were shelved during Covid-19, as well as newly-forged connections. "I'm playing with a New Orleans-style brass band," she says, "and there's so much joy even though we're just getting together to rehearse." Parrott recently played her first gig since 2020, and words fail her when she tries to describe the feeling of performing live with other musicians. "I don't recall being that happy for a gig, ever," she says. "There was such a sense of relief. I had so many doubts during lockdown and wondered if we would ever play again. I want to keep that memory and feeling of joy to draw upon."
Parrott's spirts are further buoyed by an upcoming recording project. "We Love Ornette" is a new name for her multi-decade study of Ornette Coleman's harmolodics—now aided by artist-educator Denardo Coleman, who joins her via a CMA Performance Plus grant. "I've never really done harmolodic recording with more than one or two horns," Parrott says. "This project has four horns, and that's a big difference." Parrot is joined by longtime collaborators bassist Chris Lightcap and drummer Alison Miller, alongside Kirk Knuffke on cornet, Jeff Lederer on tenor sax and clarinet, Curtis Hasselbring on Trombone, and Kenny Wessel on guitar, with a demo recording planned for early 2022.  
This July, Parrott holed up in an Australian hotel room for a mandatory two-week quarantine prior to a long overdue reunion with family. Even with that reminder that Covid-19 remains a global threat, she couldn't help feeling optimistic as she worked on "We Love Ornette" compositions. "It's been forever since someone rehearsed something I'm leading," she says. "I can't wait to hear the music."