Articles
| American Ensemble
Duo Violão Plus One:
No Limitations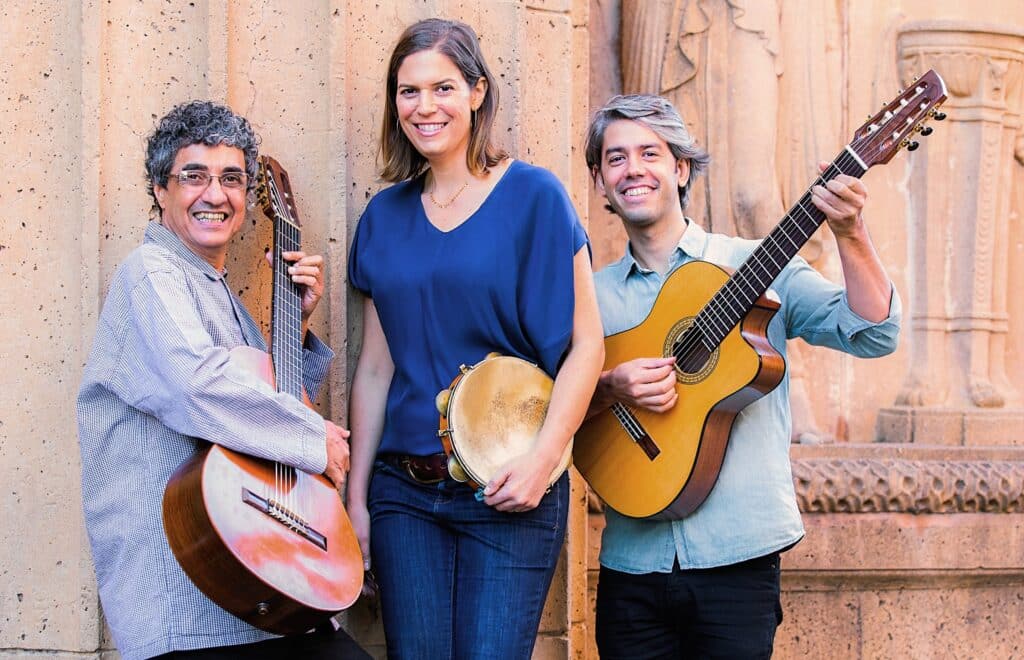 The Portuguese word "choro" means "to cry"—a seemingly unlikely title for the uptempo style of Brazilian instrumental music to which it refers. Though not its best-known musical idiom, choro is one of the country's oldest forms of popular music, dating back to the mid-19th century, when classically trained musicians in Rio began to play art music with the rhythmic sensibility of Afro-Brazilian popular and folk music. It came into its own as pop music in the early 20th century and, following a period of commercial decline, underwent a creative rebirth over the past several decades; today, music termed "choro" can resemble, at turns, samba, polka, New Orleans jazz, baroque classical music, and bluegrass. 
Though its roots are in Rio, the style has found second homes in other parts of the world, including in the Bay Area. This is where Duo Violão Plus One formed: a collaboration between guitarists—or "violao" players—Rogério Souza and Edinho Gerber and San-Francisco-based percussionist Ami Mollenelli. Part of a well-known musical family in Brazil, Souza has been a staple of Rio's music scene since the late 1970s, helping to innovate the "choro novo" style that combined traditional repertoire with original compositions and a jazzier musical vocabulary. Gerber is a younger guitarist from Niterói, Souza's hometown near Rio, who operates alternately out of Brazil and around the United States; the two began playing together roughly a decade ago before adding the San-Francisco-based choro acolyte Molinelli to their lineup in 2016.
The trio has built a reputation for their intimate and unconventional performances, which aim to preserve choro tradition while employing a freewheeling, genre-agnostic approach. Forming a guitar duo to play this music is provocative in itself, since choro ensembles are traditionally based around a lead flute, clarinet, or other wind instrument. "Two guitar players throwing it back and forth promotes the idea of accessibility," Gerber explains. "You can play [choro] with whatever instruments. You don't have to feel constricted."
The unit's 2019 debut LP A História do Choro offers a tour through the evolution of the genre, driven by complex syncopation, florid counterpoint, sophisticated harmonies, and a playful sense of musical conversation. Their live sets are frequently organized chronologically, roughly tracing choro's genesis. With their approach, the group hopes to correct prevalent misconceptions about the genre—namely, that it is inherently a classical style. In reality, choro's seminal figures came from a wide variety of musical, ethnic, and economic backgrounds in Brazil.
"You have composers who were steeped in the conservatory setting who wrote this music, and those who learned it by ear and by apprenticeship," Molinelli explains. "With choro, there's an ability to leave and come back to [the classical guitar tradition] pretty fluidly. It's really unique and hard to fit into a category here in the U.S."
From their instrumentation to their repertoire to their choice of performance settings, Duo Violao Plus One is using every tool at their disposal to illustrate that choro is far from a hermetic tradition. For Molinelli, it is widely appealing music that can teach players from all backgrounds something new about their own area of specialty: "There was a great t-shirt I saw once in Brazil that said, 'If you can play choro, you can play anything.'"