Articles
| American Ensemble
Steve Swell:
Still Searching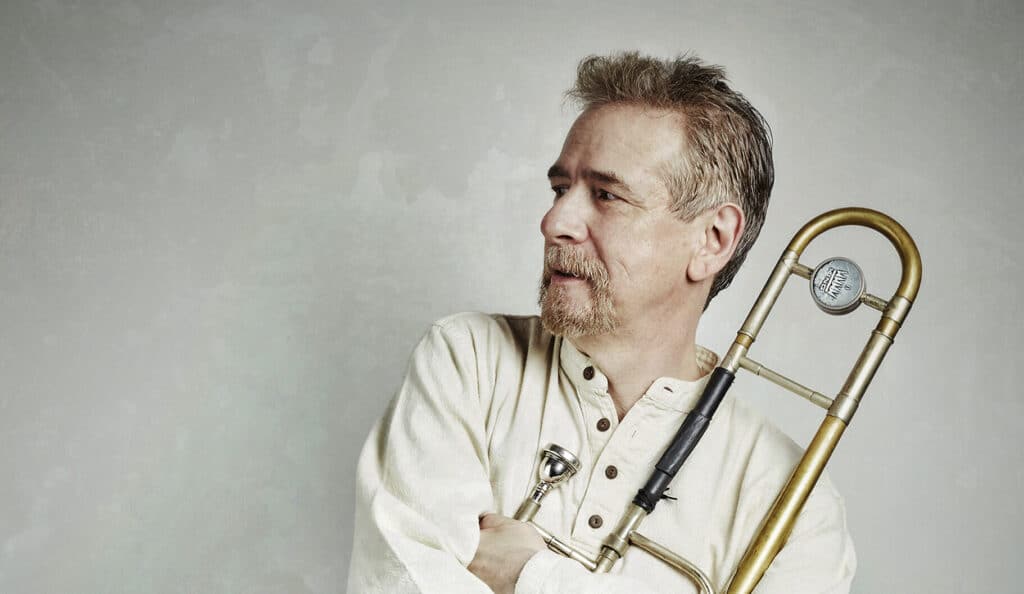 Trombonist and composer Steve Swell has been a fixture on the New York City free improvisation scene since the 1970s. Growing up in Newark, NJ, the 67-year-old cut his teeth playing salsa, R&B, big band music, and in Broadway pit orchestras while finding his identity as a jazz player and composer.
"I'd go out and see Cecil Taylor play at night, and then see Dizzy Gillespie play a concert at Grant's Tomb," Swell recalls. "I'd see Chet Baker. It was all available. It was totally normal to like all those things in the '70s."
His career-long love affair with music at the periphery of what is considered "jazz"—what he and others call "creative music"—has inspired him to travel the world, learning the musical parlances of European improvisers like Evan Parker and Paul Rutherford as well as his innumerable hometown colleagues and heroes: Roswell Rudd, Ken McIntyre, Tim Berne, Joey Baron, and more.
This many decades into his career, Swell's discography is almost unquantifiable; outside of his work as a sideman, his recordings as a bandleader are in the dozens. Their stylistic purview and performance forces range widely, from duos to a few staple free-jazz quartets and quintets (Slammin' the Infinite, Fire Into Music) to mini-jazz-orchestras like Nation of We. Across these projects, Swell has regularly returned to a select group of core collaborators, helping him to become an expert in an Ellingtonian, improvisation-heavy compositional model that keeps its players firmly in mind.
"I began to think 'who are the musicians I like? How do I set up a band and music that doesn't stifle them or make it really complicated for them to read?' That comes from trusting what those players are going to bring to their music."
In the past decade, Swell has pushed beyond his comfort zone as a writer with a trio of acclaimed albums paying tribute to 20th-century classical composers. The first of these releases, each commissioned by Swedish label Silkheart Records, was 2015's Hommage à Bartók, featuring Swell's free-bop quintet Kende Dreams; 2018 saw the release of a strings-infused exploration of Messiaen; and a tribute to Luciano Berio's serialist and collage-and-quotation compositional approaches came late last year. 
Thanks to the creative pathways opened by the Silkheart commission, Swell has grown more interested in composing more involved works that aren't as tethered to the abilities of specific performers. As to where he might go next, he seems interested in the work of Galina Ustvolskay ("She's got these things on the piano where she's just banging, but it's got a rhythm. It's so out there, it's so original.") and has written a 10-trombone work in tribute to Julius Eastman he hopes to mount soon.
Still, Swell's focus and comfort zone remains in the world of improvisation, and he's still hungry to expand his vocabulary and spread his belief in the healing power of musical spontaneity. In a poem highlighted on his website, he expands his musical ethos into a life credo: "This is the lucidity of the immediate/The arrival of living."