Articles
| American Ensemble
Delgani String Quartet:
Close to Home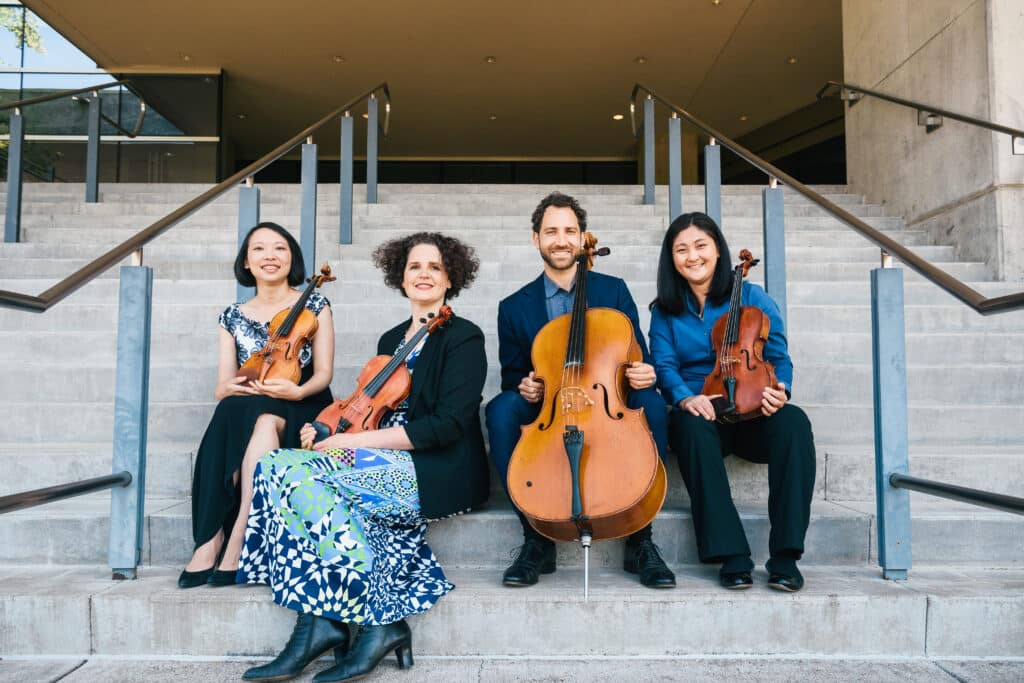 Touring constantly, flying from gig to gig, staying in stranger's homes and nameless hotels. Or driving up and down scenic I-5 from Portland to Eugene, sleeping in your own bed every night, performing for audiences that have become friends.
Most professional ensembles don't get the choice, but the Delgani String Quartet has made Oregon their performing universe. "We're homegrown, running everything ourselves," says co-founder, executive director, and former violinist Wyatt True. "We stay very much in touch with our base. They keep coming back, and it's more like family."
Founded in 2014, the quartet performs about two dozen concerts a year, with audiences in Corvallis and Salem as well as Portland and Eugene. The quartet now includes violinists Anthea Kreston and Jannie Wei, violist Kimberlee Uwate, and cellist Eric Alterman.
True's departure as a performing member in 2021, followed by the addition of Kreston, has the potential to raise Delgani's profile. Kreston joins after a stint with the Germany-based Artemis Quartet, which toured and recorded prolifically before disbanding last year. Kreston was also a regular contributor to the classical music blog Slipped Disc, documenting her life as an American musician in Berlin in a popular weekly column.
"We don't travel to any festivals," True says, "but that might change now that we have this hotshot first violinist."
Thompson, a tenor, accompanies as well on historical harp. He was joined by soprano, bass, and countertenors on Concordian Dawn's first release, Fortuna Antiqua et Ultra (MSR Classics). The group will do a short tour to California this summer to support both recordings. "We've never gone on an airplane tour," Thompson says, but Concordian Dawn has sung extensively in New York and Philadelphia, and had a tour with Gotham Early Music Scene planned for March 2020. "Right when we went to lockdown," Thompson says. "I ended up doing a solo concert from my living room."
The group stayed active with the From Aristotle to Opera recording project during the hiatus. "We were fortunate that we were able to work on it," Thompson says. "It fed my soul as everything was closing and canceling."
Thompson's own path led from Iowa, where he completed a master's—"my focus then was modern and British crossover rep"—to New York in 2006. "I started getting early music gigs," he says. "It was the best possible turn of events. I threw myself into it. And the more I did, the more I kept moving back in time. 
"New York is always competitive," he says. "But it's not the kind of environment where we tear each other down to get gigs.
"I saw a colleague accompanying on harp, and so I got one of those. It was a 'learn by doing' situation. My curiosity kept growing, and I filled in some of the gaps and kept the wheels turning." This eventually led to a blend of rich scholarship and engaged performances.
"I love early music, and I fell in love with it by doing it," Thompson says. "With troubadour and trouvère songs, that is where my soul really sings. It brings out the best of me as an artist." 
For this season, Delgani remains focused on its Oregon base. The pandemic forced the quartet, like most, to limit audience size and explore livestreaming. But the core mission remains solid.
"Adapting to the times is more about adapting to audience needs," True says. "Livestreaming; being socially safe at performances. We try to stay relevant. If we had an agent, and did lots of traveling, I don't think it would be the same."
This season's programs feature compositions by Reza Vali, John Luther Adams, Elena Ruehr, and Gabriela Lena Frank. Recordings have featured composers with Oregon ties, like Paul Safar, Lou Harrison, and Terry McQuilkin. 
Delgani's concerts are always a blend, mixing contemporary works with other corners of the repertoire. "Contemporary repertoire should be played all the time, but that shouldn't be the focus," True says of his programming choices. "We are responding to the moment, but I wouldn't talk about that in terms of repertoire. Our audience trusts our choices."
Delgani's audiences do have a penchant for studying the works with the musicians. The quartet members each record 90-minute virtual seminars—cellist Eric Alterman's "Hidden Gems of the 20th Century" is the most recent.
"It's very popular," True says of the series. "And when we present something like a Ligeti quartet in concert, we put it by itself on half of the program, and take 20 minutes to introduce it."
A future tour might actually happen. "There are some things in the works, not quite clearly thought out," True says. "Anthea has tons of connections, and that might move us along. We'll sit down and figure out where we want to be in five years."