Articles
| American Ensemble
Annette A. Aguilar:
Keeping It Interesting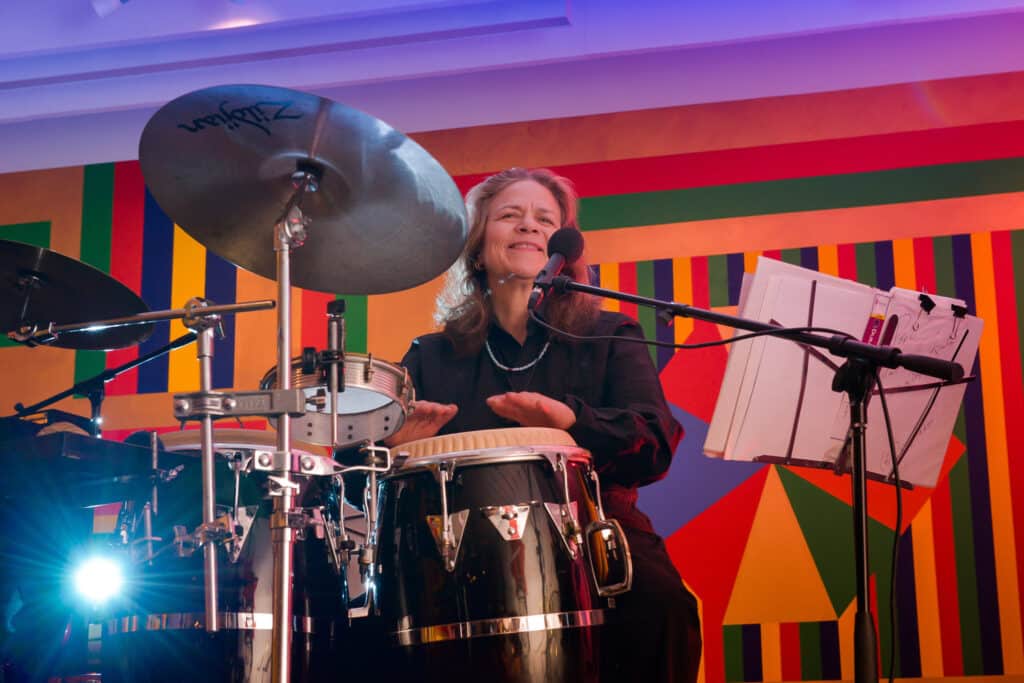 "As musicians, we go to school to get a gig," says Annette A. Aguilar. "But then there's another school that I grew up with, which is: get your own band together, get gigs. It's great to be hired by someone else and all that, but when you have your own band, you get your own gigs, you don't wait for anybody!"
Aguilar knows both paths well. The New York-based percussionist, bandleader, and educator holds two master's degrees, the first in classical percussion from Manhattan School of Music and the second in music education from the City University of New York. Since moving from San Francisco to New York City in the '80s, Aguilar has maintained a footing on both coasts while residing in Inwood. She's played on Broadway and toured with the companies of multiple shows, been a member of classical and experimental orchestras on both coasts, toured with the Grateful Dead, and worked countless union club dates. 
While holding down these gigs, Aguilar formed her own group, Annette A. Aguilar and String Beans, "to create some music that I wanted to play, which is Brazilian music and Latin jazz and some kind of son." She chose to write and arrange for strings, including violins, piano, guitar, and harp. Since 1992, "the band was working all the time, even when I wasn't available," she says. "Even if I was on the road, I would book the gig, I'd have a sub there. I didn't want to put them out of work, so I'd just book it and let them play!"
It is exactly this kind of flexible attitude that has brought Aguilar through the trials of 2020. Before the pandemic, she was juggling a super-human schedule: teaching music at five schools in the Bronx and Upper Manhattan, while also playing with an experimental Caribbean-oriented orchestra, The Association of Dominican Classical Artists; rehearsing for a concert at Lehman College with Michele Rosewoman; preparing to present her own Women in Latin Jazz Festival; and getting started with Arturo O'Farrill's BronXBandA project through Casita Maria Cultural Center.
Last March, when Aguilar lost most of her engagements, she quickly adapted to remote teaching and began performing livestreams with her group and the BronXBandA. "We started meeting through Zoom and figuring out what we were going to do, and how we were going to do this," Aguilar recounts. "I started doing that stuff with my 8th graders, too. 'Just take your phone, make a beat, recite a poem.' I was doing all kinds of stuff, it was crazy." 
For Aguilar, flexibility and pragmatism are the way forward. "If you have a computer and phone, you gotta make it happen! You have to find a way! I mean, sure, I want to sit around and play Villa Lobos on the marimba all day, but … since the pan' hit, it's all about educating ourselves.
"I've been taking courses and diving deep into tech. I've been making it a point to have at least an hour of a certain practice every day, in the morning," she says. "I keep finding different ways to keep it interesting!"