Chamber Music America to Grant Over $1.1 million in 2020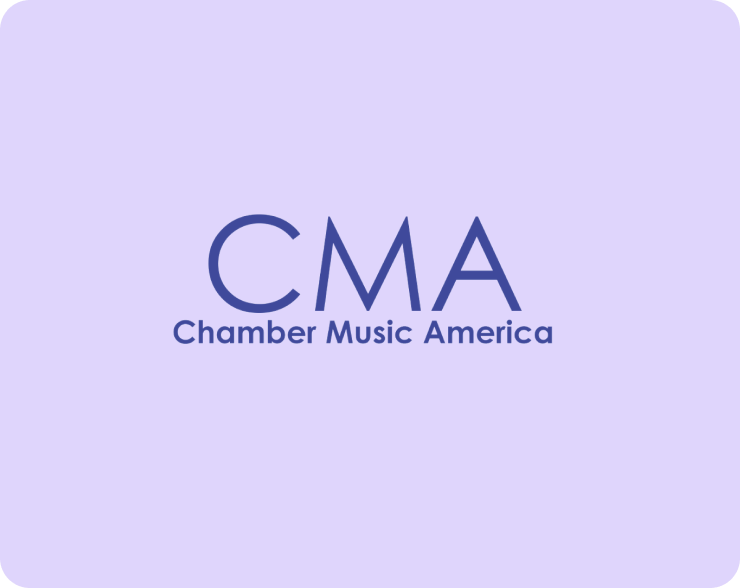 New York, NY (August 15, 2019)—Chamber Music America (CMA), the national network of ensemble music professionals, today announced that it would award over $1.1 million during its 2019-2020 programming year. In the organization's 42-year history, this will be the largest sum distributed in a single year. Grants ranging from $6,000 to $37,000 will provide funding for creating new work, presenting, performing, recording, community-based residencies, and professional development for ensembles.
This year, with the addition of two new programs, CMA will help to strengthen and support ensembles at pivotal stages of their development. Performance Plus will pair female-led jazz ensembles with veteran artist-educators, and Ensemble Forward will provide unique opportunities to young western-European classical and contemporary ensembles based in New York City.
"We are so grateful to our funders for giving CMA the opportunity to support the small ensemble music field, which is driven by the most creative, innovative, and socially-conscious artists of our time," said CMA's Chief Executive Officer, Margaret M. Lioi. "It has been a goal to reach the $1 million grantmaking mark, and we hope to sustain it for years to come. The world needs artists now more than ever, and we look forward to seeing and hearing the work that these grants will make possible."
Both new programs are currently accepting applications; the Performance Plus application deadline is Friday, August 23; Ensemble Forward applications are due Friday, September 27.
CMA's six grant programs for 2019-20 are:
The Classical Commissioning Program, funded by the Andrew W. Mellon Foundation, provides grants for the commissioning and performance of new works by American composers to professional U.S.-based presenters and ensembles whose programming includes Western European and/or non-Western classical and contemporary music.
New Jazz Works, funded by the Doris Duke Charitable Foundation, provides grants to U.S.-based jazz ensembles to create, perform, and if desired, record new works.
The Residency Partnership Program, funded by the Chamber Music America Residency Endowment Fund, supports professional ensembles and presenters in building audiences for classical, contemporary, and jazz chamber music through residency projects in community settings beyond the concert hall. This will be the final year of the program in its current configuration. The restructured residency program will be launched in FY2021.
Presenter Consortium for Jazz, funded by the Doris Duke Charitable Foundation, provides support to consortiums of three U. S. presenters that collectively engage professional U.S.-based jazz ensembles to perform at each presenter's venue.
Performance Plus, funded by the Doris Duke Charitable Foundation, supports U.S.-based female-led jazz ensembles by engaging with an experienced jazz artist-educator for six evaluative listening sessions with the goal of enhancing the ensemble's performance. The listening sessions will culminate in a recording session resulting in a high-quality demo for use by the grantee ensemble.
Ensemble Forward, funded by the New York Community Trust is an initiative to support young New York City-based ensembles that perform Western European classical and contemporary chamber music at a crucial time in their career development and to help them navigate an increasingly competitive cultural landscape.
Chamber Music America is grateful to its funders, who make these grant programs possible:
The Andrew W. Mellon Foundation, The Doris Duke Charitable Foundation, and the New York Community Trust.
Chamber Music America, the national network for ensemble music professionals, was founded in 1977 to develop, support, and strengthen the chamber music field. With a membership of nearly 6,000, including musicians, ensembles, presenters, artist managers, educators, music businesses, and advocates of ensemble music, CMA welcomes members representing a wide range of musical styles and traditions– including western and non-western classical, contemporary, jazz, and evolving genres. CMA provides its members with grant programs, consulting services, a national conference, professional development seminars, access to instrument and other insurances, and several publications, including Chamber Music magazine; the weekly Accent e-newsletter; and a member-driven website.
The mission of the Doris Duke Charitable Foundation is to improve the quality of people's lives through grants supporting the performing arts, environmental conservation, medical research, and child well-being, and through preservation of the cultural and environmental legacy of Doris Duke's properties.
The Andrew W. Mellon Foundation seeks to strengthen, promote, and defend the centrality of the humanities and the arts to human flourishing and to the well-being of diverse, fair, and democratic societies. To this end, our core programs support exemplary and inspiring institutions of higher education and culture.
A public charity,The New York Community Trust is a grantmaking foundation dedicated to improving the lives of residents of New York City and its suburbs. The Trust brings together individuals, families, foundations, and businesses to build a better community and support nonprofits that make a difference. The Trust applies knowledge, creativity, and resources to the most challenging issues in an effort to ensure meaningful opportunities and a better quality of life for all New Yorkers, today and tomorrow.