Meet the Grantees: InfraSound
One of CMA's 2023 Ensemble Forward grantees, InfraSound is a promising force in the field.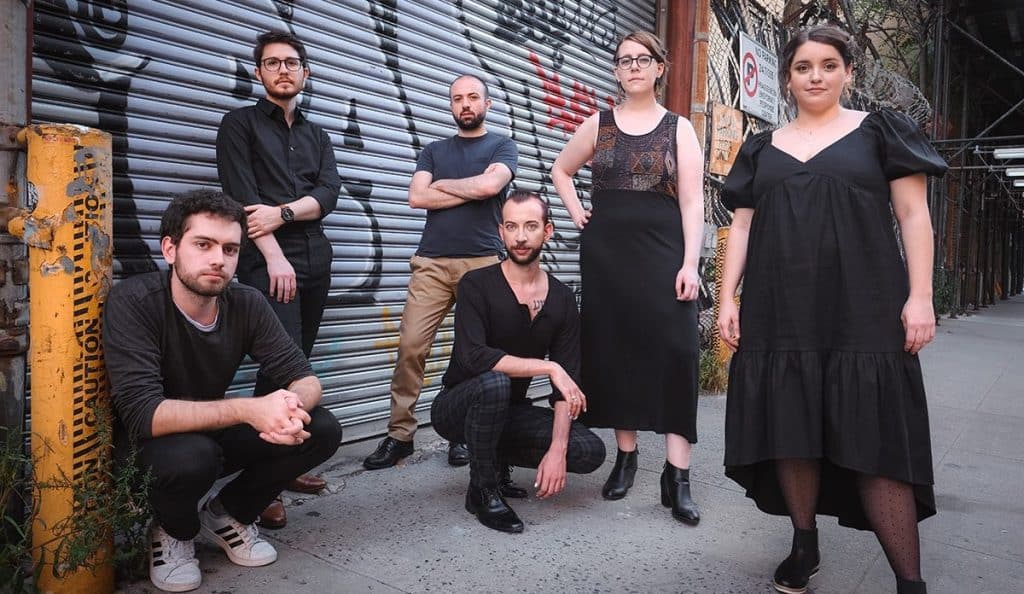 Gathered in a small Manhattan School of Music room in 2019, six members of the school's contemporary performance program dreamed of their ideal music ensemble. As they neared graduation in 2020, the students prepared for a debut concert that spring under the name InfraSound—yet the pandemic had other plans.  
Three years later, InfraSound has found their footing as a chamber music ensemble, becoming one of New York City's most promising groups of young artists. This season, InfraSound was awarded one of Chamber Music America's 2023 Ensemble Forward grants, a program designed to support emerging ensembles through mentorships, career coaching sessions, and financial support. The group has been working with composer Darian Donovan Thomas. 
In time for applications for the 2024 Ensemble Forward program, CMA staffer Ben Schonhorn caught up with Yoshi Weinberg, InfraSound's Artistic Director, to hear more about their work and experiences as part of the Ensemble Forward program.  
CMA: InfraSound formed at a challenging time. How did you make it work?  
YW: For the first year of our existence, we were not able to be in the same room together and, as a result, had to become creative with how we were going to produce concerts. Instead of in-person events, we released weekly concerts that became our InfraSonic series, debuting new works recorded in isolation, editing them together, and publishing them on our YouTube page. We also curated an InfraSolo series, highlighting each of our founding members in solo performances. In all, we produced 14 videos that premiered during April and May of 2020, with two EPs released on Bandcamp.  
BS: As part of the Ensemble Forward program, you've been working with a coach, Darian Donovan Thomas. What's been a highlight?  
YW: Darian is our ideal coach. He paints with the many colors of the rainbow and, as we are a majority queer ensemble, his music speaks to us through its proud and unapologetic form of self-expression. We are excited to create a new work together and look forward to the challenge of this unique opportunity: workshopping a completely new, never-before-heard composition created specifically for InfraSound. 
BS: Can you share a sneak peek of what you're working on with the 2023 Ensemble Forward grant? 
YW: There will be an album released at the end of summer/early fall 2024—an album full of queer magic, noise, music, and love. 
BS: Here's a fun one: You can only listen to one album for the rest of 2023, which album is it and why? 
YW: It's so hard to choose just one! Here are our top picks: Bon Iver's i,i, FKA Twigs's Magdalene, Owen Pallett's He Poos Clouds, and Joanna Newsom's Have One on Me. Speaking of Joanna Newsom, FKA Twigs, and Owen Pallett, you can hear us perform new arrangements of their music live at our InfraPop concert next spring!   
BS: Do you have a dream performance venue? 
YW: InfraSound is so very lucky to be able to call our dream performance venue "home." Last season, we began working with The LGBT Center in Manhattan and have presented four unique concert experiences—we're even opening our 2023-2024 season there on November 11. We feel so lucky for the chance to create work in a flexible performance space that fits our unique needs as a chamber music collective, fostering connections and community with our LGBTQIA+ family. 
BS: What advice do you have for ensembles applying for CMA grants? 
YW: Be true to your vision and mission. Create the work that YOU want to see in the world, and don't follow the same paths as others. Forge new ones! 
BS: Final question, just for fun: If InfraSound were a sandwich, which would you be and why? 
YW: A rainbow bagel sandwich with strawberry cream cheese: unique, colorful, and most importantly, very fruity! 
Learn more about CMA's 2024 Ensemble Forward program here.  
Follow InfraSound (@infrasoundmusic) on Instagram and Facebook, or visit infrasoundmusic.org.