Media
| Podcast
CMA Talks Podcast
Episode 14
Confronting Marginalization through the Power of the Creative Life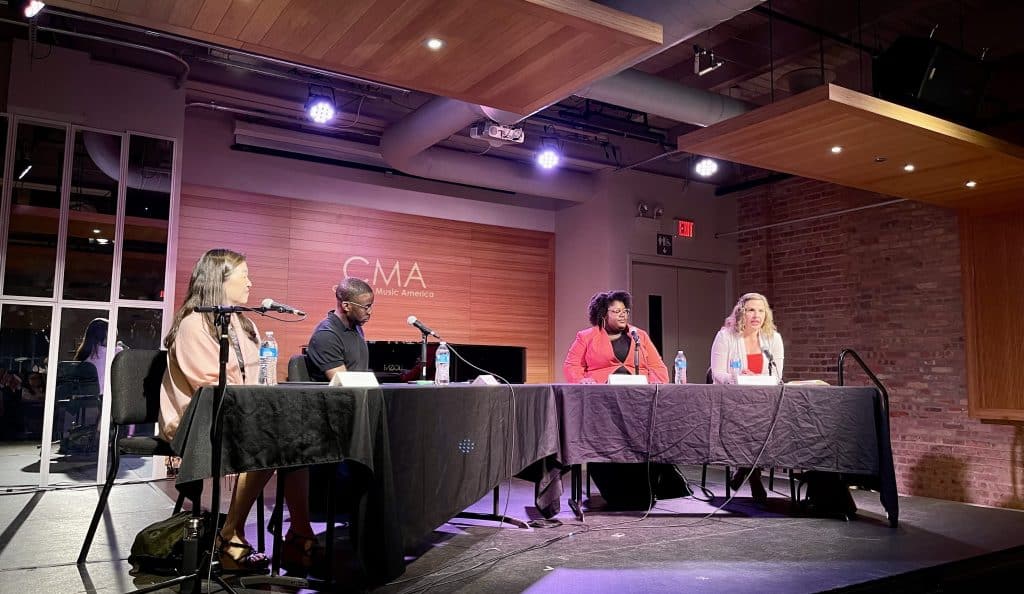 What are the tools and best practices for creating thoughtful and lasting work? How can we use our talents and platforms to build arts equity that lasts? This episode of CMA Talks, "Confronting Marginalization through the Power of the Creative Life," features a discussion between artists and arts administrators about what's missing in the equity conversation. We also listen to a selection from Amina Figarova's If Barrels Could Talk—the score of which appears in the spring issue of Chamber Music magazine.
The conversation, which has been edited for clarity, was held originally recorded at CMA's 2023 Chicago Chamberfest, held on June 2 at Pianoforte Chicago.
Listen on Spotify and Apple Podcasts.
Featured panelists:
Alejandra Valarino Boyer, Director of Steans Music Institute, Ravinia Festival
Caitlin Edwards, Violinist and Educator, D-Composed and Ensemble Dal Niente
Blake-Anthony Johnson, President & CEO, Chicago Sinfonietta
Jennie Oh Brown, Flutist and Board Member, Chamber Music America (Moderator)
This podcast, and the panel held on June 2, 2023, are presented in partnership with The Wallace Foundation.
Produced for Chamber Music America by Nichole L. Knight and Orchid McRae. Theme music by Orchid McRae.
If Barrels Could Talk was created with support from CMA's New Jazz Works program with generous funding from the Doris Duke Foundation. The recording was provided courtesy of the artist.