The
Excellence

Playlist
Moor Mother shares a mix based on the theme of excellence
This mix, based on the theme of  excellence, serves as an acoustic chronicle and an exploration of the myriad dimensions of musical brilliance that resonate through time and space. Each track embodies a facet of excellence, whether in musicianship, message, or the ability to transport listeners to different temporal realities.
Through this compilation, I aim to unravel not just the artistic prowess that Black musicians have historically exuded, but also the layered temporalities and quantum resonances that they bring into existence.
"GOD BLESS THE CHILD"
ARETHA FRANKLIN
FROM The Tender, the Moving, the Swinging Aretha Franklin,
RELEASED IN 1962
In choosing Aretha Franklin's "God Bless the Child," I honor a voice that is not only powerful but also temporally expansive, echoing through decades. This song, first recorded by Billie Holiday in 1941, reflects the intrinsic resilience and excellence of navigating Black life with a wisdom that defies linear time.
"EARTHLY THINGS"
LONNIE HOLLEY
FROM Just Before Music,
RELEASED IN 2012
Lonnie Holley's "Earthly Things" delves into the tactile and the tangible while also dancing around abstract realms. I selected this piece to represent how excellence often lies in the ability to connect the cosmic with the quotidian, to make profound the everyday experiences that shape our lives.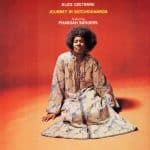 "ISIS AND OSIRIS"
ALICE COLTRANE
FROM Journey in Satchidananda,
RELEASED IN 1971
Alice Coltrane's "Isis and Osiris" bridges spiritual, cosmic, and earthly realms. I included this track as a nod to the quantum interconnectedness of Black music, and as an example of how excellence often manifests in forms that transcend conventional classification.
"SEARCHING"
ROY AYERS UBIQUITY
FROM Vibrations,
RELEASED IN 1976
"Searching" by Roy Ayers Ubiquity is an endless quest encapsulated in rhythm and harmony. I chose this song to portray the journey towards excellence as a perpetual, looping exploration that defies linearity, inviting us to consider our endless potential.
"FREEDOM DAY"
MAX ROACH
FROM We Insist! Max Roach's Freedom Now Suite,
RELEASED IN 1960
The urgency and palpable energy of Max Roach's "Freedom Day" (with lyrics by Oscar Brown, Jr.) serves as a temporal bookmark, reminding us of historical struggles while demanding excellence in the fight for justice in the here-and-now. This song is a tribute to the relentless pursuit of freedom, and the excellence that it necessitates.
"OUR LAND BACK"
IRREVERSIBLE ENTANGLEMENTS
FROM Protect Your Light,
RELEASED IN 2023
Irreversible Entanglements' "Our Land Back" is a clarion call for spatial and temporal sovereignty. I picked this track as a testament to the collective power and excellence in reclaiming spaces—both physical and metaphysica—that are intrinsically ours but have been erased or co-opted.