Articles
| Essays
Arrows
In the Dark
Through cross-disciplinary research and exploratory new works, Esperanza Spalding is digging deeper into the mysterious relationship between music and healing.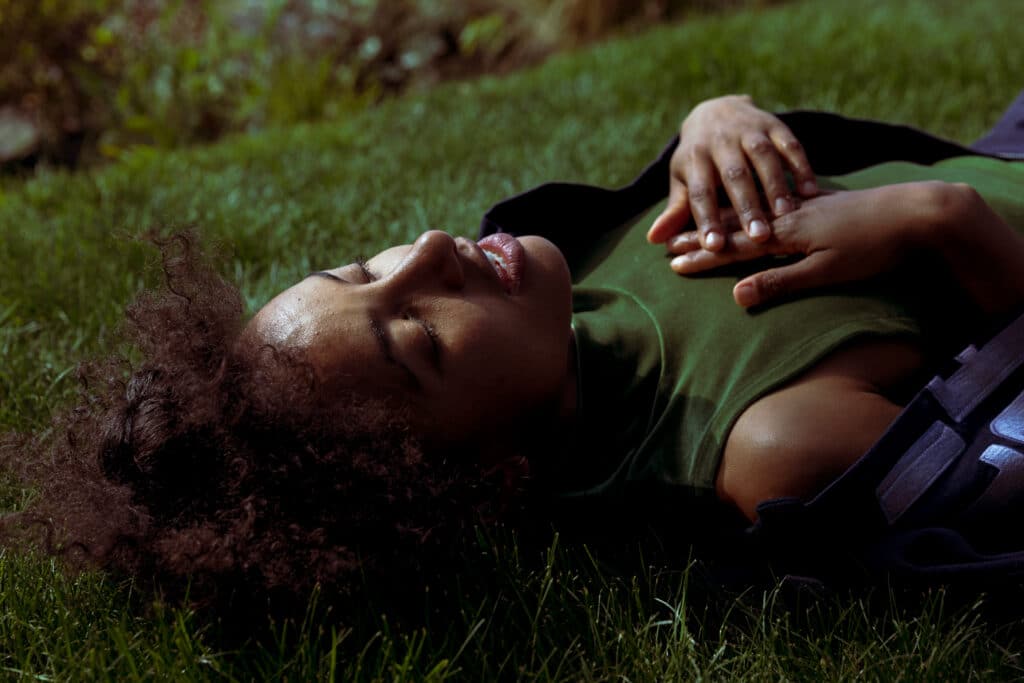 "I just want to read a poem about mushrooms," Esperanza Spalding says, adjusting her mask and settling into her chair. "I don't know how it's related." Dressed in a jumpsuit reading "LIFE FORCE" with a realistic rendering of a human heart patched on her sleeve, the renowned bassist, singer, composer, and Harvard professor proceeds to recite Sylvia Plath's "Mushrooms." The stage around her is bedecked with mycological decor by the visual artist Lily Consuelo Saporta Tagiuri. Surrounding Spalding are a team of academics and professionals in the fields of music therapy, drama therapy, and psychology; Spalding introduces them as a part of the "council."
At a summit of Spalding's Songwrights Apothecary Lab project, diversions like the Plath reading are to be expected. Originally an interdisciplinary course Spalding organized at Harvard, the S.A.L. is an itinerant, collaborative composition workshop exploring the relationship between music, therapy, healing, and neuroscience. Notably, the Lab's creators draw non-musical experts in these fields into the writing process as consultants. The broadcast I am watching is one of several from the workshop's 10-day residency in Lower Manhattan this past June. The reading of "Mushrooms" comes following a series of virtuosic performances by Spalding and her musical collaborators for the residency. All of the works played are in various stages of completion, and all written that week. The pieces are termed "Formwela"s, a play on "formula" to fit with the lab's pharmacological title.
"The reason it's called 'apothecary' is that we're doing it with a lot of play," Spalding explains, speaking to me during a recent trip to Paris. "We're playing with this theme and seeing what meaningful work we can derive out of that play—out of our serious play."
The pieces are indicative of Spalding's prismatic compositional voice, reflecting influences from across jazz, rock, R&B, hip-hop, classical, and world music. A professional musician and multi-instrumentalist before she was ten, the 36-year-old found major crossover success at the turn of the 2010s, becoming the first jazz artist to win the Best New Artist Grammy in 2010. (Best Jazz Vocal Album, Best Instrumental Arrangement Accompanying a Vocalist, and other Academy accolades would follow in the ensuing years.) In 2009, she performed at the Nobel Peace Prize award ceremony and concert as Barack Obama's invited guest.
Despite her high profile, though, Spalding has always followed her own uncompromising creative and professional trajectory. At the center of all of her work is a sense of choices being made in the moment, even when the material is heavily composed; her winding, often formally dizzying songs flow and unfold like conversations. This is the upshot of a process-based approach that Spalding regards as an important part of the creative product—thus, her interest in streaming and presenting the Lab's unfinished material.
"There's something important about stepping back from the ta-da thing of being an artist," Spalding explains. "I don't feel like that was ever my strength. I think that my strength is like 'here's exactly where I'm at and what I'm making and I'm going to give it to you.' And I think there's a beauty in that transparency."
"All music carries something that's beneficial for your state, for your body," Spalding explains. "What happens if you polish this one aspect of it? What happens if you reach into one facet of it?"
Nowhere is Spalding's commitment to chasing down her most eccentric musical ideas clearer than on the piece that begins the live-streamed evening: Formwela 11, featuring a wordless, heavily chromatic melody delivered at the shrieking apex of Spalding's vocal range. The followup, Formwela 9, takes a completely different tack but is no less adventurous: mixed-meter soul upended by waves of free-jazz entropy. The stunning Formwela 10 meditates on power dynamics in relationships, situated at the crossroads of bebop vocalise and contemporary R&B. Spalding calls it a musical "amulet," inspired by writings about exhuming pain and guilt through public admission: "I wanted and got it opened up for me so fast/I didn't learn the dance of how to treat/these beings that walk and talk and breathe/and you can really do some damage down here in the role of a lover."
With its focus on both communal and individual healing and reflection, the Songwrights Apothecary Lab might seem like a textbook lockdown passion project. In actuality, it was fully conceptualized prior to the pandemic—the "council" was in place by February 2020—and Spalding's interest in the concrete effects of music on the body and mind had been present in her work for several years prior. The songs on her 2018 album 12 Little Spells are each catered toward the rehabilitation of a different body part, influenced by the Japanese healing practice of reiki.
"All music carries something that's beneficial for your state, for your body," Spalding explains. "What happens if you polish this one aspect of it? What happens if you reach into one facet of it?"
With the establishment of the "council," Spalding sought to more comprehensively explore the ways musical gestures can enact tangible physiological or societal changes. The team's research turned toward subjects like vocal toning, vibroacoustic therapy—which explores the positive health effects of low frequency sound—and analysis of historical curiosities.
"I've heard stories of civil rights activists breaking into gospel music and stalling a police officer who was about to attack them," she explains to me. "I've heard about the Estonian singing revolution. I've heard about Dutch peasants using music to help them remember complex Roman war formations and moves that helped defend themselves against an army that had way more power and way more training….There are countless incredible testimonies of music helping people reclaim their ability to speak, to move, to walk, to remember."
The work of the Lab, Spalding says, is less about inventing new forms of musical healing than it is about bringing these "ancient ideas" into a modern context. "We're not innovating. We're just trying to find a way to do it in a culturally authentic way, in our time," she explains. "One of the things about the lab is that we're not going to plagiarize any other culture. We have to do it from the seat of our own experience and calibration as people and creators. We're doing the best we can to piece together something that there isn't really training for in our culture as it presently is."
Spalding cites some specific texts which really inspired her to expand the Lab project: Aline Lapierre and Laurence Heller's Healing Developmental Trauma and Bessel van der Kolk's The Body Keeps the Score, a treatise on traumatic stress healing. Spalding was taken with a case study from the latter, in which choral music is used as an intervention for veterans with PTSD who weren't responding to medication or talk therapy.
"I think that kind of lit the fuse of like, 'Okay what was happening there? Was it just from going to the choir workshops? Was there other structure around the choir to support these people? Was going to sing in the choir enough?" Spalding explains.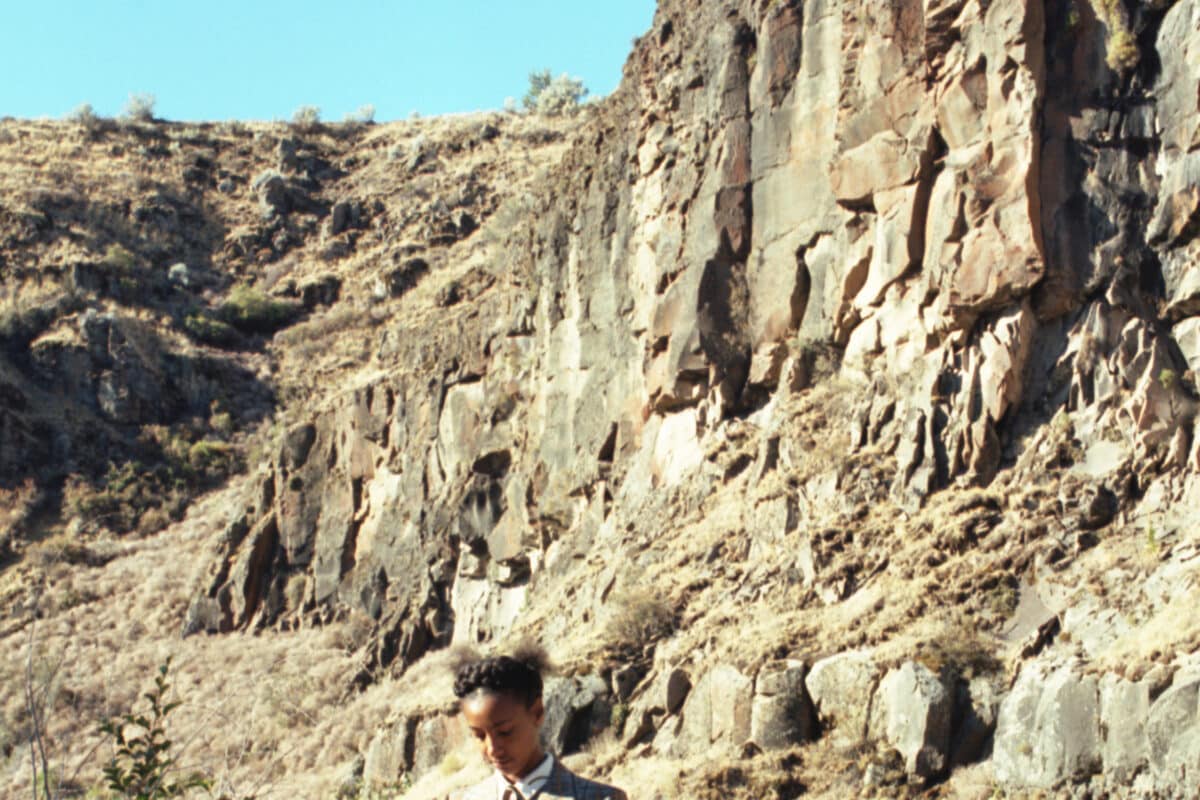 With the onset of the pandemic, the Lab's members were overrun with ideas for similar music therapy experiments. To dig into them in earnest, Spalding moved the SAL operation to a 5,000-acre property in Oregon's Wasco County on the outskirts of her hometown of Portland, with a team of ten other artists. One of the group's early lines of inquiry related to music and immune strength. The group began to work with patients who were recovering from Covid-19 at a field hospital for unhoused people. These efforts became primarily geared toward writing songs to fit the needs of individual patients.
"I have to say, it was kind of messy," Spalding admits. "We ran into some real issues and challenges around how to work with people who are in the throes of real suffering and medical issues—how to show up with the right level of relationship and expectation. Also, to kind of clarify what the hell we actually think we're doing and why. What are we promising to do? Where are we drawing this information from? Who are these patients? What is our relationship to them? What is our ongoing relationship to them?"
The thorniness of the experience redirected the focus of the lab, with the group deciding to leave most of the Formwelas written for patients—often incorporating specific details from their lives—unheard by the public. The earliest pieces Spalding did present publicly—Formwelas 1 through 3, or the TRIANGLE suite—are directed toward a broader audience, intended to alleviate collective psychological and physical stress. The descriptions of the pieces on the Lab's website specify their musical "ingredients," including "visualization and sensation prompts to encourage somatic grounding," "middle/Low range of female voice, energetic peaks and lulls in solo arc," and "Ear-worm melody" for "memorizing, then tuning to internally (via audiation) during acute moments of stress." (Collaborators on these included renowned R&B artist and producer Raphael Saadiq, the Chicago hip-hop producer PHOELIX, and Spalding's longtime mentor and legendary jazz saxophonist Wayne Shorter.)
Given the overwhelming scope of the project's first leg, it's perhaps unsurprising that Spalding turned toward a more hermetic and spare approach for its next iteration. Composed and recorded on a five-day getaway in Portland with her longtime bandmate Corey King, Formwelas 4 through 6 are stripped-back pieces written for just one instrument and Spalding and King's voices. The songs grew out of specific and personal reflections by King and Spalding—as in in the acoustic guitar ballad Formwela 4, which transfigures King's feelings of regret for being unable to communicate his emotions to family members who had passed away. In the songs' descriptions for the Lab, they are imbued with wider themes: "the articulation of needs streaming oxygenation through your ancestral vessel/vein of infinite life." Spalding explains to me, additionally, that Formwela 4 is also designed "to help with hypertension or support folks with insomnia and nausea."
King explains that, despite the catchy, pop-oriented finished products, the compositional process often veered into experimental zones. This was partially thanks to the contributions of founding council member Ganavya Doraiswamy, a singer, bassist, and former Harvard doctoral student in Creative Practice and Critical Inquiry who is featured on several of the Formwelas singing in a traditional South Indian style.
"It was an intricate, crazy experience, working with [Ganavya] on board," King recalls. "I had never really experienced anything like it. You have someone drawing crazy shapes or something….or playing with cassette recordings and sampling and having a song start open, in a wide shape, and then close. Eventually, it all just seeped its way into the music."
During the live-streamed Manhattan leg of the workshop, which yielded the remaining seven Formwelas, the pieces took on a more grandiose scope while nonetheless maintaining a personalized purpose and focus. Assisted by the council, alongside drummer Francisco Mela, pianist Leo Genovese, guitarist Matthew Stevens, and saxophonist Aaron Burnett, Spalding drew the process behind the work further into the foreground of her presentations than ever before.
"I just tend to start doing things in public and learning as I go," Spalding explains. "I feel that what I do best is the part that nobody sees, which is this improvisational method of making things with others, finding creative ways to integrate new discoveries as we discuss them and as we hear them. And it's hard to do, and it's not an accurate representation. Sometimes conversations are one or two hours, and they completely pivot from the place we started to the place we then research that night. That conversation is music—us jamming and opening our hearts and our knowing and riffing off of the thing the last person said or the article that they read."
The release of the Formwelas on Spalding's new album Songwrights Apothecary Lab might seem to signal a natural end point for the project. Indeed, she is currently taking a break from the Lab's work to pursue other creative efforts—most notably, November's delayed world premiere of Iphegenia, a Wayne Shorter opera for which she wrote the libretto and will play a role in. Yet she seems surprised at the suggestion that the Lab would pack up shop, or that she would even have enough control over it, as an entity, to make that decision.
We're doing the best we can to piece together something that there isn't really training for in our culture as it presently is.
"Some projects I do last for two years and then it's done," she says. "But this one feels like it has so many variations within it. It will keep currenting and flowing for a long time. Being in the Lab space is about reading a lot, practicing a lot, and being in conversation with a lot of other beings. I want it to be an ongoing exploration that is always releasing offerings for whoever's interested and might want to explore this kind of making—all of our hits and our misses."
Despite the substantial amount of public attention the early experiments of the SAL have received, Spalding remains humble about its intentions, and healthily skeptical of whether they scan "legibly" to the outside world. The nature of the project might seem prescriptive—an attempt to spread the gospel of a certain model for socially mindful collective musical creation in uncertain times. But Spalding is quick to emphasize that she doesn't advocate other musician and creator necessarily take cues from their mode of operation.
"My friend had a dream," she recalls. "One of us was going to go into the dark and practice archery, and said to the other: 'Hey, do you want to come with me?' The other one said "yeah, sure." And then we went in and somehow by the grace of the dream, somebody stopped us. And the message that they gave was: 'If you're going to go shoot arrows in the dark, don't take anybody with you.' [The SAL] is at that stage—we're shooting arrows in the dark. When it lands, which is a song, all of the lights come on and then we tell you what we think happened. And that's enough for now. We have to move at the pace of our exploration."