Aizuri Quartet to Receive 2022 Cleveland Quartet Award
The Aizuri Quartet has been selected to receive CMA's Cleveland Quartet Award for the 2022-23 and 2023-24 seasons.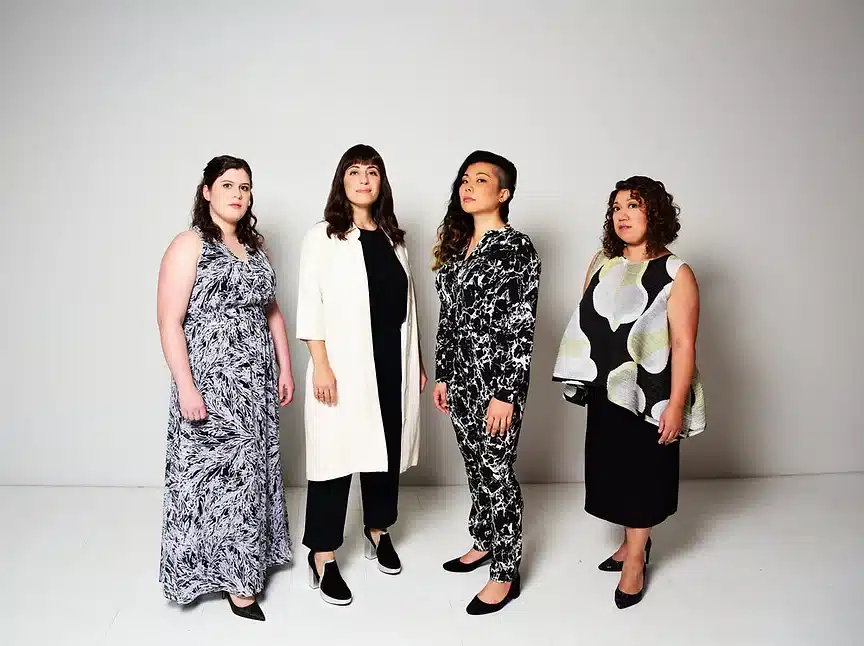 New York, NY—Chamber Music America (CMA), the national network for ensemble music professionals, announced today that the Aizuri Quartet has been selected to receive the Cleveland Quartet Award for the 2022-23 and 2023-24 seasons.
Established in 1995, the biennial award honors and promotes a rising string quartet whose artistry demonstrates that it is in the process of establishing a major career. Previous recipients include the Brentano, Borromeo, Miami, Pacifica, Miró, Jupiter, Parker, Jasper, Ariel, Dover, Rolston, and Verona Quartets.
"The Cleveland Quartet Award occupies a meaningful place in CMA's history as an organization, as it bears the name of an ensemble whose legacy stands out as one of the leaders in this country's string quartet history," said Kevin Kwan Loucks, Chamber Music America's chief executive officer. "We are pleased that the Aizuri Quartet is among the quartets that have previously received this distinction," he added.
The Aizuri Quartet—Emma Frucht and Miho Saegusa, violins; Ayana Kozasa, viola; and Karen Ouzounian, cello—has established a unique position within today's musical landscape, infusing their music-making with infectious energy, joy, and warmth, cultivating curiosity in listeners, and inviting audiences into the concert experience through their innovative programming, and the depth and fire of their performances.
The Aizuri Quartet was awarded the Grand Prize at the 2018 M-Prize Chamber Arts Competition, along with top prizes at the 2017 Osaka International Chamber Music Competition in Japan and the 2015 Wigmore Hall International String Quartet Competition in London. The Quartet's debut album, Blueprinting, featuring new works written for the Aizuri Quartet by five American composers, was released by New Amsterdam Records to critical acclaim ("In a word, stunning" – I Care If You Listen), nominated for a 2019 GRAMMY Award, and named one of NPR Music's Best Classical Albums of 2018.
The Aizuri Quartet curated and performed five adventurous programs as the 2017-2018 MetLiveArts String Quartet-in-Residence at the Metropolitan Museum of Art. For this series, they collaborated with spoken word artist Denice Frohman and shakuhachi player Kojiro Umezaki; commissioned new works by Kinan Azmeh, Michi Wiancko, and Wang Lu; and commissioned new arrangements of vocal music by Hildegard von Bingen and Carlo Gesualdo, which they paired with the music of Conlon Nancarrow, Haydn, and Beethoven in a program focused on music created in periods of isolation.
The 21-22 concert season features the Aizuri Quartet's Expanse, What's Past is Prologue, and Song Emerging recital programs. Notable highlights include the Quartet's major concerto debut with the Milwaukee Symphony Orchestra in performances of John Adams's "Absolute Jest," its debut at the 92Y, a collaborative program with Anthony McGill and Demarre McGill at the Philadelphia Chamber Music Society, and the premieres of new string quartets by Lembit Beecher and Paul Wiancko presented by the Phillips Collection in Washington D.C.
As part of the Cleveland Quartet Award, the Aizuri Quartet will be presented by: the Buffalo Chamber Music Society (Buffalo, NY); Carnegie Hall (New York, NY); Chamber Music Society of Detroit (Detroit, MI); the Freer and Sackler Galleries of Art at the Smithsonian (Washington, D.C.); Friends of Chamber Music (Kansas City, MO); Market Square Concerts (Harrisburg, PA); Krannert Center at the University of Illinois at Urbana-Champaign (Urbana, IL); and the University of Texas at Austin (Austin, TX).
As a culmination of its remarkable 26-year history, the Cleveland Quartet sought to envision a lasting legacy for young musicians. The group partnered with CMA and the eight presenters listed above to raise funds for the establishment of the Cleveland Quartet Award Endowment Fund. Nominations for the award are submitted confidentially to CMA by a national roster of chamber musicians, presenters, and educators. The winning string quartet's performances are funded, in part, by income from the Cleveland Quartet Award Endowment Fund, which is managed by CMA.
Chamber Music America, the national network of ensemble music professionals, was founded in 1977 to develop, strengthen, and support the chamber music community. With a membership including musicians, ensembles, presenters, artists' managers, educators, music businesses, and advocates of ensemble music, CMA welcomes members representing a wide range of musical styles and traditions. In addition to its funding programs, CMA provides its members with consulting services, access to instrument and other insurances, conferences, seminars, and several publications including Chamber Music magazine and the weekly e-newsletter, Accent.