Chatting with Paul Wiancko, Director
The composer talks about his appointment as the Director of Spoleto Festival USA's Chamber Music series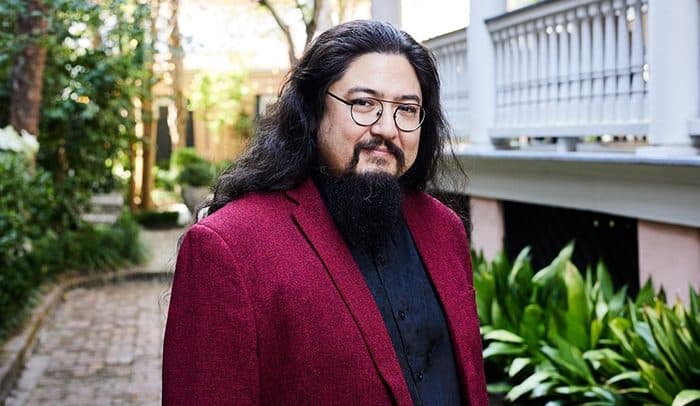 Add "Director" to his list of titles. The cellist, composer, educator, and CMA grantee—who, in February of this year, joined the esteemed Kronos Quartet—is back in the news, this time as the new Director of Chamber Music at Spoleto Festival USA. Wiancko is no stranger to the Charleston, SC, event; he first performed as series' composer-in-residence in 2019 at the invitation of former director Geoff Nuttall and quickly became a fixture within the tight-knit family of artists.
Wiancko's appointment marks the first time that Spoleto's chamber music director is both a performer and composer; add to that his prodigious and omnivorous musical appetite across genres and you have a recipe for fascinating if not quirky programming explorations (gray hairs be warned). In 2022, The Washington Post counted him among the "22 Composers and Performers to Watch," describing him as "a restless and multifaceted talent" and "chronically collaborative" for his work with such distinct artists as Max Richter, Chick Corea, and Arcade Fire.
In addition to his touring schedule with Kronos, Wiancko is a founding member of the duo Ayane & Paul and the quartet Owls. (Previously, he performed with the Harlem Quartet.) He has composed works for ensembles including the St. Lawrence, Kronos, Aizuri, Parker, Calder, and Attacca Quartets, and is a dedicated mentor and advocate for music education, teaching at institutions including the Banff Center, Peabody, and San Francisco Conservatory of Music.
On the eve of this historic appointment, CMA spoke with Wiancko about balancing it all as well as his musical philosophies that will drive the festival's upcoming season this spring.
Before we talk about today's big news, we shared in August that you're among the 2023 CMA Classical Commissioning cohort, writing a new work for NEXUS Chamber Music, a Chicago-based collective. Is there anything you can share about that piece?
There's not much I can say yet, but NEXUS's co-artistic director Alex Hersh, who has been driving this process, is such a vibrant artistic personality. He's a deeply caring, charismatic, and funny human—as well as a fantastic cellist. That alone offers so much for me to work with as a composer; I love writing music for the person—not only the musician.
You have a lot going on, to say the least. You're touring with Kronos, composing, performing with Owls, teaching…and now serving as Spoleto's Chamber Music Director. Do you sleep?
Funnily enough, I find my sleep improves during busy tours—whenever there's someone else telling me where to go or what to do and when to sleep! But to be honest, Spoleto's chamber music series fits perfectly in the mix, because amidst it all—composing, touring, teaching—there's an almost-constant influx of ideas. I'm always discovering new things through different channels, and now I have an outlet to share a lot of these discoveries through programming.
I'd love to talk about that programming. During Spoleto's 2023 season, you were among the group of colleagues who curated the 33 festival concerts and shared hosting duties. Across the series, there were 37 different composers represented—including 10 living composers. Can you talk about programming with such range? Why is that important?
Last year's program was truly a celebration of Geoff [Nuttall], and all the music and people and composers who he loved. Moving forward, that spirit will continue to guide things, and I hope to take it even further. For me, range is incredibly crucial. Every twist and turn of my career has broadened my musical worldview. It's brought me so much joy to discover ties between the music of now and great music of the past. Nothing makes you appreciate Haydn more, for example, than hearing his impact on composers today. There's a through-thread weaving centuries. We tend to look back on works by Mozart or Beethoven or Schubert as snapshots of brilliance that need to be revisited and studied and recreated—yet they're really part of an evolving timeline.
As you know, many presenters nationwide are worried about, or even struggling with, declining audience numbers. What's going to be your secret sauce for retention?
As a presenter and a programmer, it's necessary to remember that music is, at its core, a way for people to gather in person and enjoy something collectively. It's about having something to discuss, a way to build community—to remain close to loved ones and create common ground. If these ideas remain at the foundation of one's philosophy, I believe that music will remain vital, even in times as challenging as these. My personal plan is to ensure music is presented thoughtfully, especially with that aforementioned range. Living composers can't be left out, yet great works of the past must be presented, too. We can't recklessly move into the avant-garde, just for the sake of being on the cutting-edge.
So it's really all about the audience.
I'll say that when I'm playing music—whether in performance or rehearsing, or composing, I try to approach everything as a listener first. It's an almost disembodied experience. I'm trying to hear the music from the outside and in a greater context. I'm constantly thinking: Is this worth it? Is it meaningful enough? Are these notes and rhythms and harmonies worth the time and money that people spent to get to the theater? My time with Kronos has amplified these feelings. It's been an eye-opening experience. No matter who is paying attention, this quartet strives to make things better—to draw people's attention to issues that need attention. Chamber music has the power to be a force for good and a vehicle for activism. Being part of that has really lit a fire under me.
Follow Paul's journey online at paulwiancko.com, on Instagram @paulwiancko, or at spoletousa.org.