Announcing 11 Ensembles that will Showcase During the 2024 National Conference
Performances on January 19 and 20 offer groups the opportunity to perform for presenters, managers, music journalists, and esteemed peers.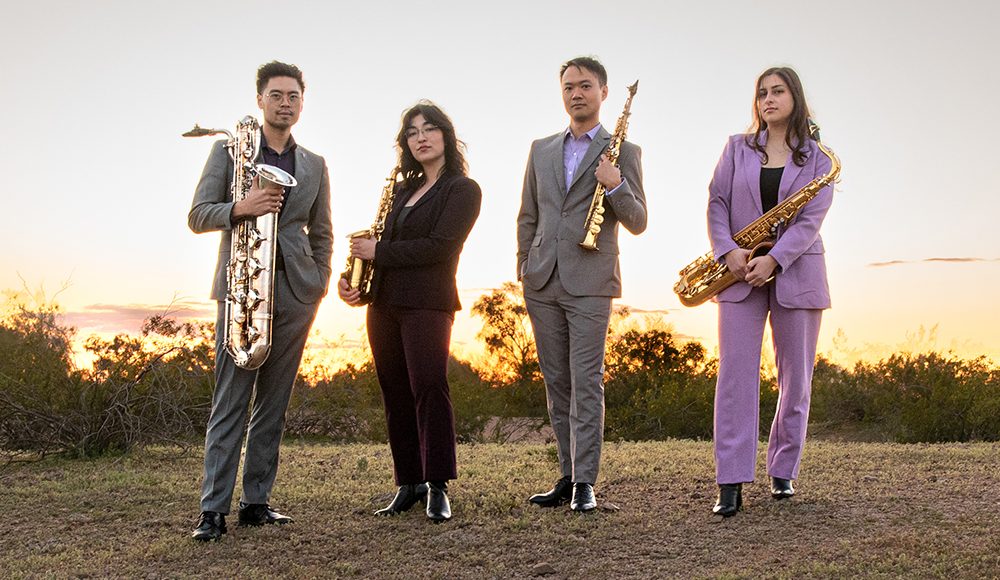 Chamber Music America (CMA), the national network for ensemble music professionals, announced today 11 ensembles that will showcase during its 2024 National Conference. The concerts, taking place January 19 and 20, will be held in the Majestic Ballroom at The Westin New York.
Selected by an independent panel from more than 60 applicants, the showcasing ensembles represent a variety of musical traditions and practices. Two of the ensembles, Poiesis Quartet and Kodachrome, are guests of CMA following their winning performances at the Fischoff National Chamber Music competition this spring.  While the concerts are generally closed to non-conference attendees, the performance slots offer the artists the opportunity to perform for numerous presenters, managers, music journalists, and esteemed peers.
The showcasing ensembles, listed alphabetically, follow, with ensemble bios below. The precise concert schedule and program will be shared at a later date. To attend the showcase concerts, register for the conference here. Single-day and Two-day passes are available. 
Amo Brass, Caili O'Doherty Quartet, Erez Aviram Ensemble, Kavita Shah Quintet, Khemia Ensemble, Kodachrome, Merz Trio, Poiesis Quartet, Sinta Quartet, Sounds of A&R | S.O.A.R., and Toomai String Quintet.
Amo Brass
Connor Holland, trumpet
Joshua Bialkin, trumpet
Olivia Martinez, horn
David Seder, trombone
Vivian Kung, tuba
Lauded by acclaimed trumpeter Allan Dean as "wonderful people and excellent players," Amo Brass is comprised of Yale School of Music alumni and is passionate about education, outreach, and performance. The ensemble recently completed a six-week residency as fellows of the Norfolk Chamber Music Festival. This spring, Amo won honorable mention at the Plowman Chamber Music Competition and the American Brass Quintet prize at the 50th Fischoff Competition. In April 2023, they completed a week-long educational outreach tour for public school students in the California Bay Area, where they visited five local schools and organized a side-by-side recital alongside students. Amo Brass frequently works with local organizations and non-profits, and firmly believes in balancing world class artistry with community partnership. Amo Brass's vision for their ensemble is to provide a musical experience which offers a commitment to accessible education, cultural leadership, and service to society through the arts. The ensemble mission is to showcase not only the lesser-known facets of the brass quintet, but also the unknown possibilities of what this ensemble can become. Amo Brass is committed to standing up against racism, sexism, and systemic inequalities which plague the field of classical music. All members are alumni of the Yale Music in Schools Initiative, which delivers free music education to underserved public school students of the New Haven community. amobrass.weebly.com.
Caili O'Doherty Quartet
Caili O'Doherty, piano
Tamir Shmerling, bass
Cory Cox, drums
Nicole Glover, saxophone
The Caili O'Doherty Quartet is a New York-based ensemble led by pianist Caili O'Doherty, featuring fellow Portland-native tenor saxophonist Nicole Glover, Israeli bassist Tamir Shmerling, and Houston native drummer Cory Cox. O'Doherty and Glover grew up playing together throughout middle and high school. The rhythm section started playing together in Boston in 2011, while O'Doherty and Shmerling attended Berklee College of Music. Cox graduated from Brubeck Institute and The New School. The quartet officially formed in 2018, although they have been playing together in different configurations regularly since they all moved to New York City. They have performed throughout New York City at venues such as Dizzy's Club, The National Jazz Museum in Harlem, and Smoke Jazz Club. Quarantine Dream is O'Doherty's second release as a bandleader and first album with Posi-tone Records. The album features this ensemble on eight of O'Doherty's recent original compositions, as well as a few arrangements on compositions like Oscar Peterson's "Blues for Big Scotia" and Duke Pearson's "You Know I Care." The Quartet's album release tour Quarantine Dream traveled throughout the East Coast and Midwest in June 2022, stopping at venues like The Kreeger Museum (Washington, DC), The Bop Stop (Cleveland, OH), University of Wisconsin Madison (Madison, WI), and Jazz Central Studios (Minneapolis, MN). Recently, the group was selected for the 2022-23 American Music Abroad program, sponsored by the U.S. State Department, for which they toured internationally and participated in a three-week long cultural exchange to the Republic of Georgia and Canada. In 2022, they received a Chamber Music America New Jazz Works grant and will be releasing that new project within the next year. cailimusic.com.
Erez Aviram Ensemble
Gabe Terracciano, violin
Jake Charkey, cello
Nicholas Biello, soprano sax/alto sax/flute
Skyler Hagner, baritone sax
Justin Mullens, French horn
Erez Aviram, piano
Maxime Cholley, drums
Marcelo Maccagnan, bass
The Erez Aviram Ensemble is a unique group consisting of eight versatile musicians from New York City, who play Aviram's compositions. The ensemble, combining traditional orchestral instruments with a powerful rhythm and horn sections, creates a bridge between the written and the improvised, skipping flawlessly between genres and modes to produce intellectual and emotive music. The ensemble just recorded and filmed their first EP at the Bunker Studios in New York and was recently chosen to appear at the Rochester International Jazz Festival alongside names like Pat Metheny, Samara Joy and Kurt Rosenwinkel. erezaviram.com/eae.
Kavita Shah Quintet
Kavita Shah, voice
Leo Genovese, piano
Juancho Herrera, guitar
François Moutin, bass
Ferenc Nemeth, drums
The Kavita Shah Quintet explores original compositions and adventurous arrangements of jazz standards and global folk music. Their sound is rooted in modern jazz while also incorporating sonic textures from a myriad of cultures, as reflected in the diversity of the band members and their respective musical backgrounds.
Hailed by The Boston Globe as a "polyglot in more than language alone," vocalist and composer Kavita Shah makes work in deep engagement with the jazz tradition while also addressing and advancing its global sensibilities. In 2014, she released her highly acclaimed debut "Visions," co-produced by Lionel Loueke; in 2017, her interdisciplinary vocal work "Folk Songs of Naboréa" was named by NPR's Nate Chinen as a Top 10 Jazz Concert of the year; and in 2018, her album "Interplay" in duo with bassist François Moutin was nominated for France's Victoire de la Musique for Jazz Album of the Year.
The Quintet's members include some of New York's most accomplished musicians: Argentine pianist Leonardo Genovese, Venezuelan guitarist Juancho Herrera, French bassist François Moutin, and Hungarian drummer Ferenc Nemeth. The Quintet has played at Kennedy Center, Blue Note, Jazz Standard, MASS MoCA, Philadelphia Museum of Art, Rubin Museum of Art, Winter Jazz Festival, BRIC Jazz Festival, Rochester Jazz Festival, and San Jose Jazz. Thanks to the Performance Plus grant from Chamber Music America, their debut studio album, All Roads Lead to Home (featuring special guests Miguel Zenón and Steve Wilson), will be released in 2024. kavitashahmusic.com.
Khemia Ensemble
Amy Petrongelli, soprano
Mary Matthews, flute
Thiago Ancelmo, clarinet
Er-Gene Kahng, violin
Eli Lara, cello
Annie Jeng, piano
Shane Jones, percussion
Chelsea Tinsler Jones, percussion
Hailed by the Columbia Daily Tribune as adding a "fresh dimension" to the concert experience, Khemia Ensemble is dedicated to reflecting broader perspectives in contemporary classical chamber music. With its dynamic instrumentation (soprano, flute, clarinet, violin, cello, piano, two percussion), Khemia's unique sound world encompasses the presentation of new classical music with a mix of acoustic chamber works, multimedia, and multi-genre influences.
Khemia has been featured in venues and festivals internationally and has held residencies at more than a dozen universities in North and South America. The ensemble's eight members also hold faculty positions at seven academic institutions across the United States, including University of Georgia, Florida State University, University of Arkansas, University of Missouri, University of North Carolina-Greensboro, Utah State University, and Utah Valley University.
Committed to expanding the chamber music repertoire, Khemia has commissioned and premiered more than 60 mixed-instrumentation works by professional, collegiate, and high school composers. Current and recent collaborators include Bobby Ge, Florence Maunders, Nicolas Lell Benavides, David Biedenbender, Stefan Freund, Phillip Sink, and Nina Shekhar. Khemia's sophomore album, Intersections, was released on Ravello Records in December 2022. khemiaensemble.com.
Kodachrome
Calvin Wong, soprano saxophone
Jade Deatherage, alto saxophone
Siobhan Plouffe, tenor saxophone
Bonson Lee, baritone saxophone
Kodachrome is a multi-award-winning saxophone quartet that has seen fast success. Founded by four graduate students from Arizona State University, Kodachrome has placed first in the 10th Coltman Chamber Music Competition, 10th Plowman Chamber Music Competition, and, most recently, received the Gold Medal at the 50th Fischoff Chamber Music Competition. In August of 2023, Kodachrome traveled to Chengdu, China, as an invited ensemble to perform in the Chengdu International Sister City Music Festival. Kodachrome enjoys playing a wide range of music but focuses on working with composers on pieces that move the instrument forward and provide an enriching experience for audiences. The quartet is dedicated to sharing their music with the Greater Phoenix Area and building a strong community through music. Kodachrome has performances in Phoenix and several national tours scheduled for the 2023-2024 season. Founding members are Calvin Wong on soprano saxophone, Jade Deatherage on alto saxophone, Siobhan Plouffe on tenor saxophone and Bonson Lee on baritone saxophone. kodachromequartet.com.
Merz Trio
Amy Yang, piano
Brigid Coleridge, violin
Julia Yang, cello
Hailed as "entrancing" (BBC Music Magazine) and "artists in the deepest sense of the word" (CutCommon), Merz Trio have been lauded for their "stunning virtuosity… fresh and surprising interpretations" (Reading Eagle), and "perfection of intonation and ensemble" (Hudson Review). Merz Trio members are passionately committed to reshaping the narrative of classical music through vibrantly dynamic programming and wide-ranging interdisciplinary collaboration. Their narrative programming style juxtaposes classical standards, new music, and their own arrangements of familiar and forgotten works, fluidly interwoven and guided with speaking from the Trio's members. Their interdisciplinary collaborations include ongoing projects with directors Emma Jaster and Jon Levin, dancer Caroline Copeland, and Sandglass Puppet Theater.
The Trio is equally known for their immersive integrations of music and text in performance, ranging from a recital-theater piece built around Shakespeare's Macbeth ("Those Secret Eyes"), to their debut album interweaving Ravel's Trio with short pieces, poems, and diaries of the era (Ink, 2021).
Recent debuts include Carnegie Hall, the Concertgebouw in Amsterdam, and Chamber Music Houston, and the ensemble looks forward to upcoming debuts at Boston's Isabella Stewart Gardner Museum and Duke Performances in North Carolina, among others.
Merz Trio have been encouraged in their explorations by numerous institutional homes around the world: New England Conservatory, Yellow Barn, Snape Maltings, Avaloch Farm Institute, the Naumburg Foundation, the Lake Champlain, Olympic, and Chesapeake Music Festivals, and the Fischoff Competition, as well as many other venues and hosts around the US, Australia and the UK. Winners of the Naumburg, Concert Artists Guild, Fischoff, and Chesapeake Competitions, they are currently represented by Concert Artists Guild. merztrio.com.
Poiesis Quartet
Sarah Ying Ma, violin
Max Ball, violin
Jasper de Boor, viola
Drew Dansby, cello
The Poiesis Quartet is the 2023 Grand Prize winner of the Fischoff National Chamber Music Competition. Founded during Oberlin Conservatory's Advanced Quartet Seminar program in Fall 2022, they also received Fischoff's Senior Strings Gold Medal and the Lift Every Voice prizes. In January 2023, the Quartet completed an international tour in Uruguay with artistic residencies in Punta del Diablo and Punta del Este's concert series, "Conciertos del Este." Performances included the world premiere of Alejandro Melo's composition, Elegy, which was dedicated to the Quartet. The Quartet presented the season opener of Rocky River Chamber Music Society's 65th season. Other honors for the quartet include receiving Gold Medal and BIPOC Prize at the 2023 St. Paul String Quartet Competition's senior division and Bronze Medal at the 2023 Glass City Chamber Music Competition. Poiesis is grateful to have performed in masterclasses and worked with Paul Watkins and Philip Setzer of the Emerson Quartet, Sandy Yamamoto of the Miró Quartet, Matt Albert of Eight Blackbird, and internationally renowned soloist Jingo Cho. The Poiesis Quartet is primarily coached by Sibbi Bernhardsson of the Pacifica Quartet and is mentored by the Verona Quartet and Kirsten Docter of the Cavani Quartet.
The name, Poiesis, is derived from the ancient Greek word ποιεῖν, which means "to make"; particularly, to create something that has never been made before. The Poiesis Quartet strives to create unique moments of synchronicity, sensitivity, and verve in each performance. poiesisquartet.com.
Sinta Quartet
Dan Graser, soprano saxophone
Zachary Stern, alto saxophone
Joseph Girard, tenor saxophone
Danny Hawthorne-Foss, baritone saxophone
While the Sinta Quartet injects music and fun into the air for unsuspecting passersby by appearing in nontraditional venues such as grocery stores and bars, they have also performed in venues such as Carnegie Hall, Walt Disney Hall, and the Beijing Center for the Performing Arts. Since forming in 2010, the quartet has concertized in nine countries, 32 states, and two Canadian provinces, giving diverse audiences a chance to experience a classical saxophone quartet for the first time. The Sinta Quartet made history in 2013 as the first saxophone ensemble to win the Victor Elmaleh First Prize from the Concert Artists Guild Competition, and the group continued to achieve success on the competition circuit, winning the Gold Medal at the 2018 Fischoff Chamber Music Competition, First Prize at the 2017 M-Prize Chamber Arts Competition, the Alice Coleman Grand Prize at the 2013 Coleman Chamber Music Competition, and 1st Prize at the 2012 North American Saxophone Alliance Competition. The quartet's programming takes the audience on an adventure through time, geography, and genre, often mixing classics from the 18th, 19th, and 20th centuries with commissions by today's composers and rollicking in-house arrangements from various folk traditions. In addition to their live performances, the quartet recently released two albums featuring predominantly recent commissions and winning pieces from Sinta Quartet's annual National Composition Competition. All four members of SQ are also passionate and dedicated teachers and relish the opportunity to play for and work with students of all ages. They carefully craft and curate programs designed for all levels of public-school students and every type of community venue. sintaquartet.com.
Sounds of A&R | S.O.A.R.
April May Webb, vocals
Randall Haywood, trumpet
Ryan Tomski, piano
Nathan Webb, drums
Jacob Webb, bass
Awarded and named "Best Jazz Group" at the 2019 New York City Reader's Jazz Awards, the husband-and-wife duo known as Sounds of A&R, aka S.O.A.R., is the brainchild of vocalist April May Webb and trumpeter and multi-instrumentalist Randall Haywood. In 2022, S.O.A.R. was one of 10 ensembles selected to represent The United States as Cultural Ambassadors a part of the American Music Abroad 2022/2023 international touring season. In 2023, SOAR became a recipient of Chamber Music America's Performance Plus grant. Additionally, Sounds of A&R were selected as a Spring 2023 Jazz Road Artist, a national initiative of South Arts. Since 2017, S.O.A.R. has had the distinct honor of touring and joining forces with the legendary jazz drummer, Thelonious Sphere Monk III, aka T.S. Monk. In 2021, Sounds of A&R released their third studio album, Questions Left Unanswered, which peaked at #12 on The National Jazz Week Charts, landed on Jazz Week's Top 50 Jazz Albums for the year, and was nationally syndicated on Sirius XM. Pulling inspiration from their deep love for one another, S.O.A.R. expresses that love through beautifully crafted compositions with fresh, innovative arrangements that—pun intended—soars. soundsofandr.com.
Toomai String Quintet
Emilie Anne Gendron, violin
Alex Fortes, violin
George Meyer, viola
Hamilton Berry, cello
Andrew Roitstein, bass
The Toomai String Quintet is an ensemble devoted to playing a variety of musical styles from around the world, creating its own string arrangements, and commissioning new works. For more than a decade, this award-winning group has been engaging audiences in New York and across the U.S., performing concerts and workshops in collaboration with presenters such as Carnegie Hall, 92nd Street Y, Midori and Friends, and The Juilliard School. Toomai is especially committed to expanding the Latin American repertoire for string ensemble; the group has championed the music of more than 20 Latin American composers, and in 2018, Toomai released its debut album, Cuerdas Cubanas.
The quintet was a pilot ensemble for Carnegie Hall's "Musical Connections" program, and it continues to perform regularly in schools, hospitals, and alternative care facilities throughout New York City. In addition, Toomai has shared its array of educational programs with audiences across the U.S. and has presented interactive concerts in collaboration with organizations including California Institute of the Arts, Rutgers University, and the Young Musicians Foundation. Formed in 2007 at The Juilliard School, the quintet is named after Rudyard Kipling's short story, "Toomai of the Elephants," in which a young boy journeys into the jungle to witness the dance of the wild elephants. The Toomai String Quintet aspires to cultivate a similar sense of curiosity and discovery by searching for diverse music and sharing it with its audience. toomaiquintet.com.
Chamber Music America, the national network of ensemble music professionals, was founded in 1977 to develop, strengthen, and support the chamber music community. With a membership including musicians, ensembles, presenters, artists' managers, educators, music businesses, and advocates of ensemble music, CMA welcomes members representing a wide range of musical styles and traditions. In addition to its funding programs, CMA provides its members with consulting services, access to instrument and other insurances, conferences, seminars, and its quarterly publication, Chamber Music magazine.