Articles
| Technology
What's It
Worth?
Non-fungible tokens—or NFTs—have emerged as uniquely lucrative way to monetize digital artworks, including music. But does the new technology have lasting utility for composers and ensembles?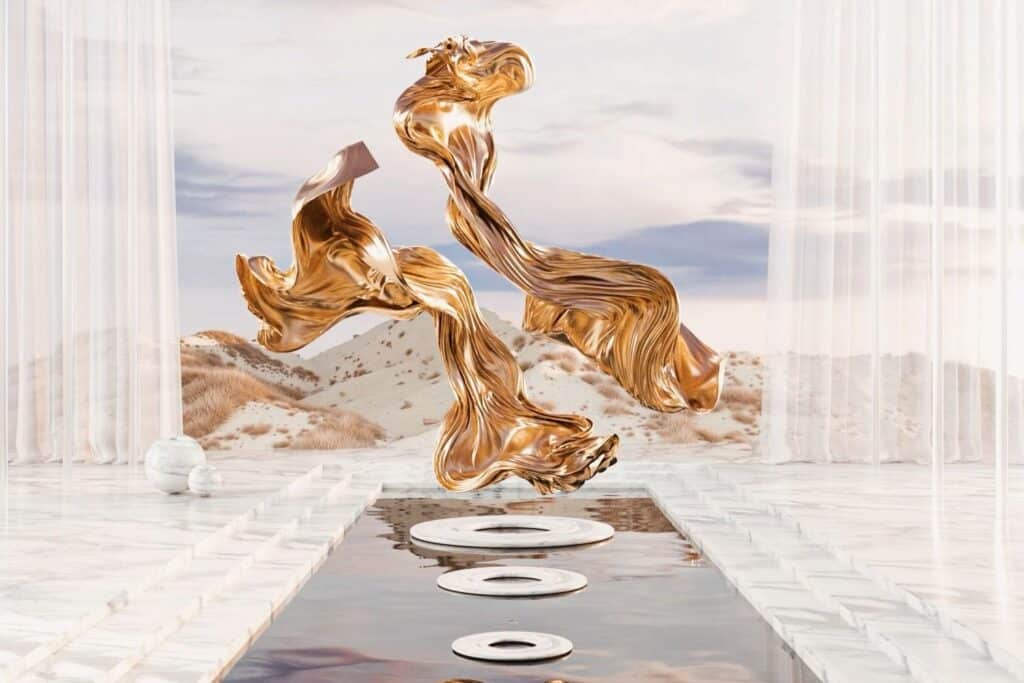 $0.004. That's the approximate compensation an independent artist receives per stream on Spotify, according to a 2020 report from Business Insider. Divide that among a few musicians and subtract a record label's cut, and the take-home pay quickly approaches nil. 
Paltry digital royalty rates like these have prompted a growing number of chamber groups to seek out alternative platforms for their recordings. Some have turned to outlets like Bandcamp or Patreon, where fans can pay artists for music directly. Others are counting on the resurgence of vinyl record sales, or for listeners to hold on to their CD players a bit longer.
For the Gateway Chamber Orchestra, a young ensemble based in Clarksville, Tennessee, a solution came from a more unlikely source: the NFT, or non-fungible token. An NFT is a unique digital asset that it is stored on a digital ledger known as a blockchain, which certifies its ownership and originality.
Because only one person can own an NFT, music associated with the tokens can suddenly become collectible.
Last spring, the Gateway Chamber Orchestra made an audio recording and a video of Prelude, a five-minute piece by Nashville composer Cristina Spinei, and in May, sold them together as an NFT for nearly $6,800 on the platform OpenSea. 
Gateway music director Gregory Wolynec believes this is the first orchestral premiere to be offered as an NFT. "What made sense to me is that the initial performance of a work—and that work itself—could be bundled together in a way that people could then own and trade it," he says. "That would be similar to owning a work of visual art. The idea that the artists involved are compensated fairly at the beginning, then with each transaction that occurs down the road, is quite fascinating."
Wolynec refers to the fact that the revenue stream is evenly split between Gateway and Spinei, while bypassing a record company or streaming service (OpenSea collects a service fee of 2.5 percent). Most unusually, the musicians can also collect royalties of up to 10 percent on any secondary sales.
—
NFTs have made headlines because of their utility to creators of digital art (animators, graphic designers, illustrators) who have long had difficulty monetizing their work. Last March, Mike Winkelmann, a digital artist who goes by the name Beeple, sold a digital collage at Christie's for more than $69 million. It was the first sale by a major auction house of a piece of art that does not exist in physical form. Other high-profile successes have involved the British artist Damien Hirst and the NBA, and the tokens were a prime focus of the Art Basel Miami Beach fair in December. Whether this buzz is fueling a speculative bubble remains an open question. 
"Right now, I think we're sort of in the early pioneer phase, and there's a gold rush element," says Wolynec. "The fact that it's tied to cryptocurrency makes it a little bit more complicated… there are elements of that industry that are working themselves out." 
The technology is not without criticism. A top concern involves the industry's environmental impact, given that cryptocurrencies require enormous amounts of computing power, which means greenhouse gas emissions. And while interest in the NFT market has driven up the price of digital artworks to fantastical heights, one study, published in Nature Scientific Reports, found that three-quarters of NFTs sell for an average of $15. NFTs sold for more than $1600 account for just one percent of the market. 
Nevertheless, there have been eye-catching examples, like that of Betty's Notebook, a choral piece by Long Island composer Nicholas Reeves, which sold as an NFT for $375,000, blowing the roof off its opening bid of $150,000. The 20-minute composition is based on what are believed to be Amelia Earhart's distress signals as picked up by a teenage girl's shortwave radio. The Verdigris Ensemble, a Dallas-based professional choir, recorded it for Async Art, an NFT platform. The winning bid came from Metapurse, a prominent NFT investment fund.
"It did surprise us," says Reeves, who notes that the auction price spiked after the NFT was registered as both the first classical piece and the first programmable piece of music on the Ethereum blockchain. (Reeves' score consists of four individual layers, which could be purchased as separate NFTs; Metapurse bought three of the layers along with the master copy.)
Reeves says that he initially wrestled with notions of value in NFT art. "When I first heard about this, I said, 'What's the point of any of this because you could just go on YouTube and copy someone's music or go on Instagram and copy someone's art? How is there any value in this?' It was explained to me that it's different because, with the blockchain, you can register provenance. You can show that you were the original creator of this piece."
—
With its programmable structure, Reeves' piece may appeal to NFT enthusiasts, who are often steeped in remix culture. The Dallas Symphony took a more traditional approach when it issued a three-tiered NFT offering to commemorate a performance of Mahler's First Symphony with members of the Metropolitan Opera Orchestra last May. The orchestra sold all 25 NFTs offered at a base level of $100, which bundled audio of the final Mahler movement and photos of the event. But with a $1,000 package containing a video performance and a ticket for a reunion chamber concert in New York, just three of 15 NFTs were sold. 
A top-level NFT—which included an expenses-paid trip to New York to attend the same concert—sold for $20,000, falling short of the opening bid of $50,000. 
An orchestra spokesperson said that orchestra was pleased with the results, especially since it didn't know what to expect. But Dallas Symphony president and CEO Kim Noltemy elaborated on the project's challenges in a recent online discussion. "Where I think we didn't do as well as we could have was in getting in the [NFT] community," she told moderator Aubrey Bergauer. "We're really good at being in our own community; we're not that good at being in a new community. It takes us a lot of time, we don't feel comfortable and we don't know how to talk to people." (The "we" here seemed to refer to the broader nonprofit arts sector.)
Noltemy added that some of Dallas' traditional supporters voiced a desire to bid outside the world of cryptocurrency, through a traditional auction house, but the organization identified a distinct branding opportunity in the NFT space.
Critics of NFTs have argued, perhaps unfairly, that the technology's audience isn't known for its cultural discernment. More to the point, short pieces, visual art tie-ins, and a certain "film score" aesthetic have found receptive ears. Spinei, the Juilliard-trained composer of Prelude, found her entry point through collaborations with established digital artists. 
"It was the first time that I really paid attention to 3-D art," she explains. "So I started reaching out to people whose art I really connected with and said, 'I'm a composer and I'm really interested in these platforms. Can we collaborate?' The first artist I collaborated with is based in Italy: Vans Designs. He had this gorgeous holographic art at the time." Spinei scored Digital Soundscape, a 45-second music video featuring rippling waves of color and a lush piano melody.
Like Reeves, Spinei has composed in a choose-your-own-adventure format for Async Art. Her string quartet Whirl, recorded by a freelance ensemble, is structured so that all four voices can be played together or in different combinations of solos, duets and trios. The first violin part was sold to a buyer in Greece while the other three lines were sold to an art collector in Northern California. Together they can fuse their layers into original mixes on the Async Art's website.
NFT communities also tend to prize art that is self-referential, with nods to Internet culture and the crypto community. Some music incorporates blockchain technology into how it actually operates. With hashmusic, composer Elliot Cole created a cycle of "psychedelic ambient" pieces whose melodies are based on hashes, the strings of numerical code that serve as the backbone of blockchains. 
Cole, who is a PhD candidate at Princeton University, stresses the importance of being a savvy marketer. "If I'm going to make music for this audience I'm going to understand what they are interested in," he says, adding, "I got interested in this space basically when somebody just showed me what is going on. I saw that there is an art market for technologically-informed art.
There was real money happening around it and I thought, wow, this might be a brief moment in all of human history where the weird, private, personal art that I've been doing for a decade may actually have a market."
Elliot Cole
Cole says he earned some $90,000 from hashflowers, the initial installment of his hashmusic series. He estimates that selling just one of the pieces in the cycle amounts to more than he would hope to make from Spotify in a decade. "So in that regard it can be superior," he says. "The problem is it's not yet dependable, maybe not even reproducible."
But for chamber groups that have struggled to tap the tech sector for support, the NFT market may provide an on-ramp, says Reeves. "This meets the contemporary young billionaire where he is," he says. "He's already comfortable in the tech space, in the finance space, and in the crypto space. So this marketplace is right up his alley. He can use his iPhone and connect with his metamask [a digital wallet] on Coinbase, and place bids on crypto art left and right."
Though there is no central repository of music NFTs, specialized platforms include Catalog.Works, Arpeggi Labs and Mint Songs, as well as broader marketplaces like Rarible and OpenSea. Last August, Virtual Circle, a classical streaming platform, offered a limited-edition batch of NFTs featuring digital album art for the Norwegian Chamber Orchestra as part of a ticket package. The offering took place on a platform built on Polygon, which describes itself as a low-emission blockchain.
Indeed, some musicians interviewed for this article say they have received pushback over the environmental impact of NFTs, which rely on massive, decentralized computer networks to power transactions. Some artists have turned to buying carbon offsets in response. A more promising development involves an emerging method of data storage called "proof of stake," which verifies transactions on the blockchain while using as little as .01 percent of the current energy, according to some estimates. 
But to NFT evangelists, the conversation centers mostly around the democratizing potential of the industry. At its most utopian, it's seen as a way to displace traditional gatekeepers and put more artists in control of their financial destinies. Smaller, more nimble ensembles may be especially poised to take part.
Cole remains bullish on NFTs even as he acknowledges that the classical market is undeveloped. "My big vision, my dream, is this is the way out of the Spotify abyss," he says. "As soon as there's a solid place to land, my passion is going to be bringing people in. So I'm seeing myself as a kind of foreground explorer in the space, and if there's a treasure map, I want to bring it back to the world that I want to help survive."