Something Bigger
Than Us
The Navajo trumpeter Delbert Anderson built a community of jazz lovers in northwestern New Mexico. Now, they're rooting for his success on the national stage.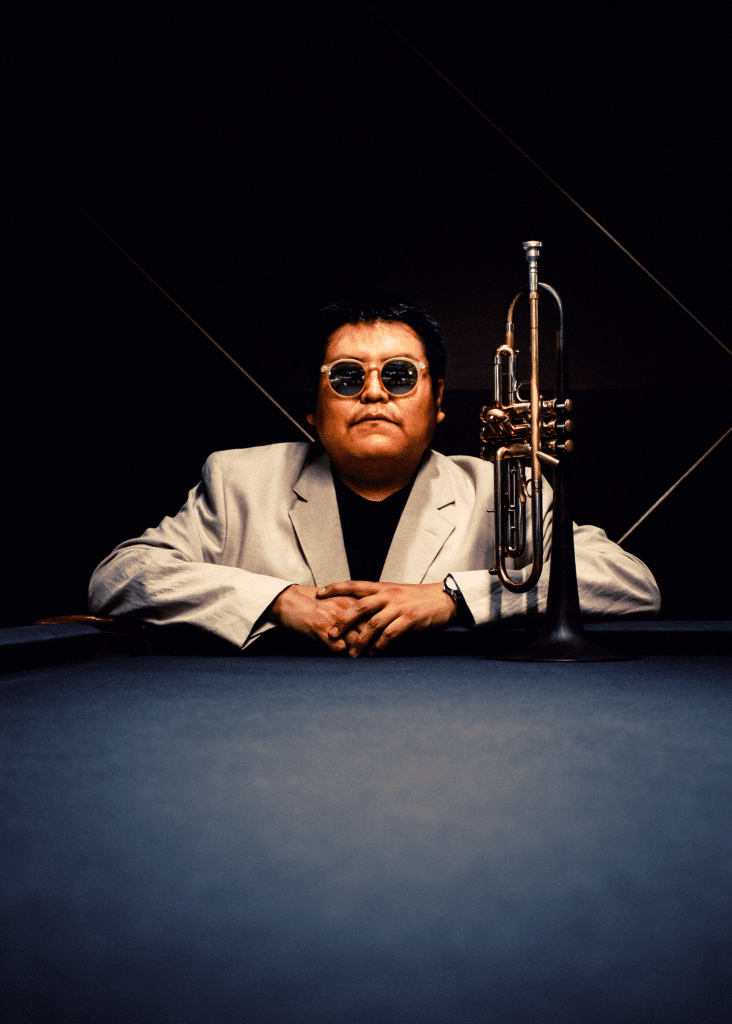 Trumpeter Delbert Anderson seems both younger and older than his 34 years. When we meet for our interview, Anderson is unconcerned with presenting any particular artistic image—his face is an open book. He is, however, intent on sharing the spotlight with the people who've helped him present, play, and fund music in his community. 
On a February morning, we sit down to talk at Studio 116 in Farmington, New Mexico—not alone, but with Anderson's San Juan Jazz Society board member Karen Ellsbury and bandmate Nicholas Lucero. 
"I'd seen Delbert play at the local Riverfest, so we knew he was talented," Ellsbury says. "And then one fateful Saturday in 2018, he walked into our gallery space and it was just obvious how genuine he is. He proposed some jazz jams here and talked about having funding from the Connie Gotsch Foundation in town."
As if we're in New Mexico's Mayberry, at that moment Connie Gotsch Arts Foundation president Mick Hesse walks into the gallery and punches Delbert playfully on the arm. 
"Oh, I loved the idea," Hesse says. "I've been really behind Delbert for a long time. The thing that was really cool was his trio's disparate makeup." (The group features bassist Mike McCluhan, who is white, and drummer Nick Lucero, who is Latino.) "That's what we're all about in our organization." 
Farmington is a city of about 45,000 in remote western New Mexico, a winding three-hour drive from Albuquerque. Near town are otherworldly rock formations that make you wish Georgia O'Keefe had painted landscapes a little farther west. But there are no jazz clubs and little cultural investment in general.
So, the Wednesday Night Jazz Jam was born. Anderson's students at Farmington's San Juan College were eager to play, including Navajo musicians he's mentored. Ellsbury showcased Navajo painters during the jam, auctioning their work to bring visual artists some income. And the community came out. 
"You're lucky to get 50 people out here for anything," Anderson says. "For the jazz jam it was anywhere from 75 to 125 each week. Maybe it was the vibe, being outside in the courtyard behind the gallery here."
"And the hot dogs," says Ellsbury. "We got a cart and served free hot dogs."
Soon they launched the San Juan Jazz Society to support even more activity. Fundraising brought in $22,000 in four months, enough to buy chairs and tables, and to build an outdoor stage. Programming grew to include a monthly HeartSpace series featuring local musicians and other events. 
As the jazz society was growing, so was Anderson's profile. His trio added a fourth member, Albuquerque hip-hop artist Christopher Mike-Bidtah, or Def-i, a Navajo from Shiprock like Anderson. The Delbert Anderson Trio became DDAT, shifting from Native American jazz to something like Native-inflected hip hop jazz. The band played clubs, churches, Native art festivals. 
A top 10 placement in NPR's Tiny Desk contest raised DDAT's profile; things picked up even more when it was awarded a spot in the Western Arts Alliance's Native Launchpad program. DDAT received marketing mentorship from industry veteran David Greenberg, as well as financial assistance to expand its technological and creative capability. By the start of 2020, showcase appearances had yielded dozens of bookings across the country.
Then COVID hit. Though the cliched notion of "pivoting" wasn't feasible for many artists, that's exactly what DDAT did. They turned to online concerts immediately, and in a big way. 
"We figured that even after the pandemic, live and virtual shows would be presented together," Anderson says. "So we hired a film crew and did every livestream we could. We were in a lucky place because we all had other income—my wife works at the local hospital—and because the LaunchPad program had taught us to save some band money for a rainy day."
The band shared opportunities for video performance, too, moving the jazz society's HeartSpace series online with virtual concerts at Studio 116.
"Our film crew shoots in 4K, so we got to showcase six or seven bands in beautiful footage," drummer Nick Lucero says. "It's a chance for us to contribute to the arts at a time when they're really not being promoted anywhere." 
In 2015, the Delbert Anderson Trio played the State Fair of Texas. As Anderson tells it, a promoter stepped onstage mid-performance to put a turquoise necklace on Anderson. "You need to look more Native," Delbert remembers the promotor saying. 
Negotiating a Navajo identity as a jazz player means dealing with stereotypes. For some, the phrase "Native American jazz" conjures flutes, drums, and turquoise jewelry. These expectations are especially thorny for Anderson, who makes no claims to traditional Navajo authenticity. 
"I wasn't really that Native kid, growing up in a traditional way," Anderson says. He was born on the Navajo Nation in Shiprock, but his parents moved to Farmington when he was three months old. "They were worried about problems on the reservation like substance abuse, domestic violence, and suicide. They just felt that I shouldn't grow up in that environment."
While his parents worked, Anderson regularly stayed with his grandparents on the reservation, running hills and wading the river with his cousins. Still, the family's 25-mile move expanded their horizons: Anderson's mechanic father became a Christian minister, his mother an elementary school teacher, and a spirit of self-improvement guided the household. When a jazz combo's visit to Anderson's school in fourth grade inspired him to play the trumpet, he had family support for the pursuit. 
Anderson found more incentive to pursue music at 14 when he participated in a student program at NAPI, the Navajo Agricultural Products Industry, where his father and other relatives had found work. "We had to pick pumpkins fast enough to load this elevated conveyor belt that was moving at three MPH," Anderson says. "I got nauseated from all the hard labor and said I wanted out of the program. I got more serious about the trumpet after that."
Anderson studied trumpet performance and music education at Eastern New Mexico University. When the Delbert Anderson Trio formed in 2013, they all had jazz backgrounds, but felt that straight jazz standards didn't suit them. Inspiration arrived when Anderson found a handmade tape in the Aztec Public Library labeled "Navajo Spinning Songs." Anderson transcribed any melody that spoke to him and was hungry for more. That's when he visited a living archive: his grandfather, Phillip Anderson. 
"What's the earliest melody you can remember?" Delbert remembers asking. 
His grandfather shared some fragments, and Anderson then approached a couple other elders for songs. "We did run into some people who said we weren't supposed to play this music in public," Anderson says. "But I did the research and learned that spinning songs were social songs, meant for everyone. Now I believe I'm preserving the music of that time by moving it forward." 
Combining Native American and jazz elements has been fruitful for DDAT.  
"We analyze what's going on in this really cool high energy, traditional music, and what we can actually take out of it in homage and add to our jazz, funk, and hip hop," Lucero says. "In the process we've found a way to be authentic to ourselves but create this thing that's bigger than us."
"It has to have a specific blend," Anderson says. "If it gets too Native American heavy, it loses its uniqueness and we lose the jazz audience. If it gets too much of a jazz sound, we're just like every jazz combo, and we lose the Native American audience. The more we have our own blend and sound, the wider our appeal."
We figured that even after the pandemic, live and virtual shows would be presented together. So we hired a film crew and did every livestream we could. We were in a lucky place because we all had other income—my wife works at the local hospital—and because the LaunchPad program had taught us to save some band money for a rainy day.
DDAT's one-story headquarters sits between the midcentury Totah Theater and the Navajo Museum of Art and Culture in the heart of Farmington's small downtown. Rented since December 2020, it's a step toward Anderson's dream of creating a community center. 
"It's busy here today," Anderson says as he greets me. "But that's not so unusual."
Nick Lucero handles some band business in a storefront office at the entrance. Behind Lucero, a floor-to-ceiling black curtain conceals a rehearsal area that's pleasant and well-organized yet still mancave enough for relaxed hangs. Videographer Maurice Johnson clears away some Styrofoam containers from last night's dinner when I arrive; Johnson and three other film crew members are setting up for a shoot. 
"Maurice is as talented in his field as we are in ours," Anderson says proudly. 
This video shoot is part of the Blue Desert Virtual Tour funded by Anderson's CMA Presenter Consortium for Jazz grant. Characteristically, he's sharing the grant with his community. 24 people are getting paid through the project: the film crew, many musicians and others employed in shooting and promoting three jazz ensembles at three venues in Farmington, Gallup, and Cortez, CO. 
With the Blue Desert Virtual Tour, Anderson aims to bring something akin to jazz's significance in Black communities to his indigenous communities. 
"African-Americans found this liberation in improvisation and it became a form of healing for them," Anderson says. "Native Americans have a similar struggle, with the genocide from Western culture being dominant and everything. I think jazz can help."
To that end, interviews with area substance abuse counselors and mental health professionals will be included in the Blue Desert videos. It's personal. "Jazz saved me at some points as a teenager where I could have gotten lost," Anderson says. 
DDAT's bassist Mike McLuhan shows up, and then MC Def-i arrives from Albuquerque. The musicians gather to suit up for the performance.
"Will you see my feet today?" Anderson asks Maurice Johnson. "I have some other dress shoes." 
Johnson looks at the two mounted cameras, two hand-held cameras and camera slider with tracking system that he's painstakingly arranged to capture the band from every angle. "Change your shoes," Johnson replies. Delbert shuffles off to get them, still a bit bewildered by all this video professionalism he's brought into his life. 
Yet when filming begins, it's obvious that the pandemic year has made DDAT into camera pros. At the click of the clapperboard the band assumes a polished, emotive presence; from the first downbeat DDAT's music is as convincing and clear as the high desert sky outside. Three tunes, one take each, with only a couple false starts. It's a wrap. 
Anderson puts his trumpet away and towels off performance sweat. The band still has two livestreams and several interviews to shoot today, with tour dates and recording projects to manage in between. He won't have time for a break. But Anderson considers this demanding music career a privilege compared to the reservation labor that could have been his fate. He can't stop, won't stop; his entire community is counting on him and pulling for him.