Setting New
Standards
Three novel programs—Next Jazz Legacy, Luna Composition Lab, and Mutual Mentorship for Musicians—approach longstanding issues of gender inequity in jazz and classical music head-on.
The way Terri Lyne Carrington sees it, jazz always had a gender problem. And for a long time, everyone just accepted that as the way things are. Men were the stars of this show. They wrote the music and were handed the instruments to perform it. Men got the gigs and the recording contracts and the money. The way men manipulated trumpets, saxophones, and keyboards defined what is authentic and praiseworthy in the genre. Women played jazz, of course, and had done so since the beginning. But the spotlight rarely fell on them, and then it was typically when they took the role of vocalizing.
"The issue for me is that none of us saw that," said Carrington, a three-time Grammy-winning jazz drummer and one of the few female instrumentalists at the top of her industry. "And it was not just the men in jazz. The women in the business didn't really see it either, because it was a part of this system that said men play jazz, as far as instrumentalists go. We didn't really see anything wrong with it."
Missy Mazzoli noticed the same problem in her line of musical work. She is among the most prolific and in-demand composers in contemporary classical music. Yet she knows that successful female composers like her are the exception to a rule that has existed for centuries. Things may be getting better lately for female composers, in terms of commissions and recognition, but Mazzoli has looked at too many programs during too many concerts to find that she is the only woman with a composing credit on the page. "The numbers are still incredibly dire if you look at how many pieces by women are performed by, say, the New York Philharmonic or at the Met," she said. "Looking over the entire history, it has been almost nothing."
For women in classical music and jazz, the expectations have been low, which has perpetuated a reality wherein the talents of an entire gender have been largely overlooked. This situation, in turn, has led to a lack of role models for young female and non- binary musicians who might thrive in the profession. Musicians and composers such as Carrington and Mazzoli are trying to change things, by creating new forms of institutions designed to lift up gender minorities in the music business or to erase the issue of gender altogether.
Carrington is the co-founder and artistic director of Next Jazz Legacy, a national apprenticeship program that pairs emerging women and nonbinary jazz musicians with established performers—often well-known names with sizable audiences— who coach musicians on both their playing techniques and their careers. (CMA launched its Performance Plus program, which supports gender minority and women-led jazz ensembles by connecting them with an experienced artist-educator, in 2020.)
Working with fellow composer Ellen Reid, Mazzoli developed Luna Composition Lab, which offers hands-on mentoring to promising female and nonbinary composers as young as 13 years old. Another organization, Mutual Mentorship for Musicians, which pursues a novel approach to developing the talents of female and nonbinary musicians, was co-founded by vocalist- composers Jen Shyu and Sara Serpa. M³, as it is known, brings together up-and-coming jazz and creative music artists for structured collaborations that are meant to enhance their composing skills, build support networks, and set these musicians on successful artistic paths.
All three programs focus on musical and professional development and share a single aim: to rid the music business of its patriarchal structures and, as Shyu put it, "to normalize and empower" a class of musicians that has not had the opportunity and encouragement to be full partners in their art form.
Next Jazz Legacy is just one facet of Carrington's efforts to support female jazz musicians and composers. She is the founder and artistic director of the Berklee Institute of Jazz and Gender Justice, which is housed at the Berklee College of Music and aims for no less than a "cultural transformation of jazz" rooted in equity. The home page of the institute's website poses the question: "What would jazz sound like in a culture without patriarchy?"
Last year, Carrington published the book New Standards: 101 Lead Sheets by Women Composers, a curated collection of scores dating back a century and including compositions by, among others, Mary Lou Williams, Alice Coltrane, Dianne Reeves, Maria Schneider, and esperanza spalding. The book's goal was to address the nearly complete absence of songs written by women in The Real Book, the go-to collection of repertoire for working jazz musicians. It was also the basis for Carrington's latest studio recording, titled New STANDARDS, Vol. 1, a Grammy winner that featured a stellar lineup of musicians performing 11 compositions plucked from her book's 184 pages.
If New STANDARDS amounts to a bit of revisionist history, Next Jazz Legacy, now in its second year, is her bet on the future. Co-sponsored by Berklee's Institute of Jazz and Gender Justice and the nonprofit New Music USA, the program selects seven apprentices each year and pairs them with master bandleaders for mentorship and musical collaborations. The apprentices get a $10,000 grant, and a chance to mingle with stars. Among the mentors in the program's first year were saxophonist Wayne Shorter (who died in March of this year), vocalist Bobby McFerrin, and bassist Marcus Miller. The current crop of awardees are paired with mentors including trumpeter Nicholas Payton, bassist Christian McBride, and pianists Kris Davis and Patrice Rushen. It is a competitive program, and it's getting to be more so as word about it has spread; more than 120 musicians applied to be part of the 2022-23 cohort.
"They have to submit videos and they have to write a personal statement, so we can see a little bit about their lives and why they want to be in the program," Carrington explained. The point is to identify female musicians who are not getting the nurturing they need. "We have a habit of rewarding people who have already succeeded," said Carrington, "while overlooking folks who need a leg up. I'm a big supporter of just doing the extra work, and trying to dig into what somebody's doing, or trying to do, really checking out their potential. Because sometimes this boost is all they need to realize that potential."
"What would jazz sound like in a culture without patriarchy?"
– Terri Lyne Carrington
The apprentices come from all styles of jazz; each gets two mentors, one focusing on performance and the other on creative practice in general. Carrington makes the matches using factors like geography and musical compatibly to connect the players. The pairs meet, play, compose together, and talk business. Then the pros integrate the newcomers into their ensembles for a series of concerts before live audiences. The mentors are paid for their work, which often requires them to write or arrange music to accommodate the apprentice.
For apprentices like Neta Raanan, a tenor saxophonist and composer based in Brooklyn, New York, the program offered an opportunity for partnering with musicians she "could only dream of playing with." A member of this year's cohort, Raanan was paired with drummer Nasheet Waits, also a New Yorker, whose music has "just enchanted me since I was a teenager," she said. Her creative mentor is Philadelphia poet and musician Moor Mother. Raanan and Waits are connecting regularly and assembling a band for a music festival in Brooklyn. "I just try to take every opportunity to really be in the moment and enjoy this, because it feels like something I've been working towards for more than a decade," Raanan said.
In some ways, lately, female composers and musicians are progressing in the jazz and classical worlds. More female instrumentalists are leading bands and winning awards—among jazz's ranks, these include harpist Brandee Younger, pianist Kris Davis, and bassist esperanza spalding. The classical music world, too, has begun to focus anew on female composers. Last year, Tania León received a Kennedy Center Honor in recognition of her achievements as a composer and conductor; the previous year, her orchestral work, Stride, earned her a Pulitzer. (León was also the recipient of CMA's 2022 Richard J. Bogolmony National Service Award, recognizing lifetime achievement.)
Still, those women who have succeeded in jazz or classical music share a common refrain: There were few other high-profile women to show them the way. Instead, they had to come up with their own vision on how to succeed in a male-centric art ecosystem. That was true for Mazzoli, who grew up in rural Pennsylvania, and Reid, who was raised in East Tennessee, and who went on to win the Pulitzer Prize in Music in 2019. "We didn't meet another female composer until we were in college," said Mazzoli. Those experiences helped them understand that the best way to inspire new composers was to reach musicians at the beginning their journeys, while they were young and still shaping ideas about what is possible.
Missy Mazzoli has looked at too many programs during too many concerts to find that she is the only woman with a composing credit on the page.
Luna Composition Lab, which started seven years ago, works with six fellows each year, ages 13-18, from across the U.S. The apprentices—this year, selected from 60 applicants—are matched with an established, professional composer for eight months of one-on-one coaching, with a goal of creating a new piece of music. They work online, so that musicians in cities and towns, large and small, have equal access to top-notch tutoring. Fees for the program are low, totaling $800 per student. "Anytime you're in such a severe minority, or anytime you're in a minority at all, it can be a very isolating experience and you're without a certain kind of support that I think most people just take for granted," said Mazzoli. "We wanted to reach out and find these people who didn't have access to a strong music program in their high school, or who maybe live in a more isolated community."
The program culminates in a music festival held each year in New York City. The compositions are workshopped, and then premiered. The event also features masterclasses by professionals. The list of participating artists thus far includes Renée Fleming, Tania León, and Jeanine Tesori. In addition to giving young composers the confidence boost and practical experience that comes with hearing their work performed live, the apprentices walk away with an important tool for the next likely step of their careers: a recording of their work by a top-notch ensemble that they can use for college applications. (Luna Composition Lab's current recording partner is the International Contemporary Ensemble.) Those recordings, Mazzoli said, are essential for admission, and often only possible for students who come from advantaged backgrounds. They have helped deliver results: 95 percent of the apprentices have gone on to study composition in college. The apprentices also gain other benefits. This year, Luna Composition Lab sent three of its fellows to Norway, where their pieces were performed at the Bergen International Music Festival. Recently, the Cincinnati Symphony Orchestra commissioned 25 Luna alumni to write works for its chorus.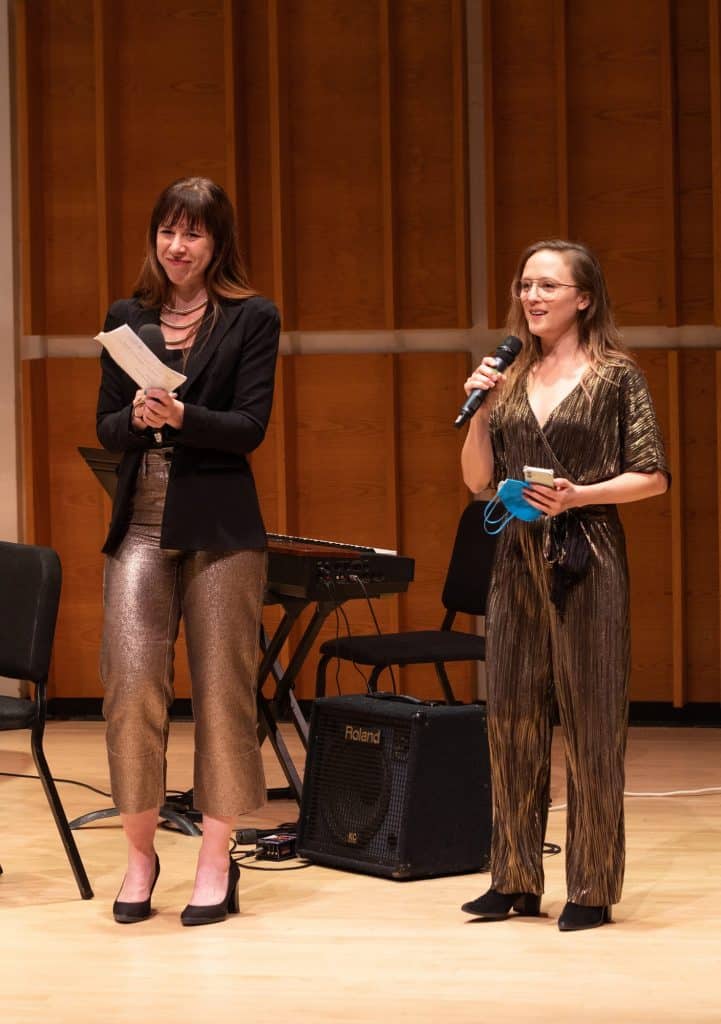 Luna also has a separate beginner program, called Adventures in Sound, held entirely online, that offers a three-semester course, starting with a focus on basic music theory, and which can be a feeder program for the apprenticeship. It is all part of Luna's comprehensive strategy to assist composers of the future at every level. "We even have an alumni fund that helps them with everything from purchasing software to attending festivals," said Mazzoli. "Because the business of being a composer can be very expensive."
Mutual Mentorship for Musicians has its own method of encouraging women and nonbinary artists in the music field, which is, in some ways, more radical. M³ explodes the usual master-student model, replacing it with peer-to-peer coaching. Shyu and Serpa are best-known as experimental jazz vocalists and composers, but M³ is open to all kind of creative minds. "We welcome electronic musicians, sound artists, noise artists, everyone," said Serpa. Cohorts come from countries around the world and their ages have spanned from 20 to 70.
The program, which kicked off in 2020, works this way: Each year, twelve participants are chosen to participate. Some are nominated by current fellows; others are chosen by program organizers. They convene regularly as a group over the following ten months to discuss their work. At the first meeting, the participants are assigned a project partner based on a random drawing of names. The pairs work together, virtually, over the course of a dozen or so meetings to compose a new piece, about ten minutes long, which they perform before live listeners at the end of their sessions. An audience Q&A follows the show. Because the program started during the coronavirus lockdown, the first concerts were online. This year, M³ was able to offer cohorts the opportunity to present their works in-person during a June concert at The National Jazz Museum in Harlem. The collective used the occasion to give out a lifetime musical achievement award to one of its alumni, pianist and bandleader Michele Rosewoman.
M³ helps advance the careers of its participants, but that is not the point of the operation. It's about the development of high-quality art. "We do talk about our careers, but the focus is not so much on 'how did you get that gig,'" said Serpa. "The focus is on 'how did you create that work'? Or 'tell me about your process.' Or 'how did you get through raising three kids while you were trying to work on your music?'" she said.
The goal of M³'s programs is to create comfortable spaces, apart and different from the arenas where men traditionally get most of the attention—"where everyone can be themselves and free, and not have to feel like they have to prove themselves or be twice as good as the guy sitting next to them," said Serpa. "We grow up with these kind of environments," added Shyu. "It takes a while to start questioning these roles that we have been assigned."
The program has yielded benefits that neither Serpa nor Shyu anticipated, qualities M³ has in common with both Next Jazz Legacy and Luna Composition Lab. As word spreads of their success, the wider music world has begun looking to them as a resource. Any orchestra looking to hire a female composer or any venue hoping to book a female player or bandleader need only to click on the Luna, M³, or Next Jazz Legacy websites to locate a long list of highly talented and fully employable artists. Perhaps more importantly, the cohorts of each organization have begun to form their own networks, organically. They remain connected after their programs end and serve as resources for one another. After decades of exclusion from the boys' clubs that have long helped male musicians prosper, here are alternatives.
Those women who have succeeded in jazz or classical music share a common refrain: There were few other high-profile women to show them the way.
None of this means that men don't have a role to play in changing the status quo. These programs make it clear that they are not cutting men out of the picture. They welcome their support and, sometimes, their direct involvement in the apprentice process. Carrington has had great success pairing her female cohorts with the best male players in the business—after all, they have plenty of expertise and power to share, if they are willing. "It's not a woman's job to change patriarchy," said Carrington. "It's really up to the oppressor to change their way of thinking."