Articles
| Features
Scattered to
the Winds
The remarkable story behind Fallen Petals of Nameless Flowers, a new chamber work inspired by the lives of juvenile lifers: teenagers sentenced to life in prison without parole.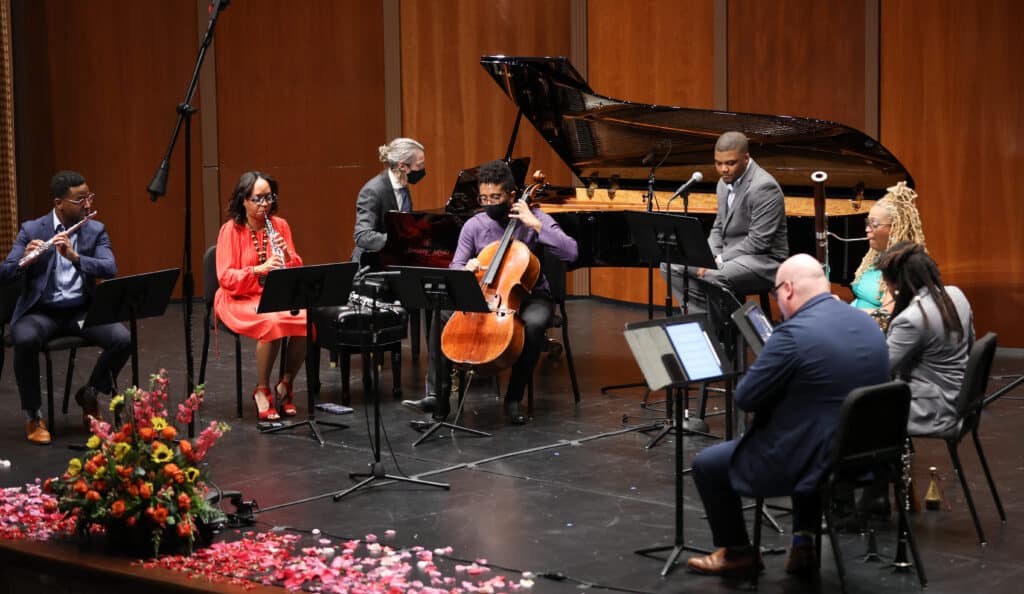 To make this easier on you, I am not a person, I am a flower. I am a cactus, an evergreen, a perennial, I might even be a pinecone … but a person, you and I both know I am not a person. 
So speaks the poet-narrator of a daring new work of chamber music, Fallen Petals of Nameless Flowers. As the poet speaks his searing words, instruments—wind quintet, cello, piano—wait in silence. He pauses, and they begin to play: foreboding, eerie music. He goes on.  
Even making me into a flower doesn't feel right, as beautiful as I'm supposed to be, I still came out of dirt.   
Fallen Petals, commissioned by Chamber Music Detroit with funding from the National Endowment for the Arts, is a piece that plants itself in soil not commonly tilled by chamber music organizations. The flowers-not-people of its poetry are juvenile lifers: teenagers convicted of crimes carrying mandatory sentences of life in prison without parole. It is sometimes said, proposes the poet, that to be palatable everything must be transmogrified into Nature. Thus, prisoners become flowers. Arms—including arms in the sense of weapons—become petals. Intertwined with and cast into relief by this imagery are the real-life stories of four former lifers, now released thanks to changes in the legal landscape. Fragments of their stories, told in their own words, make a mosaic moving from crime and trial and prison to reflection and redemption. In sharing their stories, the poet simultaneously reassures the audience, and demands its attention:  
I turned people into flowers for you. Don't turn your heads just yet. 
Fallen Petals was premiered on April 9 of this year, with words written and spoken by Robert Laidler, and music composed by Jeff Scott and performed by Imani Winds with cellist Seth Parker Woods and pianist Cory Smythe. It's a piece that tells many compelling stories at once. The story of how the piece came to be makes for one more. 
Bryan Jones, Chamber Music Detroit's project manager for Fallen Petals, was not a juvenile lifer, but did serve thirty-one years in prison for armed robbery, before being granted parole in 2018. In prison, he studied keyboard and music theory and learned business skills, eventually becoming Administrative Assistant to the Superintendent of Michigan State Industries. In 2012-13, he served as teaching assistant for an entrepreneurship workshop conducted at Macomb Correctional Facility by Anna Kohn, currently president of Safe and Just Michigan. Upon Jones' release, Kohn, seeking to find him employment, introduced him to Steve Wogaman, Chamber Music Detroit's president. After an interview, which included a keyboard audition, Wogaman offered Jones piano lessons and a job as CMD's part-time business manager. Part-time became full-time, Jones was soon made office and patron services manager ("the first point of contact for people contacting our organization," as he describes it), and today, he is CMD's community engagement manager. 
While becoming a vital member of the CMD team, Jones was also attending court hearings. At one time, says Jones, Michigan had 363 juvenile lifers in prison, second-most in the nation. But in Miller v. Alabama (2012), the U.S. Supreme Court ruled mandatory juvenile life without parole unconstitutional. And in Montgomery v. Louisiana (2016), the court decided that Miller would apply retroactively. Michigan's recalcitrant attorney general, Bill Schuette, was forced to begin conducting what are colloquially called Miller hearings, to resentence prisoners originally sentenced before age eighteen. (Notably, teenagers in many states can still be sentenced to life without parole at judges' discretion, including in Michigan.) 
"In 2016," says Jones, "after the decision came down to make the [Miller] decision retroactive, we created a program. One of the things you may not know is that we don't talk about our crimes a lot in prison. And the reason why is, if you're doing a life sentence, the crime doesn't matter anymore. It's all about day by day." But with Miller hearings, Jones explains, "you're going to have to talk about the crime. You're going to have to have a narrative that explains it.…And if you have never done that, you may not recognize the minimization that you're doing, the lack of empathy or remorse that you are exhibiting when you share whatever it is that was going on in your life. I'm not a juvenile lifer. But they knew I could help get them prepared. So they drafted me. I looked at their information, and then I came in there and acted like Bill Schuette, to grill them."  
When hearings began, Jones attended. "Steve would allow me to go," he recalls, "and when I got back, we would talk about what I saw, what I heard. And he was the one who first said this would be a great piece for us to build a commission around." 
Wogaman already had plans to bring Imani Winds to Detroit, and to commission Scott (a former Imani member and current horn professor at Oberlin Conservatory) to compose music for the ensemble. Wogaman recruited Laidler, at the time a Master of Fine Arts candidate at University of Michigan (now graduated) after hearing him recite his own poetry in Detroit. Jones, familiar with so many cases from preparing Miller hearings, selected men for Laidler to interview. "They were all out," he says, "and they were all doing well." 
Contemplating the commission, Jones thought of the science brought forward in connection with Miller v. Alabama, suggesting reduced culpability for juveniles. A human's prefrontal cortex, the science shows, is not fully developed until age twenty-five; this area of the brain plays an important role in decision-making, impulse control, and risk assessment. "If the brain science said it's not developed until twenty-five," says Jones, "'why did they stop at eighteen?' was my question. I would like to have that bar moved. The reason for the piece became: 'I'm gonna show you these seventeen-year-olds, I'm going to show you these sixteen-year-olds, I'm gonna show you the fifteen-year-old.' If you give them the opportunity, they're gonna do well." 
Multiple studies reinforce the idea that crimes committed in adolescence are not predictive of criminal behavior later in life. In 2020, researchers at Montclair State University found just a 1% recidivism rate among juvenile lifers who received early release on parole. It is also well-established that juvenile lifers, who are disproportionately Black, commonly experience instability and abuse in childhood: a 2012 survey by The Sentencing Project found that 79% of juvenile lifers had regularly witnessed violence at home and fewer than half were attending school at the time of their offense.  
Not having committed a mandatory life-without-parole crime himself, Jones was able to make a deal to retain the possibility of parole. "I took a plea and still ended up with a life sentence, but it wasn't a mandatory life sentence. The parole board released me just because they could. If I hadn't taken that plea, I would've been twenty years old with that sentence, three years away from any kind of consideration. So I'm saying let the eighteen-year-olds have consideration, let the nineteen-year-olds have consideration … eventually let the twenty- and twenty-one-year-olds have it. We can march it all the way up to twenty-five."  
Laidler, the poet, came to the project thinking about flowers. "It started," he reveals, "with an obsession with Louise Glück" and her flower poetry. "When I interviewed those men," he says, "it was: 'I get it, there's much more pressing issues right now than writing about a flower.' Then, when they all started talking to me, they had a very similar outlook after doing 30-plus years in prison and then being out, which was, 'No one knows who I am.' They're okay with that—but they're also really interested in giving back to the community. And I guess I was just walking around one day and saw roses and saw petals on the ground. And I was thinking about how the ones that get picked usually have all their petals intact. But there are so many things that are valuable about the ones that fall." 
There's a thin line between reality and imagination in Laidler's poetry. In one verse, the poet asks: Why did they shoot first? We had a brand-new shotgun. I took the shotgun. When they shot at us, I shot back, to live. I didn't know the shotgun would spray shards of metal. I didn't know what it could do. I didn't know what I would do. So, I ran. I got caught. I was a child. The bystander was a child. The shotgun was another arm. They put my arms behind my back. I grew thorns from my back.  
Composer Scott found Laidler's poetry "so raw and powerful and disturbing … That led me to some pretty dark places." He decided that "the overall theme, the through-writing theme of the music, was that I was going to make it disturbing to listen to." Early on in the piece, the cello assaults the ear with pressure scratches. Just after, instruments are instructed to play "as if scratching your skin, until it begins to peel off." "I was thinking," Scott recalls, "about these young boys—they get there, these prisons with real murderers, and they're selling $50 worth of crack, or ten bucks worth of marijuana, and all of a sudden they're in for twenty-five years with people who have murdered people—man, how would I feel? And the first thing I thought was, I'd be in some sort of isolated cell, not being able to take it, and I thought about peeling my skin off, not wanting to exist. So I tried to create that sound."  
Elsewhere, Scott has the musicians play the role of jury, shouting a refrain of "Guilty!" at the narrator. Another section, full of instrumental slides, is intended "to have a feeling of vomiting, to represent the disdain of society toward this underclass of folks." Under the influence of Stravinsky, Scott writes long sections of driving rhythm. "I didn't want to do rhythm the way I normally do," he explains, "with some sort of tinge of R&B or Latin influence. If there's anything Stravinsky does, he finds creative ways to always keep this rhythmic drive in the music, and he does interesting things with it. The rhythm itself is so well-orchestrated that that alone ends up being compositionally amazing. So I went out of my way to do something similar to that."  
Latin rhythms do underscore a listing of games juveniles play behind prison guards' backs: catch, sticks & bones, racing, hopscotch. When the games end, the music continues, while another story emerges. "It's pure salsa, no ifs, ands, or buts," says Scott, "just real danceable music. But on top of that, he's telling the story of how he and his zombie crackhead mama were brought in by another crackhead, and he was told to go out and rob somebody." The incongruity between text and music is deliberate. "I wanted them to hear the story with their most vulnerable selves," Scott explains. "You're hearing this cool music, and then—Bam!— you're forced to listen to this because you opened yourself up to something that is kind of relaxing … That's what it was for these guys. Life was going on, I'm not saying they're angels, but they were doing what they had to do, standing on the street corners … and then life was just taken away."  
Scott's most tranquil music colors the story of a lifer selected by Jones for his childhood lack of education: I was 16 with the mind of a 9-year-old, writes Laidler. Consonant harmonies offer some sense of hope, but the music ends on a disturbing, unresolved chord. In Fallen Petals' fifth and final section, "To Bloom Again," the same music returns, through that final, disturbing chord. This time, though, the harmony resolves. It feels like redemption. 
A number of former lifers attended the April 9 premiere. When the concert ended, the four interviewees joined the performers on a petal-strewn stage. And at a reception following the concert, eight former lifers were available for the audience to speak with. "They were glad to represent the group," says Jones, "because there are a lot of people who have not had the opportunity to be resentenced in Michigan." Jones hopes for future performances in places like Georgia and Alabama where, he says, "this is still a problem." And CMD plans to partner with other presenters in the 2023-24 season to bring Fallen Petals to more cities. As for the audience on April 9? Jones reports that their overwhelming response was to offer: "What can we do?"