Articles
| Features
Pappy's Most
Resonant Note
Can the legacy of a bassist and activist keep jazz, and hope, alive in Buffalo?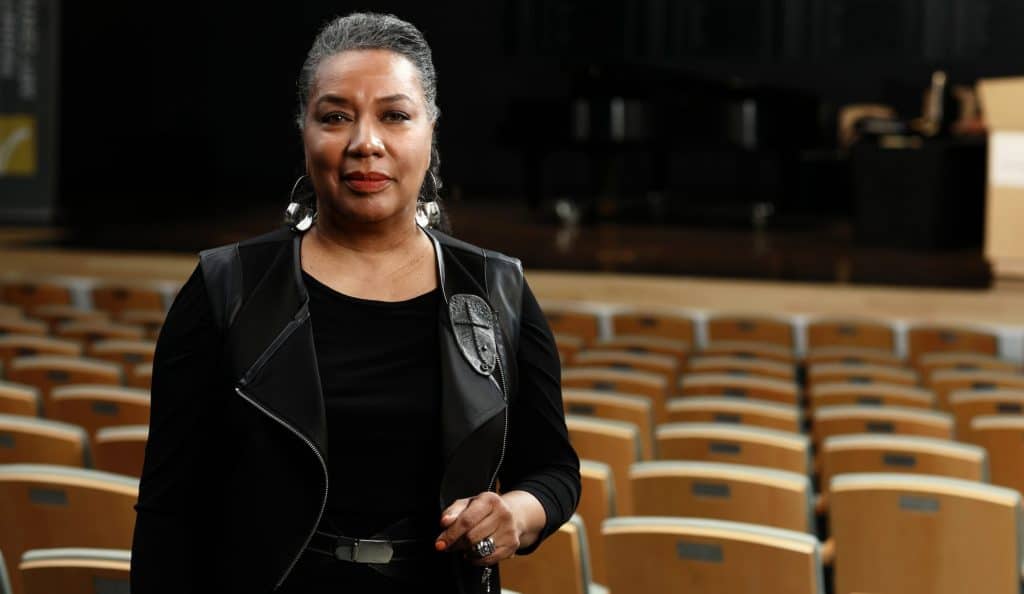 On May 14, on a particularly sunny afternoon, Payton S. Gendron opened fire at Tops Friendly Market, a popular supermarket on Jefferson Avenue in East Buffalo, methodically shooting and killing 10 people and injuring three more, almost all of them Black. In an online manifesto posted before the attack, Gendron, a white 18-year-old, revealed that he had identified this neighborhood because it contained the largest percentage of Black residents in his region of Upstate New York. He had driven more than 200 miles to commit what Erie County sheriff John Garcia called "a straight-up racially motivated hate crime." 
Just as that violence unfolded, Dawn Martin Berry-Walker was at Antioch Baptist Church, a stone's throw from Tops market, with saxophonist and vocalist Camille Thurman. She was overseeing preparations for a "First Annual Betty Carter Birthday Celebration," with Thurman as featured artist. The concert, the first in a series celebrating women in jazz, was presented by the Pappy Martin Legacy Jazz Collective, the nonprofit organization Berry-Walker leads, named for her father, the late bassist and local hero who first founded a jazz festival in Buffalo in 1996.  
Pappy Martin, who grew up in nearby Niagara Falls and was a mainstay of a once-thriving Buffalo jazz scene, introduced his daughter to the music and its deeper significance when she was just a girl. "The music that I heard and that I was raised with saved my life, mentally, emotionally, and spiritually," Berry-Walker tells me as we pull up across the street from Tops on a similarly sunny day in August. "It provided joy and the balance needed to live this duality as an African American. Now, I am dedicated to making sure the next generation has that option available — to be able to turn to the music to balance out the other things we have to deal with in this city, and in this country."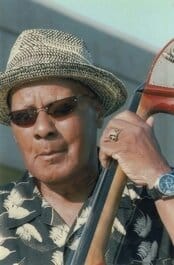 The sidewalk in front of Tops is still strewn with flowers, notes and placards displaying photos of the deceased when we step out of Berry-Walker's minivan. As we head down Jefferson Avenue, passing beneath an archway marking this and three parallel avenues as an African American Heritage Corridor, Berry-Walker describes how, in the 1950s and '60s, Jefferson was a main thoroughfare for the community, dotted with restaurants, department stores, markets and other local Black businesses. With the ease and clarity of a schoolteacher — she retired after 33 years as one, in 2007 — she points out the Michigan Street Baptist Church, built by and for African Americans in 1845, that was often the last stop for fugitive slaves on the Underground Railroad. Two doors down from that is the site of the former house owned by Mary B. Talbert, where a plaque explains, W.E.B Du Bois and other prominent African American leaders met and adopted the resolutions that led to the founding of the Niagara Movement.  
"I don't know how to make sense of this latest tragedy," she says. "I don't know if we really can. But I know what my father taught me about honoring my community, and about helping it heal." Since her father's death, Berry-Walker, 70, has built his initiative into something grander than he had ever envisioned. In addition to continuing both that jazz festival and the music school her father started in 2002, the Pappy Martin Jazz Legacy Collective she now directs hosts eight separate events throughout the year. This past summer, she mounted its first festival in Niagara Falls, just outside the Center Court Homes, where Pappy Martin and his older brother, tenor saxophonist Spider Martin, spent their childhood.  
A Tradition Continues
At least in its Black communities, Buffalo has long been, in the words of tenor saxophonist James Brandon Lewis who was born and raised there, "a groove town." For most of the 20th century, that meant swinging jazz. There's deep history here. At the Little Harlem Hotel, violinist Stuff Smith functioned as the orchestra's leader until 1933. After her separation from Louis Armstrong, pianist Lil Hardin Armstrong built up her orchestra at the Little Harlem. The Pine Grill, a main stop on the Chitlin' Circuit, was often a home for organ groups, and known to feature up-and-coming musicians; organist Jack McDuff once came through with a then-promising guitarist named George Benson. 
"When I came up, in the '60s, there was jazz everywhere," Berry-Walker says. "We could walk from the Pine Grill to the Revilot to the Bon Ton to the Royal Arms any night of the week, and hear it, live." We pull up in front of the Colored Musicians Club on Broadway, which was first formed in 1917 and incorporated at its current location in 1934. Through the years, the likes of Duke Ellington, Count Basie, Billie Holiday and Max Roach jammed here with local musicians and friends. Berry-Walker remembers it as something of a "second home" where her father would often play in the upstairs club. (There's still live music here, along with a small museum commemorating such history.)  
She turns her minivan onto Dodge Street, where she grew up. "There was once a continuity and a closeness to everything for my community," she says, as we cross the overpass for the Kensington Expressway, which, like other highways in Black communities, ripped the heart out of the neighborhood. On the other side of that expressway, not far from the stretch of Fillmore Avenue dubbed "Pappy Martin Way" by the city council in 2016, is the Buffalo Museum of Science. Here, on the museum's front plaza, in 1996, Pappy Martin first mounted the Masten Jazz Festival, named for its city-government district. He presented live jazz, free for all attendees, each Sunday in August. That first year, some hundred or so people attended.   
"I don't know how to make sense of this latest tragedy. I don't know if we really can. But I know what my father taught me about honoring my community, and about helping it heal."
Dawn Martin Berry-Walker
These days, the Pappy Martin Legacy Jazz Festival is held the last two Sundays of August in a large and lovely expanse behind the museum. It's at the northwestern end of Martin Luther King, Jr. Park, designed by Frederick Olmsted and which, before the expressway broke it into discontinuous sections, connected to a series of green spaces that allowed residents to walk freely from one neighborhood to another. This past summer, Berry-Walker says, more than 1,000 people showed up each Sunday. They heard national stars, local favorites and student musicians from the organization's Love Supreme School of Music, which is named for the 1965 John Coltrane album that, as Pappy Martin once explained to his daughter, was important for both its sonic beauty and its spiritual intent.  
At this year's festival, some attendees sat up front beneath the shade of large trees, listening with rapt attention while others visited stalls operated by local food and craft vendors. The music resonated far enough to be heard by the teenagers playing basketball on nearby courts and the small children wading in the park's splash pool. 
"As I've developed this organization since my father's passing, I've been approached from time to time to move this festival to a downtown site, where it might attract more tourists and more funding," Berry-Walker says. "But it was my father's mission to remain in the community, and that is now my mission too, to give this neighborhood free and easy access to this music, and to keep it as their own." Bassist Curtis Lundy has played at each year's festival for the past eight years and now serves as the Collective's international music director. "I play lots of well-attended events," he told me over the phone from his New Jersey home. "But this one feels like a real neighborhood thing. I look out and see a community that looks like me, like my community. That's refreshing and inspiring, and it made me want to keep coming back." Lundy first met Pappy Martin in the 1980s, when he came to Buffalo to play the Trafalmador Cafe. "Maybe we hit it off because we're both bassists, but I also knew from the start this guy had a spark." 
In one sense, the Pappy Martin Legacy-Masten Jazz Festival extends the spirit of its namsake, James Herbert Martin, who died in 2015 at 82, was born in Asheville, N.C. His family moved to Niagara Falls when he was a toddler, and he remained in Upstate New York the rest of his life. As a young child, his serious demeanor earned him the nickname "Pappy," and it stuck. He also displayed musical talent early on, first on trumpet and then playing double bass. Coming up as a musician at a time when national stars toured regularly through Upstate clubs, Martin worked with the likes of singers Betty Carter and Aretha Franklin, and with instrumentalists including pianist Billy Taylor and saxophonist Johnny Griffin.  
Like many jazz musicians of that time, Martin experimented with drug use as a way of coping with the struggles of Black life and to expand his mind for musical exploration. This led to incarceration on a drug offense. He used that time to pursue religious studies, and to deepen his own sense of purpose. He returned home with an ambition to help those who suffered with similar afflictions, and to further the promotion and understanding of jazz culture within his community. He earned a master's degree and worked as a youth coordinator for 25 years. His sense of mission grew clearer in 1995, after attended the Million Man March in Washington, D.C., where Louis Farrakhan and others implored the Black men assembled to unite in self-help and self-defense against economic and social ills plaguing their communities. "My father wanted to find a way to serve his community in ways that honored its essence, and that fostered opportunity," Berry-Walker says. He founded the General Bass/Pappy Martin Tennis Program at Martin Luther King Jr. Park, where hundreds of young people were taught the sport. Still, the clearest and deepest manifestation of his activism remains the jazz organization. In a YouTube video from 2011, discussing the Love Supreme school, Martin wears dark sunglasses and stands clutching his bass. Before launching into a blues-drenched solo, he talks with soft earnestness about jazz as more than music, as a culture worthy of investment for reasons beyond aesthetics. "Jazz is healing," he explains, and is "a prophylactic — it can prevent social ills before they happen."  
Marcus Lolo, who serves as music director at the Love Supreme school, was born in Florida and raised first in Port-au-Prince, Haiti, and then New York City. He arrived in Buffalo as a piano performance major. When he approached Berry-Walker with his own idea for starting a music school, she told him of the one her father created two decades ago. "When I heard the story of him coming home from the Million Man March inspired to do something for his community, I felt inspired too," he tells me as he sits in first floor room at Lincoln Memorial United Methodist Church, where the program is based, flanked on one side by pair of upright pianos and on the other by a row of basses and guitars. Lolo, a student of many musical traditions, was surprised by the one he found in Buffalo, largely through the Pappy Martin Collective's network. "Just because the jazz culture of Buffalo is not mainstream anymore doesn't mean it doesn't exist," he says. "Though it may be a well-guarded secret to some outsiders, the moment I dug in here I realized it runs deep. And I'd like for it to be more available." He sees that as one goal of the program, as well as addressing "those gaps in standard music education that miss what jazz is about." As did Pappy Martin, Lolo sees such education as affecting more than music. "When I teach improvisation, I want to give students broader ideas on how to tackle academic or general life problems by making smart, creative decisions in the moment." 
"When I teach improvisation, I want to give students broader ideas on how to tackle academic or general life problems by making smart, creative decisions in the moment."
Marcus Lolo
Lolo is right. Buffalo's jazz tradition is not entirely obvious today and nowhere near as connected to everyday life in the city's Black communities as it was when Berry-Walker was growing up. In cities throughout this country, some jazz lovers wring hands over this reality as well as the fact that jazz will not likely ever attain the popularity it did during Pappy Martin's heyday. Yet maybe such thinking misses the point Martin made—that the culture is centered more on the hard work of community-building and the transcendent effect of positive everyday actions. These days, Berry-Walker splits her time between trying to make smart, creative decisions about fundraising to keep her Collective vital and extending the homespun traditions that, she says, "keep it real," which include the turkey-with-trimmings she prepares each year "so that the musicians can really feel the gratitude we usually reserve for holidays." She focuses hard with other activists and business owners to build a future for the neighborhood she grew up in. "There are many dreams represented in these streets," she tells me. "Mine comes from one person, my dad." 
In September, at the Collective's John Coltrane Birthday Celebration, Lundy played "Pappy's Prophesy," a piece commissioned by Berry-Walker on behalf of the organization. The assignment gave Lundy a chance to reflect on his dear, departed friend's legacy. "Once in a while," he says, "you get a guy who doesn't leave home, and who gets things done so that everyone there is better for it. Pappy was that guy."