Articles
| Features
Master of
The Modern
Soprano Lucy Shelton has always let the repertoire lead the way.
Chamber Music America presented the 2023 Richard J. Bogomolny National Service Award to Lucy Shelton at its annual conference, January 8 at the Westin New York at Times Square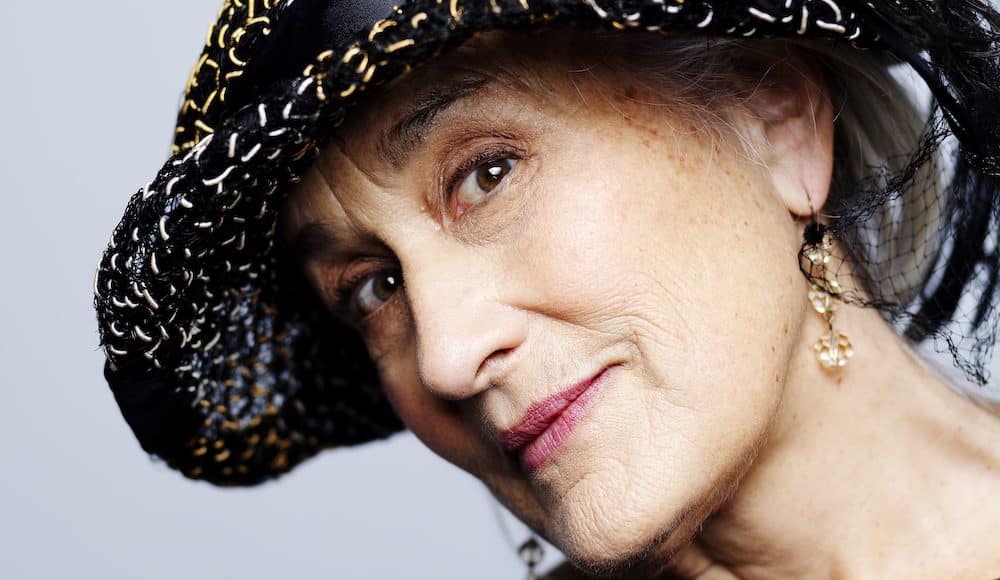 When I met Lucy Shelton, via Zoom, she was in the midst of an atypical endeavor. It wasn't simply that she was living in a Helsinki hotel: the American soprano's long career has often taken her far afield from her New York City home base. What was remarkable was that she was working in opera, rehearsing the small but crucial role of the Teacher for the Finnish National Opera debut of Kaija Saariaho's Innocence. Shelton had taken part in the work's wildly acclaimed 2021 Aix-en-Provence world premiere. The assignment fell in line with her career-long exploration of contemporary music, but nonetheless it had taken her into foreign aesthetic turf: "This is the first opera I've ever done," she says.  
It's an astonishing statement to come from a soprano who has been professionally active for over five decades. After a bit of prodding, she remembers a few one-off opera gigs, like a 1984 television production of Michael Tippett's Midsummer Marriage. But Shelton, the recipient of CMA's 2023 Richard J. Bogomolny National Service Award, is first and foremost a chamber musician. Even in her recital programs, she invites instrumentalists to share the stage with her. "There's something so powerful about being able to sit in a group of people you don't know and make music," she says. "Everybody is responsible for their own parts; everybody connects with everybody else."  
"Chamber music involves collaboration and personal responsibility in a way no other genre does," says Shelton's longtime collaborator Christopher Kendall, founder of the 21st Century Consort. "Lucy brings those qualities to her music-making." 
Shelton came from a musical family: her parents had met at an amateur music camp and all five children, growing up in Claremont, California, studied both piano and a second instrument. Lucy's instrument was the flute, which brought her, as a young teenager, to Greenwood Music Camp in western Massachusetts. She received her secondary education at Vermont's Putney School, a small institution with an ambitious orchestral program that gave her a solo opportunity in the Mozart D-Major Flute Concerto.   
As an undergraduate at Pomona College, she majored in music, studying flute and voice simultaneously. But eventually she had to choose between the two disciplines. "My heart was involved with both, but I realized that the flute repertoire is so skimpy," she says. "I love Baroque, but I wasn't going to be a Baroque specialist, whereas with singing—well, God knows you'll never run out of repertoire." 
Although Shelton left the flute behind, the discipline she acquired as an instrumentalist is one of her great attributes as a singer. "I've found that singers who first were serious instrumentalists bring musical skills that aren't there in other singers," says Kendall. "Lucy's outstanding attribute is that she's a great musician, and was from the beginning." 
"There's something so powerful about being able to sit in a group of people you don't know and make music."
Lucy Shelton
Shelton's performances with a Third Street faculty ensemble, the Third Street Chamber Players, started to draw attention, and soon she found herself performing as a soloist with  the New York Vocal Arts Ensemble, the New York Pro Musica Antiqua and many others. "It feels like a very grassroots thing that happened to me," she says. "It's that old thing: if you do your job well, it gets noticed, and you get passed around." Shelton became a founding member of the Jubal Trio, which in 1977 won the Naumburg Competition. In 1980, she won a second Naumburg award, this time as a soloist. 
Shelton's repertoire reaches back to Purcell and Telemann, moving forward through Mozart and Schubert, Brahms and Borodin. But she is most associated with modern and new music. She has sung in premieres by (to cite a small sample) Elliott Carter, Jacob Druckman, Miriam Gideon, Shulamit Ran, George Rochberg and Poul Ruders,; her repertory also encompasses Kurtag, Ginastera, Boulez and Dallapiccola, among many other 20th-century and contemporary composers.  
"Sometimes composers come together with important musicians to help each other," says Joseph Schwantner, who has composed five works for Shelton. He first encountered her in 1977, when he wrote the song cycle Wild Angels of the Open Hills for the Jubal Trio; two years later, he wrote Sparrows for Shelton and the 20th Century Consort (as it was then known). "I just didn't want to write for anyone else," he says. "In my mind's ear, her voice is simply there.  
"My music is usually performed for audiences who are completely unfamiliar with it," Schwantner continues. "So you have one chance––maybe––to have that music say something to them. Lucy takes that important step: she makes the music direct and intelligible." 
Schwantner has used Shelton's ability to comprehend new music as a collaborative resource. "Sometimes composers will come together with important musicians to help each other," Schwantner says. Laura Kaminsky's dealings with Shelton prove his point. As artistic director of Town Hall, Kaminsky presented a three-concert "Lucy Shelton and Friends" series in 1988, and the two women became friends, often getting together to play Scrabble. During one visit in 2016, Kaminsky handed her the score for her new opera Some Light Emerges.   
"We never played Scrabble and we never made tea," Kaminsky says of the occasion. "She took the score and literally sang it through. She would point to different spots––'This isn't very comfortable for the voice.' 'I don't like the way this is notated'––and she was right on every count. It's one thing to say 'this is a weird rhythm,' but another thing to say 'I don't understand how this music is going to support the emotion.' Lucy has it all."  
Kaminsky has continued to make use of Shelton's impeccable ear for vocal music. "She has had her eyes and hands on three of my six operas," she says. At one point, Shelton asked her "When are you going to write something for me?" The question has borne fruit in a new Kaminsky opera, written expressly for Shelton: Lucidity, with libretto by David Cote, about an older woman who has dementia. The piece will have its world premiere in New York in February 2024, in celebration of Shelton's 80th birthday.  
It is a measure of the trust that Shelton engenders among her fellow musicians that she is able to offer criticism (of the constructive variety) to friends like Kaminsky without raising their defensive hackles. Pianist Seth Knopp has grown close to Shelton during her many visits to Yellow Barn, the Vermont music festival where he serves as music director; she even stays with Knopp and his wife when she visits. The two were rehearsing a Handel aria at one point, and Shelton offered corrections to Knopp's playing of its figured bass.  
"She lives her life in a very honest way, and she has very little filter," says Knopp. "When she offers a comment, it's strong, because she believes it. But you don't feel she's standing pat or that she's petrified in place. It's all part of a passionate journey of discovery. 
 "Whenever you think of Lucy and the rest of the musical world," Knopp says, "she seems like an exploding star." 
 Considering her status as a doyenne of complex contemporary music, it is surprising to learn that Shelton does not have perfect pitch. She cannot sightread knotty intervals and grab the pitches out of the air; instead, she has devised a painstaking system of charting the music as she learns it. (In "The Art and Skills of Learning (New) Music," a 2019 article in the Journal of Singing, Shelton offers a meticulous description of her procedure, using as an example her preparations for Kurtag's formidably complex cycle The Sayings of Peter Bornemisza.) Her process helps her not only to identify the correct notes, but also to understand their intrinsic relationship to each other. "It doesn't just roll off her tongue: she's had to struggle deeply to perform these works at a very high level," says Schwantner. "You get the feeling that she has embraced the music and reveled in her ability to make it the best it can be." 
Shelton believes that her apparent shortcoming is in fact a blessing. "People with perfect pitch certainly have a great advantage," she says. "But they are challenged to make what they do expressive, because it's too easy."
Expressivity is in fact at the core of Shelton's art. You can see a vivid example in a 2016 YouTube video, in Sarasota with the Da Capo Chamber Players, of Pierrot Lunaire. The Schoenberg work is a signature piece of Shelton's: she has performed it throughout her career, and in 2012, in celebration of Pierrot's centenary, she took part in staged performances with no fewer than ten different international chamber ensembles. But the Sarasota performance shows that Shelton has never succumbed to routine: you get that she has continually worked to realize the exact expressive hue for every moment.  
"She puts so much color into every moment of the piece," says flutist Patricia Spencer, a Da Capo founding member. "She listens to the instruments to chose a vocal sound that makes sense with the chord that's behind her. At one rehearsal, [pianist] Sarah Rothenberg said that we would have to change clothes between every movement to match what Lucy was doing."  
Shelton's performance in the Pierrot video is striking not just for her music-making, but for her physical presence. Wrapping and unwrapping a crepe shawl from her shoulders, she is a figure of eccentric grandeur: an embodiment of the work's moonstruck lunacy. At times she strides forward commandingly; at others, she falls back, as if exhausted, in her armchair. You can see that, although Shelton may have forged her career outside of opera, theater is an essential component of her art. "Lucy has the kind of presence that demands your attention," says Joseph Schwantner. "Whether with a pianist or an ensemble, the room becomes very small." 
Referring to her boundless collegiality, Christopher calls Shelton an "anti-diva." But as the Sarasota Pierrot shows, in she is chamber music's own prima donna-–in the very best sense of the phrase.