Articles
| Features
Listening for
New Orleans
The sound of the city, unlike any other, has always expressed both simple pleasures and complicated tensions. In the face of rapid change, can its resonance sustain?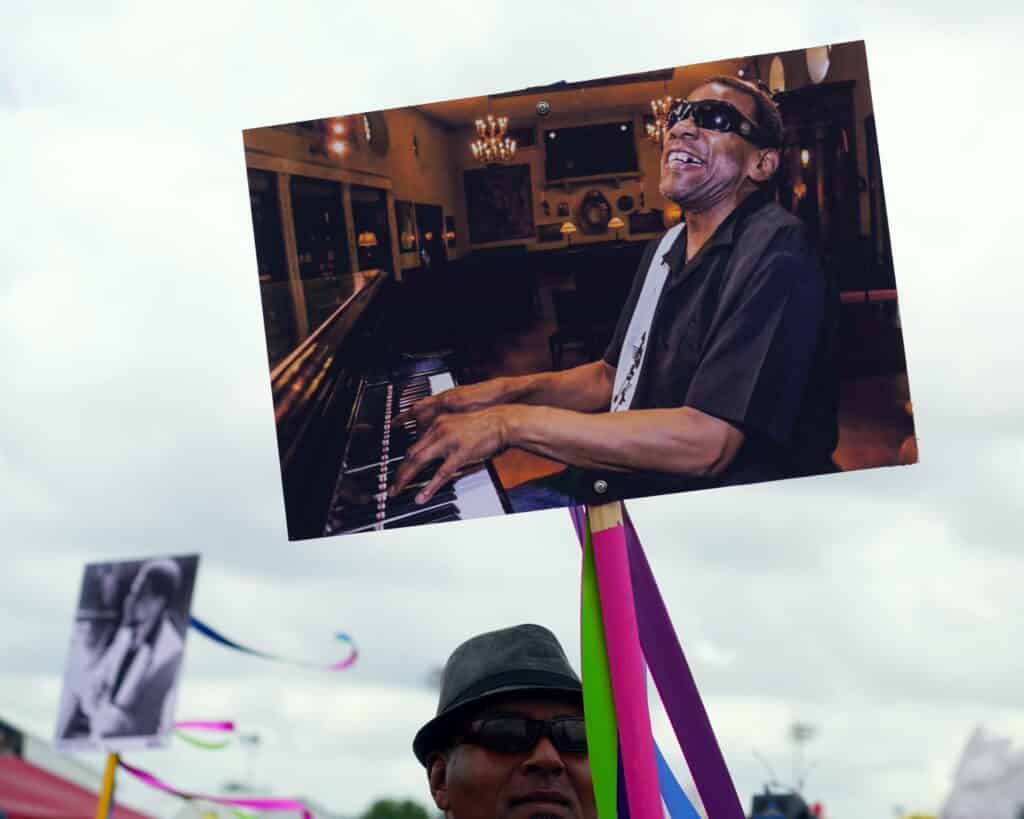 "It's the humidity," David Torkanowsky said. 
The air was stifling one sunny May afternoon in New Orleans after the close of the 50th annual Jazz & Heritage Festival. Yet Torkanowsky—who was born and raised here, and who extends a storied local lineage of free-thinking pianists grounded in jazz tradition—wasn't talking about the weather. He was trying to characterize his hometown's sound. 
"Danny Barker used to point out to young musicians that New Orleans is surrounded by water on all sides—by a river, a lake, and a gulf. That, in essence, we are underwater," Torkanowsky said. (Technically, roughly half of New Orleans is at or below sea level.) Barker, a banjoist and guitarist, left New Orleans, played with the likes of Louis Armstrong, Jelly Roll Morton and Charlie Parker during a long stretch in New York City and, once back home, founded the Fairview Baptist Church Marching Band, which reignited indigenous musical traditions and turned reluctant children into future jazz leaders. 
"Danny was letting us know that here, you have to push through this extra density. That's why trumpeters have such a big sound here. It's why drummers have this special lean, not ahead of the beat but with purposeful conviction to their playing. We push out a joyful noise against physical resistance in the form of the water, the humidity. But we also give in to it, too, because on a humid Southern night a slow pace is both comfortable and the most effective way to communicate. Our music has a dignity that is imposed upon it by the place we learned to play."
New Orleans means many things to many people, usually having to do with music that is heard, felt and, more often than not, danced to. The sound of New Orleans has always ranged widely, absorbing European influences in novel fashion, retaining more African tradition than anywhere else in the United States, and affecting nearly all corners of contemporary music, from rock to rap, blues to bounce, as played everywhere from clubs to concert halls and especially on streets. The relationship between New Orleans culture and the jazz it is said to have authored is elemental but also askew: "jazz" means something distinct in New Orleans as compared to, say, New York City or Chicago; there is far more to the city's sound than connoted by this or any other four-letter word. 
In City of a Million Dreams, a bold history of New Orleans published last year, when the city turned 300, author Jason Berry homed in on the sound of the place. Before Benjamin Latrobe could see New Orleans, as his passenger ship cut through dawn fog in January 1819, Latrobe heard "a sound more strange than any that is heard anywhere else in the world," according to his journal, "a more incessant, loud and various gabble of tongues of all tones than was ever heard at Babel." A month later, Latrobe, the architect and engineer who would design the city's first steam-powered waterworks, documented an "incredible noise" made by drummers and "a thunder, like horses trampling," from concentric rings of dancers in Congo Square, where enslaved Africans gathered on Sundays, seeding the beats of jazz and much more music to follow. 
Jerome Smith, a community organizer who was in the front lines of the Civil Rights movement, and whose Tambourine and Fan club and Treme Community Center directly extend Danny Barker's teachings, recalled in Berry's book an oak-tree-lined North Claiborne Street, before 14 blocks of the Tremé neighborhood were ripped out in the 1960s to make way for the I-10 highway. Back then, Smith told Berry, "You had the lyrical tap dancers on the street and you had the music from the vendors, the rag man, the produce man." The sounds forged in that neighborhood nurtured many a New Orleans musician, including, more recently, Troy Andrews, dubbed "Trombone Shorty" decades ago by his brother, trumpeter James Andrews, when Troy was just boy who could barely hold his instrument aloft as he played in street parades. 
In his book, Berry also quotes the pianist-composer-arranger-producer Allen Toussaint, who died in 2015, and who created enough hit songs spanning enough popular styles to embed his native city's sound across generations and genres. (Listen to Toussaint's own version of his "Southern Nights" and you get a good sense of how humidity manifests in music.) New Orleans has its own distinct hum, Toussaint told Berry—"B-flat all the way."
I was drawn to New Orleans 30 years ago as a writer, at first by the influence of its sound on the jazz world I inhabited in New York City. I got more deeply immersed in the city after the flood resulting from the levee failures following Hurricane Katrina. In 2005, I feared that the city's indigenous sound might fade to something like silence. Or that it might come to signify merely a tourist attraction or a museum piece rather than a sustainable way of life. I wondered whether New Orleans musicians and other culture bearers would return to their devastated city. I discovered that in the long wake of the flood, the ranks of jazz musicians, the brass-band-led Sunday second-line paraders and the feathered-and-beaded Mardi Gras Indians—the key players of a culture Barker helped revive—came back sooner and in greater numbers than the rest of the population. They pushed, this time against odds. They sounded the first resonant notes of recovery.
In the wake of the 2005 flood, among the first people I sought out was clarinetist and scholar Michael White. "Initially, New Orleans jazz was a reflection of a way of life," White told me in 2006, at his office at Xavier University of Louisiana, where he holds an endowed chair in humanities, as he peered over the notebook in which, during the months following the hurricane, he jotted down whereabouts of colleagues. "It spoke of the way people walk, talk, eat, sleep, dance, drive, think, make jokes, and dress. But I don't think America ever truly understood New Orleans culture, because the mindset is so different here."
When White first discovered New Orleans traditional jazz, it might as well have been an ocean away. Though born in the Ninth Ward, he moved with his family to a mostly white Uptown neighborhood and attended school in a nearby black one. "I later found out," he said, "that on the weekends, when I wasn't around, the blocks around my school were alive with Social Aid & Pleasure Club parades and jazz funerals." Most of the so-called New Orleans jazz he heard on the radio was the more commercialized Dixieland—"as if you were from Italy," he said, "and someone was telling you that Pizza Hut is your authentic cuisine." Then his high-school band director, Edwin Hampton, played him a 1950s recording of the Olympia Brass Band. "There was something about that sound," White said, sighing at the recollection. More epiphanies followed: the first funeral he played with trumpeter Doc Paulin's brass band; the recording he picked up on a whim, by clarinetist George Lewis, that was his most profound discovery. "That music sounded like it told the story of my life." He dove headfirst into a traditional jazz idiom replete with personalized timbres and variations within tight collective improvisations. He soon learned of his own familial connections to such jazz—clarinetist Willie Joseph, clarinetist-saxophonist Earl Fouché and bassist "Papa John" Joseph, formative players all, were cousins on his mother's side. 
The sound that led White to discover his past, and that directs his future, has drawn many musicians from afar to find their paths. Another clarinetist, Evan Christopher, arrived in New Orleans in 1994 from his native Long Beach, California, for a gig. He fell in love with the city while drifting along the Mississippi River and watching the sun set over the French Quarter. "It was romantic," he said. "But it also sparked a frustration. I realized how New Orleans music was being relegated to the fabric of tourism and hospitality. It took me many years to see past that." Christopher left New Orleans for three years. He came back. He began working toward a master's degree in musicology at Tulane University. If the architects of New Orleans clarinet tradition were dead and gone, he reckoned, the oral histories at Tulane University's Hogan Jazz Archives could provide "lessons from ghosts." Christopher took in history as told by Creole clarinet master Lorenzo Tio, Jr and his progeny of pupils: lesser-known heroes such as Alphonse Picou, George Baquet, Louis "Big Eye" Nelson; those who enjoyed celebrated associations, such as Omer Simeon (Jelly Roll Morton); Barney Bigard (Duke Ellington), and Johnny Dodds (Louis Armstrong); and the best-known master of all, Sidney Bechet. "So far, my career has been an exploration of the clarinet style indigenous to New Orleans," Christopher wrote in a liner note to his graceful 2016 release, "Bayou Chant." "Admittedly, the specific stylistic elements that constitute its 'New Orleans-ness' have proven somewhat elusive."
If Bechet famously left New Orleans for Paris, so did Christopher—but not by choice. After the 2005 flood, he was invited to establish a temporary base there. "I thought I'd never come back and that my music wasn't about a place, but about a vocabulary that I could pursue anywhere," Christopher told me in 2008, not long after he'd returned to New Orleans for good. "Then I realized there's an aspect that is about the place. There's an aspect of connectedness, and in the way people in New Orleans view music in terms of its more metaphysical and spiritual aspects—there's a sacred aspect. So, in a way, yes, I feel like you've got to be here." 
Though steeped in tradition, New Orleans music doesn't always sound traditional. Often, maybe always, it pushes against its past. Its heroes—from Louis Armstrong and Kid Ory to recently deceased masters such as pianists Henry Butler and Dr. John—all sound, to fresh ears, weird. Their music never gets dated. Nicholas Payton, among the best exemplars of New Orleans tradition as expressed through thoroughly modern music, told me, "We've never had this distinction of modern versus traditional. That's an outsider concept." The New Orleans sound isn't easily defined, but it says a lot about what it means to be free as a musician. 
The last time I heard tenor saxophonist Kidd Jordan play the jazz tent at the New Orleans Jazz & Heritage Festival, he began by telling the audience: "We've got a pretty good crowd. Let's see how many of you are left at the end." He then performed a mostly unbroken suite that moved from meditative calm to furious squalls, from blues form to more abstract expression. Jordan, who is 84, would be a jazz hero in New Orleans even if he'd stopped playing a half-century ago. He is one of the city's great music educators, having run the Jazz and Heritage Foundation School of Music, the Jazz Studies program at Southern University of New Orleans, and the Louis "Satchmo" Armstrong Summer Jazz Camp, and he is patriarch to his own family of accomplished musicians. Early on, he played all sorts of commercially viable stuff—from seminal 1950s R&B alongside Art and Aaron Neville in the Hawkettes to session work and gigs with the likes of Ray Charles. But when friend played him Ornette Coleman's "Something Else!!!!," not long after its 1958 release, Jordan told me, he was set on his unfettered path. "Ornette, and then Coltrane, made me feel something deep inside and I just had to let out," he said. (It's worth noting that Coleman, jazz's avatar of freedom beyond genre or pedagogy, spent one brief but formative period in New Orleans, where he drew in local musicians including Ellis Marsalis, who, as a pianist and educator, has helped define the city's sound in the decades since.)
Kidd Jordan's performances in the jazz tent of the annual Jazz & Heritage Festival are among Courtney Bryan's favorite musical memories of her childhood in New Orleans. "I didn't quite understand what Kidd was doing," Bryan said, "but I knew that it spoke to me, and that it said something about my home." She deepened that understanding at Satchmo summer camp, where she encountered Jordan as a mentor. "That camp was based on fundamentals of music, and on indigenous traditions," she said, "but if you took it to heart it was also an invitation to create your own sound." As a pianist and composer, Bryan (who is also on Tulane University's faculty) has introduced some of the pushes and pulls embedded in the New Orleans sound—between secular and sacred music, and between composition and improvisation—into a contemporary classical context.
She gained better perspective on her native city's music only after leaving home. While at Rutgers University in Newark, N.J., pianist Stanley Cowell urged her to focus on Jelly Roll Morton's work. She began transcribing the music of other New Orleans pianists, such as Professor Longhair and James Booker. "I didn't want to play like them—I can't—but I wanted to know how their music worked." While pursuing her doctorate at Columbia University, she read a book by her graduate advisor, the trombonist and composer George Lewis (no relation to the clarinetist) about the Association for the Advancement of Creative Music (AACM), a ground-breaking organization founded in Chicago a half-century ago that still greatly informs modern American music. She discovered that drummer Alvin Fielder, Kidd Jordan's longtime collaborator, was among the AACM's founding members. "I thought, 'Here's one connection,'" she said. "And I realized that we have our own version of this, that there is this long tradition in New Orleans that isn't talked about so much, of making music that, in its day, sounds experimental."
As a young girl growing up in Northern California, Aurora Nealand was fascinated by recordings made at Preservation Hall, the dusty French Quarter auditorium that is a temple of New Orleans jazz. "I didn't even know it was New Orleans music at the time," she said. "I was just drawn to the sound." She didn't get serious about playing clarinet and soprano saxophone until after earning a degree in contemporary music from Oberlin College. By 2006, she was living in New Orleans, soaking up tradition as played by the likes of trumpeter Wendell Brunious and saxophonist Charlie Gabriel at Preservation Hall, and learning traditional jazz repertoire by "playing it, awfully," on Royal Street in the French Quarter. Yet she studied it earnestly, especially Sidney Bechet's recordings. "I knew I had to find my own way to play it," she said, "because I'm not from New Orleans, I haven't lived that life." 
By 2010, she was presenting her own interpretation of Bechet's music at Preservation Hall, fronting the first iteration of her tradition-minded band, Royal Roses. Nealand's frequent duets with Tom McDermott, a pianist who has put his own distinctive stamp on the New Orleans sound since moving from St. Louis 35 years ago, dips into Bechet's and other local legacies for several bars at a time while sounding like casual in-the-moment conversations. Her solo project, The Monocle, for which she uses voice, accordion, saxophone and pre-recorded loops, sounds more like the avant-garde pop of Laurie Anderson than, say, Bechet's "Haitian Moods." Yet Nealand sees both inspirations as connected. "There's this weird divide in people's minds between New Orleans tradition and more adventurous music. But the collective improvisation and ensemble playing, the sense of humor, of early New Orleans music extend in a straight line, for me, to Albert Ayler or the Art Ensemble of Chicago, and even to someone like Laurie Anderson."
New Orleans tradition, when expressed correctly, sounds unbound. That sense comes across whenever drummer Shannon Powell relaxes into a traditional-jazz groove and whenever alto saxophonist Donald Harrison, Jr. plays with the dexterity of Charlie Parker (whose music he has mastered) and the fierceness of a Big Chief of local black Indian tradition (which he is). Drummer Herlin Riley was born in the Lower Ninth Ward, into a storied musical family with direct reach into jazz's beginnings, and has anchored, among other ensembles, Wynton Marsalis's jazz orchestra. Riley's claim to his city and its sound is perhaps clearest when he holds court at Snug Harbor on Frenchmen Street, just outside the French Quarter, where he'll sometimes accent a beat by taking a drumstick to the pipe that runs floor to ceiling behind the bandstand. (He signed his name to that pipe in red marker in 2006 — "to name it as mine, and to announce that, 'We're all back, and we're reclaiming this space.'") He hears New Orleans sound as inherently progressive. "Some musicians, including ones from New Orleans, think that the traditions of New Orleans music are limiting or outdated," he says. "But it works the opposite way. If you learn these traditions, if you truly understand them, you can shift your understanding of harmony and form and group interaction to play in a way that that is sophisticated and endlessly entertaining. It doesn't limit you, it frees you up to be yourself and move forward."
Ellis Marsalis once told me, "In other cities, culture comes from the top down. In New Orleans, it's the reverse: it springs from the street up." Riley thinks his native city's signature rhythms are constructed in similar fashion. "In straightahead jazz or bebop, the groove is built from the top down," he said. "The cymbal is the dominant aspect of the kit—everything comes from the ride cymbal and it goes on down. In New Orleans music, the groove is built from the bass drum up." 
The 2005 flood was not simply a natural disaster; those levees were knowingly left inadequate, the relief efforts intentionally slow and inequitable. New Orleans music has long signified a push against distinctly manmade resistances, mostly grounded in racism. Berry's book positioned the rise of jazz culture in New Orleans largely as "a performance narrative" countering that of the Confederacy's Lost Cause. A century ago, the city's nascent jazz culture was targeted by a Times-Picayune editorial proclaiming, "We should make it a point of civic honor to suppress it." In the wake of the 2005 flood, trumpets and trombones, brass bands and traditional jazz, may have been used to signify recovery. Yet in 2006, Michael White told me, "There's a feeling among many of us that some of our older cultural institutions, like parades and jazz funerals, are in the way of progress and don't fit in the new vision of New Orleans, that they should only be used in a limited way to boost the image of New Orleans, as opposed to being real, viable aspects of our lives."
Since the flood, the sound of New Orleans culture has sparked a fresh wave of conflict, requiring a new brand of resistance. In 2007, a consortium of Social Aid and Pleasure Clubs defeated jacked-up city permit fees for their weekly brass-band-led second-line parades in federal court, on First Amendment grounds (they won). Later that year, police busted up a memorial procession for a beloved tuba player, reigniting a long-standing fight over who owns the streets. This year, even as brass bands led mock second-line parades between the stages of the New Orleans Jazz & Heritage Festival, members of the Hundreds Brass Band were told by police to stop playing outside, on a nearby street corner. The issue was swiftly resolved, but the Music and Culture Coalition of New Orleans (MaCCNO), a local nonprofit advocacy group, issued a statement voicing concern about how the police department and city government "cast the issue as balancing the needs of 'residents' vs. 'musicians.'" The point being that trumpets, trombones and tubas on streets are what New Orleans is supposed to sound like.
The wave of gentrification that now grips New Orleans raises a perhaps unexceptional question: What happens when those who build upon cultural cachet don't want that culture next door? Yet in New Orleans, such concerns are underscored by an exceptional truth — a functional culture, essential to social cohesion, whose sound expresses the identity of the place. Several recent studies confirm the fact that the traditionally African American neighborhoods that have long nurtured that sound, and been nurtured by it, are being priced out of existence, their residents dispersed. Among the troubling rising tides that now threaten New Orleans are a proliferation of Airbnbs where there once were cross-generational family homes.
Can the sound of New Orleans push back through this resistance, or even sustain? "There's a New Orleans ethos, and even if it's not easily defined, we know when it's in jeopardy," Evan Christopher commented not long ago in a column for the Nolavie.com website. "Threats from over-dependence on tourism, gentrification and the affordable housing crisis give the impression that there is a 'war on culture' to be fought. But the beliefs and values that help members of a community navigate daily life take expressive form in the hands of creative culture-bearers. The dilution of our culture is the real war to fight."
The Monday after this year's Jazz & Heritage Festival, I met Fred Johnson in his office at the Neighborhood Development Foundation, where, as CEO, he helps residents achieve homeownership. Framed posters commemorated parades of the Black Men of Labor, the most traditional of the city's Social Aid & Pleasure Clubs, of which he is an active member. "What makes the city is the neighborhoods. And what makes the culture are the people in their neighborhoods. No neighborhoods, no culture. In that case, this city starts to sound like a lot of other places. But we won't let that happen."
Tremé isn't what it once was. The Treme Brass Band still plays weekly at the Candlelight Lounge, but now there's a cover charge and an audience dominated by tourists. Many longtime residents lament how few musicians now live in the neighborhood and complain that some newer residents are unaccustomed to or even offended by a parade down their street. A year ago, I ran into Trombone Shorty there, near his childhood house. "If all the musicians who grew up here leave, then we're all gone," he said. "Then this place is nothing more than a breeding ground for talent. But there's something else. Musicians that move from here—I've listened to them play, and the connection is not really there any more, musically. It's some other type of thing. I just want to be able to have that feeling, that sound, and to keep it with me."