Articles
| Features
Festive
Again
Back at nearly full strength, this festival year is one of courage, creativity, and fresh challenges.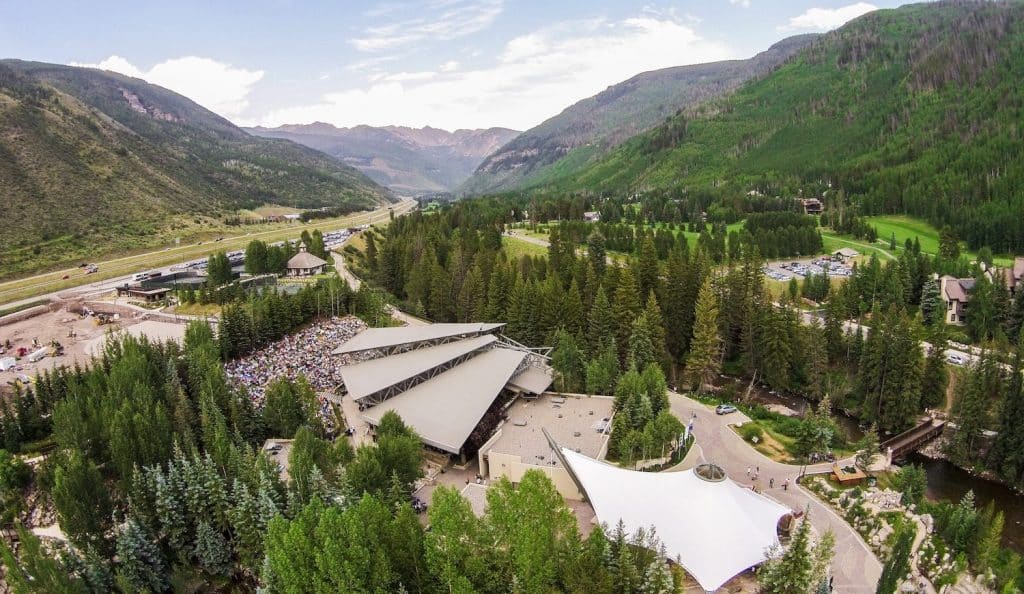 If one word sums up the mood of music festival organizers right now, it has to be optimism. The great, worldwide worry that took hold in 2020 as the Coronavirus pandemic shut down performance venues has mostly subsided. Musicians are eager to play. Funders are stepping up yet more boldly. Audiences are back—well, almost; most festival officials told me they expect attendance to top 80 percent of pre-pandemic levels, giving reason to believe that this year will be a good one.  
Such confidence is translating into musical courage. With renewed faith that sponsorships and ticket revenues will be stable once again, directors and curators are programming with new verve. They are expanding offerings, taking risks. "Financial support is so important for artistic freedom," said Eric Zivian, music director at Valley of the Moon Music Festival in Sonoma, California. Of course, festival organizers do have their concerns. Some worry about a proposal now on the table to raise the fees on visa applications for artists coming from other countries. Some worry that Covid will make a surprise reappearance. Others just worry, like they do every year, about the weather.  
In Vermont, learning from Covid
Yellow Barn, in Putney, Vermont, has been putting on concerts since its founding in 1969 by David and Janet Wells, starting out as a summer retreat for music students and growing into one of the country's most esteemed chamber music events. The venue's five-week summer program is so popular that the fest was cramming as many as 125 audience members into its small, namesake performance venue for each of its main concerts. Then came Covid with its spacing restrictions. In 2021 and 2022, seating was limited to about 70. Turns out, everybody liked the change. "And so we are going to leave it that way," said Executive Director Catherine Stephan.  
Yellow Barn has a unique setup. During performances, the audience sits in chairs on the main floor. The musicians who come for its renowned teaching sessions and to participate in its main five-week event sit in a loft behind the stage, coming down front-and-center when it's their turn to perform. In the past, spectators outnumbered musicians by a considerable margin. With the downsized, spaced-apart audience, the breakdown is roughly even. As a result, the connection between performers and listeners has grown deeper, more intimate. "The energy in the room has shifted," Stephan said. Yellow Barn will use new sponsorships and continuing Covid-relief state grants to make up for any lost revenues.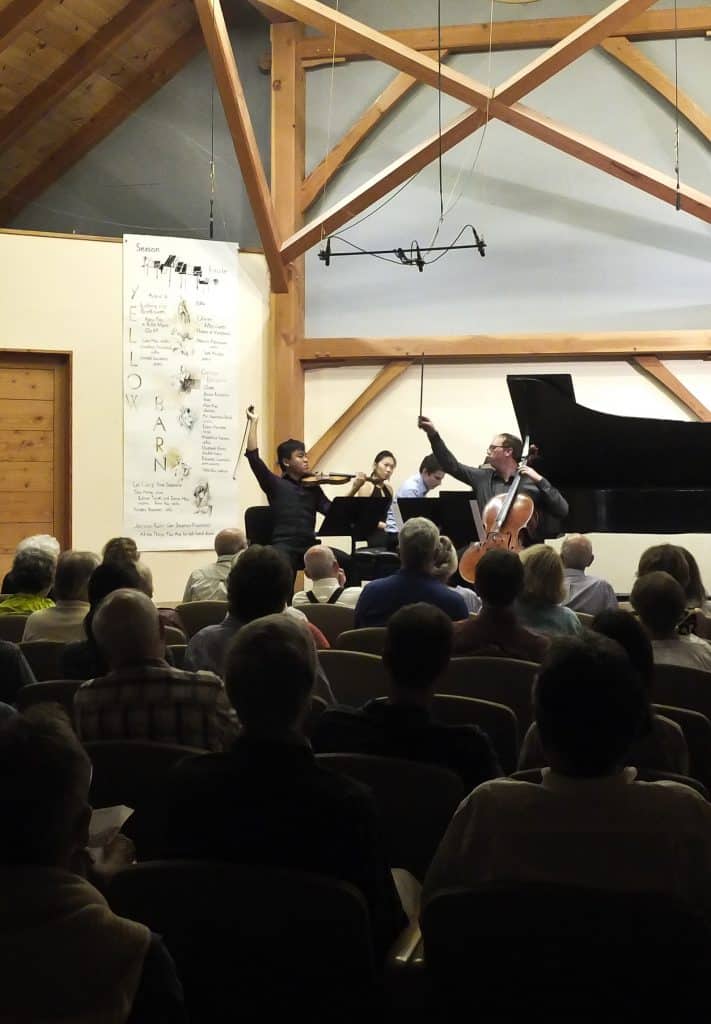 Stephan said the fest will still live in the shadow of Covid, at least to some degree. Despite a slowing down of infections, the government's quarantine rules remain officially in place. That means if a key player comes down with the virus, they will need to sit out for five days, and carefully chosen music selections may have to be switched out on the fly—a difficult task for an event in which Artistic Director Seth Knopp decides his programs after selecting the musicians, building each selection around the individuals skills of his players.  
Still, the fest is plunging ahead. Its most ambitious offering is likely to be a U.S. premiere of Mexican composer Hilda Paredes' chamber opera "Harriet," based on the life of Harriet Tubman, with soprano Claron McFadden in the lead role. That's a bit of an experiment for Yellow Barn. The festival has never produced a full opera, and its venue is not exactly the Metropolitan Opera House. Still, the music, Stephan said, needs to be heard, so Yellow Barn will find a way to overcome logistical challenges.  
In Utah, taking on big issues
The Moab Music Festival is unlike any other festival in the country. Each of its concerts is an adventure, literally. Some are held in natural red rock grottos that audiences access via jet boats. Others take place along hikes into canyons or during rafting trips; audiences can match their performance choices to their own desire to explore the area's famous wilderness.  
But all these events have one thing in common: they are connected to the water. And that water is drying up. The region is suffering a historic drought that is threatening the local way of life. "The Colorado River is the lifeblood of this town, and of our fest as well," said Artistic Director Leslie Tomkins. Debates are raging throughout the West about how to divvy up the shrinking pool used to sustain people, parks, and ranch land. Rather than pretend the issue is not simmering in the background, the fest decided to intervene with some music that could add another dimension to an understanding of the drought. It is commissioning a series of pieces that examine the river in different ways, through the eyes of composers. The two-year project debuts this summer with pieces written by Timo Andres and Pius Cheung. It will continue next year with four additional commissions. There will also be panel discussions, screenings, and related activities.  
This strategy is a departure for a festival not known for wading into local issues. "It is a hotbed of controversy at the moment," said Tomkins. "We thought we would be remiss if we didn't bring the idea of it into our programming." The festival, which Tomkins co-founded with Music Director Michael Barrett in 1992, is expanding in other ways, too, continuing to redefine itself as a year-round operation with concerts, classes, and performances in local Grand County schools. It has also been incorporating more jazz into its schedule, collaborating on programs with performers such as Alison Shearer Quartet, who played before a packed house recently. "We saw an entire group of younger people we hadn't seen before at any of our events," she said. 
In New Mexico, visa worries
For 18 years ¡Globalquerque! has billed itself as "New Mexico's Annual Celebration of World Music and Culture." And it has produced events worthy of the exclamation points it puts before and after its name. Last year, the festival presented 18 different performers from five continents during its two-day September event, with players coming from such distant places as Haiti, India, Mali, and Colombia. "Our goal to present different cultures to people and contextualize them, so they can't frame them as 'the other,' said Tom Frouge, who directs and produces the festival.  
On one hand, he feels good about the event's prospects in 2023. Like most other fests, ¡Globalquerque! took 2020 off because the pandemic, and built its crowds back slowly, working through safety restrictions. Last year, it almost matched pre-pandemic audience numbers, and there is no reason to think this year would not do even better. But Frouge says he has bigger worries. Each of the musicians he brings from abroad needs to acquire a visa to perform in this country, and there is a proposal on the table from the U.S. Citizenship and Immigration Services to raise the costs of visa applications by roughly 250 percent. The current fee is $460 and the new fee would be as high as $1,055 for many musicians. On top of that, there is a $600 "asylum program fee" in the proposal. That fee might not mean much to performers who play big arenas, but Frouge thinks it would be a dealbreaker for the lesser-known players he brings for the fest and who make relatively little profit from their appearances.
"A band from Malawi or Cambodia—how are they going to afford that?" he said. "If these bands can't come to America, we don't have a fest in the same way we have been presenting it for 18 years." If the proposal goes through, it will mean a smaller and less diverse event. The U.S. Citizenship and Immigration Services hasn't made its decision yet, but Frouge feels discouraged. Even if the proposal fails this time, he reasons that the issue will come up again. Eventually, the fees are likely to go up, and his festival will have to make big decisions about how to move forward. 
Off the Washington coast, a new business model
For the Orcas Island Chamber Music Festival, 2023 just might be the year things get back to normal after the pandemic disruption. The new normal, that is. Artistically, the fest will be in full swing. It has already lined up an international roster of musicians for its 26th summer concert season, which kicks off August 4, and features five programs, each performed twice over three weeks. But the festival has learned to be nimble, said Executive Director Anita Orne. The music is presented in a remote place, on a small island off the coast of Washington state, and is mainly accessible by ferries. Last year, tickets "did not fully rebound" and Orne is not sure what will happen next. "We are not back, but we are building back" she said, sounding guardedly optimistic. 
The pandemic, and the economic upheaval that followed, changed the festival, in ways that are big, small and, possibly, permanent. In 2020, when things were shut down, the event went digital, streaming concerts from its home venue. People loved these presentations so much that Orcas Island continued the experiment the past two years. "There were still a lot of people who did not want to come in for the concerts," Orne said. "They were so grateful, the donations were incredible." Orcas Island decided to make digital offerings a regular part of every season going forward.  
The festival invested in advanced technical equipment; its beamed multi-camera concerts have a cinematic quality to them. Viewers see the musicians from different angles. One concert positioned a camera directly above the pianist so the audience could see an overhead close-up of his hands while he played. It's a change for the better, Orne said. The concerts, presented on the second night of each program, on a donation-only basis, have grown audiences, lured sponsors and made a hard-to-access place easier to connect with. Orcas Island has a whole new way to reach audiences, and a whole new fanbase.  
In Florida, going deep
At the Sarasota Music Festival, things are changing both onstage and behind the scenes. The three-week festival, which combines performances by world-class musicians along with carefully chosen fellows who come each year to play and learn, runs for three weeks each June. 
Music Director Jeffrey Kahane has built the 2023 season around the idea of the power of music to tell stories: All of the programs will be inspired by a piece of literature. "This is the first time in our 59 years that we have a theme for the festival," said Director of Artistic Operations Olivia Steinman Deems. 
There is an artistic intention in that, a desire to connect the dots between different art forms and to dig deep on how people listen to music. But it is also a marketing strategy. The fest wants it all to unfold in chapters, in a sort of narrative that people will be eager to follow through until the end. "One part of why we are doing this theme is to create a through-line in the programs that will encourage audiences to come to more concerts," said Deems.  
What audiences won't see in Sarasota is an in-house effort to ramp up the recruitment of interns. The festival shifted much of that effort on to social-media platforms, hoping to reach prospective students on their own playing fields. "The use of social media to recruit interns is a huge difference for us," said Vice President of Operations RoseAnne McCabe. The festival launched targeted ads on Instagram and Facebook, and made well-produced posts on its own accounts touting the high-level of its faculty and artists-in-residence. Deems and McCabe deemed the effort a success. "When chamber music breaks the TikTok barrier, I think we will have made it," said McCabe. 
In California, expanding by shrinking the ensemble
The Valley of the Moon Music Festival has earned an international reputation for presenting chamber music on period instruments, a passion that partners (in music, and in life) Tanya Tomkins, who plays cello, and Eric Zivian, a specialist on fortepiano, transformed into the event they founded nine years ago. This year, they are hoping to take audiences on something of a sentimental, if offbeat, journey. The festival is programming familiar works written for large orchestras, played in intimate chamber music settings using its trademark period pianos and violins with gut strings. There is some interesting history to go along with the idea. Sometimes the composers themselves created the chamber arrangements. For example, as Zivian points out, Stravinsky himself reimagined "Rite of Spring" as a piece for four-hands piano. In other cases, music publishers created slimmed-down versions to make certain works available to a wider public who might not have access to concert halls and orchestras.  
 It's a big concept to sell, but like many other festivals this year, confidence is leading the decision-making at Valley of the Moon. So is the lingering impact of the pandemic. Last year, Valley of the Moon tried some outdoor concerts. They proved especially popular, and so they will be back again this year. "It's something we want to be cultivating into the future," said Tomkins. As the festival approaches its tenth anniversary, Tomkins and Zivian are looking to pull more people into the fold through community outreach, and expanded offerings. "Eric and I are a little relentless," said Tomkins.  
 They are not alone. As 2023 heats up across the country, a relentless spirit, enabled by better times and fueled by a survivor's sense of a moment to be seized, may well define the season.