Articles
| Features
Constant
Connection
Kavita Shah reënvisions cosmopolitism for a new era.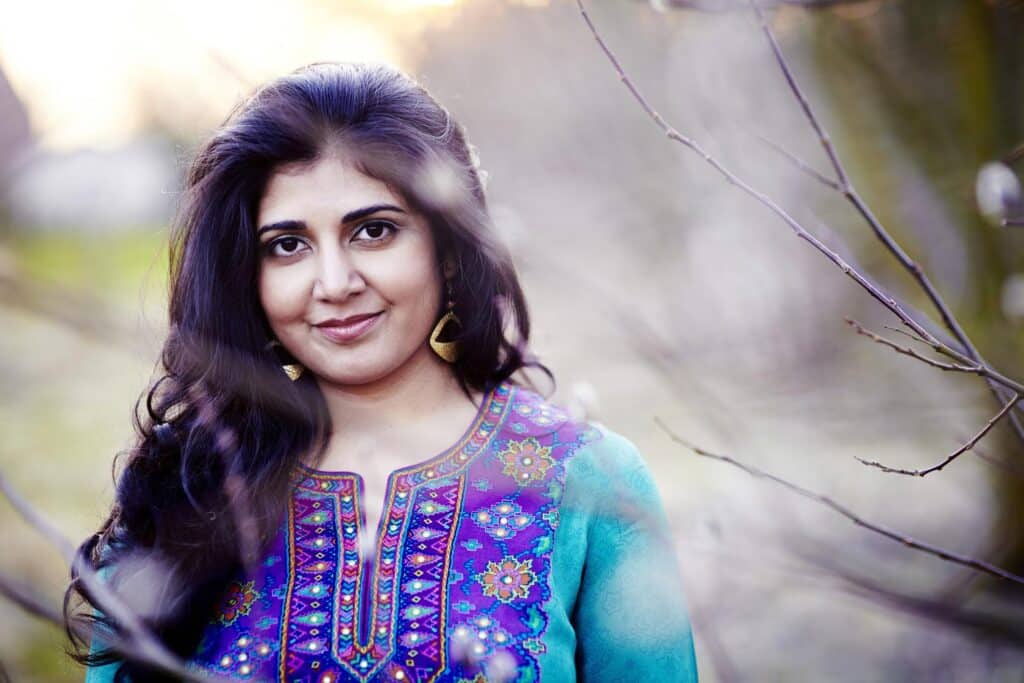 The vocalist and composer Kavita Shah was looking for a cavaquinho. She was visiting São Vicente island in Cape Verde, the archipelago's heart of musical culture, and, while there, wanted to purchase the traditional four-string guitar found in all the countries where Portuguese culture has spread. At a CD shop, she got directions to a local luthier—take the bus toward a certain mountain, get off behind the cemetery—and through him she soon met an icon: Rufino Almeida, known as Bau, a former band member and musical director for Cesária Évora. São Vicente is where the great singer lived before European attention found her. Shah was there partly to commune with her spirit: "She is one of my idols, and I had always dreamed about Cape Verde," Shah says. But spending five weeks meeting local musicians, haunting seedy jam-session bars, visiting Bau most days to play and share ideas, and performing a concert at the end of her visit—that was never the plan. In fact, there was no plan at all. "You have to be completely open to the moment," Shah says.
The moment: Shah needed one. It was 2016, and ten years on the grind making a path and a name in the New York City jazz scene had in many ways paid off, but also burned her out. Visions, her debut album, appeared in 2014, a polyglot project with songs by Évora, Wayne Shorter, Joni Mitchell, and Antonio Carlos Jobim. It was produced by the celebrated bassist Lionel Loueke, and came out on composer-bandleader Greg Osby's Inner Circle label. Shah was also pursuing her duo collaboration with bassist François Moutin, and had scored a prestigious commission for the Park Avenue Armory. It was ample validation for her choice, after majoring in Latin American Studies at Harvard, to change course and earn her master's in jazz voice at the Manhattan School of Music.
"To be a serious musician you have to spend time on the tools; there's no way to get around that," Shah says. But it was time for more. By her own self-diagnosis, she was jaded; but she also realized she was yearning for greater meaning. "I don't want to just play in jazz festivals and say that's my goal," she says. "I was missing inspiration and a greater sense of purpose."
It's about the method. FIeldwork, contextualization, synthesis, production.
Kavita Shah
Heady terms, but on the ground the process looks like getting on a bus on an island in Cape Verde and embracing whatever comes next. Of course, Shah came prepared. Though she didn't yet speak Kriol, or Cape Verdean Creole, she was fluent in Portuguese thanks to her semester in college as an anthropology major researching black activism and blocos, carnival musical groups, in Salvador de Bahia. She knew Brazilian standards and the Évora songbook. She sang the morna, the melancholy style most associated with Évora, well enough to impress the late diva's bandmates. But she wasn't interested in mimicking. When she returned to Cape Verde for a month in 2018, thanks to a grant from the Jerome Foundation, it was to understand in her own way. "I was staying a few houses down from where Cesaria's house was, being in the place where she lived, where she breathed the same air, had all these formative experiences," she says. "I was putting it together, the web of who she was."
Now Shah is preparing to release, in 2020, an album sparked by this experience, Cape Verdean Blues, featuring Bau and two musicians from the Cape Verde diaspora: the percussionist Miroca Paris, who lives in Lisbon, and fellow vocalist Fantcha, who is based in New York. The project is more than a simple Cape Verde cultural tribute, however. "This is where jazz comes in, there's a lot of improvisation on the album," she says. "I'm a jazz singer, singing Cape Verdean music, who has learned Kriol, but when I get to recording and performing, it leads to original work."
Shah's first Cape Verde visit capped a three-month personal sabbatical that took her to several African countries, from Côte d'Ivoire to Tanzania, mixing musical and other experiences. On a two-night stop in Addis Ababa, she managed to meet the venerable Ethiopian bandleader Mulatu Astatke at the club where he hangs out. "Everyone calls him the Doctor," she says. He was glad for the impromptu visit from New York, where he once lived, and Shah sat in for a song. In Tanzania, she heard a group of Masai vocalists and interviewed their leader. "It was two singers talking to each other," she says. "I asked when they sing; she said it was whenever there was a ritual in the community: funerals, circumcision ceremonies, and so on. It's so connected to the way they're living."
Back in New York, Shah held on to these experiences as she dove into her Armory commission, "The Folk Songs of Naboréa," a song cycle for seven vocalists, including herself, accompanied by kora player Yacouba Sissoko. The project, observed critic Nate Chinen, "dares to peer beyond the apocalypse toward a more harmonious form of chaos." Shah imagined a world annihilated by some extreme disaster, in which a small group of humans, possessed of all our cultural memory, begin from scratch. The cycle opened with a sustained single syllable—like the Hindu aum (or om), the foundational syllable that gives birth to the world. The performance had a slow, solemn choreography. "Each movement represents a ritual," Shah says. "There's a prayer, an anthem, a rain song, a forest song, a sleep song. It's sort of this ancestral consciousness and trauma that's latent in the world." The project, she said, was "the most satisfying thing I've ever done."
Just before the Africa trip, Shah had visited Hopi and Navajo reservations in the American Southwest. She interviewed a Navajo singer and recorded, with his permission, several songs. A Navajo rain song became partial inspiration for a section of "Naboréa," including its irregular bar structure and irregular mix of short and long phrases. "I was thinking of some of these parameters, trying to use some of these intervals," she says—up to a point. "Then the idea went where it went." Merging serious cultural and formal inquiry with improvisation and innovation is a challenge in which she sees the seeds of a method. She credits the composer Nils Vigeland for helping her work through ideas and look at how others, from John Cage to Meredith Monk, conducted similar syncretic efforts—"coming in with raw materials, contextualizing it in something broader, and producing something original from all that." She likens the process to her academic experience, when open-ended interviews in the Afro-Brazilian community in Bahia compelled her to dive into scholarship on the Black Atlantic by Paul Gilroy, Stuart Hall, or Frantz Fanon. There is some comfort in the rigor. "I think I finally locked into a way of working that made sense," she says. "This is a way I can continue to work as a composer and an artist."
Shah is busy—the duo with Moutin, the Cape Verde album to finish, a European residency with time to deepen her study of music of the Portuguese-speaking world. She is touring with her main band, the Kavita Shah Quintet; they plan to record an album this winter. But she is hesitant to reel off projects or timelines; this is a time of thinking for herself, not creating on someone else's calendar. Yet glimpsing her process in its current raw form makes clear the honesty of the effort, and the stakes. Shah is used to pigeonholes, and fits none. She is Indian-American, but a Manhattanite who grew up performing in the Young People's Chorus of New York; she has neither the training nor inclination to be an "Indian musician." She is an artist but just as much a scholar who views ethnomusicology research and journalist-style interviews as integral to her method. She is a female jazz vocalist, with the patriarchal burdens that carries. And she is a traveler with no intention of reformating her life to suit any particular market narrative.
She is not alone. One of today's pressing creative challenges is how to form a new cosmopolitanism—an ethos of exploration and exchange in which travel and cross-cultural immersion produce mutual learning and joy, instead of replicating patterns of privilege and exploitation. The sense of common planetary concerns adds urgency. "Our so-called modern world is getting so unsustainable," Shah says, that sooner or later we'll have no choice but to draw on a kind of universal human source code, as in "Naboréa." And at the core of human civilization is sound, music. As she drills down to the fundamentals, to what ties music to human contact and social cohesion, Shah expects to broaden her practice, adding more movement, more visual installations, more film. "It's like creating these spaces where all the different elements can come together," she says. "I'm reconstructing this world where I belong."