Articles
| Features
Clearing
the Way
With its multi-year UNCOVERED project, the Catalyst Quartet aims to ensure that the works of Florence Price, Samuel Coleridge-Taylor, and other under-performed composers are embraced by more chamber musicians and listeners alike.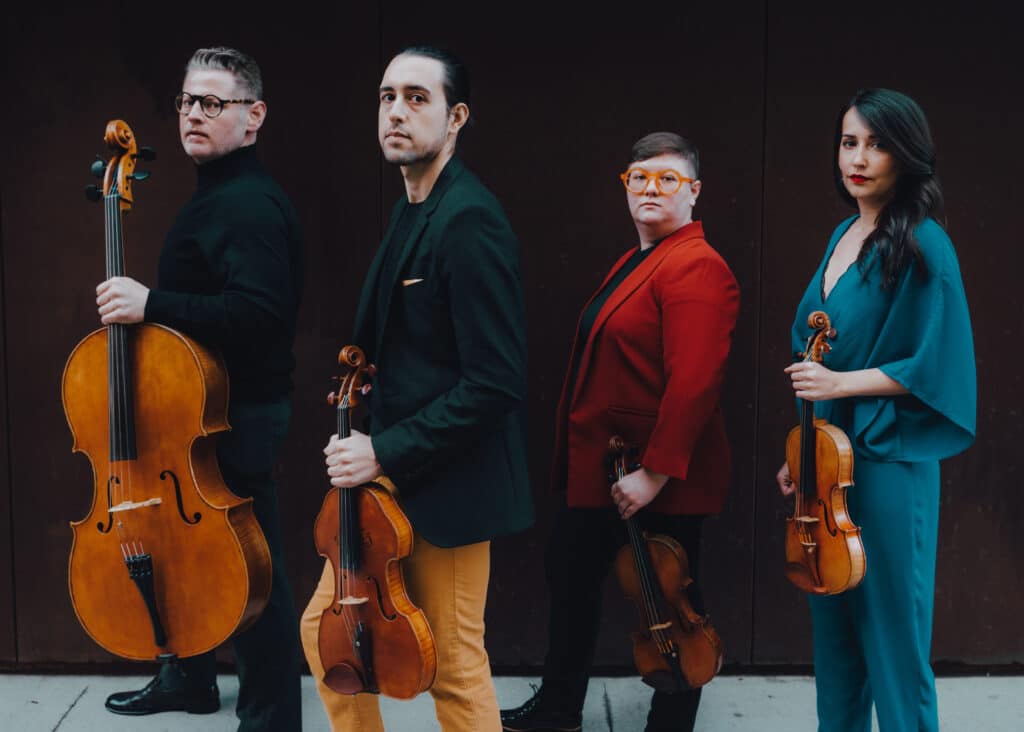 On June 15,1933, something historic happened at a Chicago Symphony concert. The Chicago of that time was a common destination for Black Americans fleeing the poverty and discrimination of the South, and the city was in the early stages of what would come to be known as the Chicago Black Renaissance. This cultural flowering boasted personalities such as Richard Wright, Earl Hines, and Mahalia Jackson, and, among them, a then-little-known composer and Arkansas native named Florence Price. A year earlier, Price had composed her Symphony No.1 in E minor. Entering it in a local competition, she won, attracting the attention of CSO conductor Frederick Stock. He programmed it. And that June night, for the first time, a major American orchestra played a work composed by an African American woman. The reviews were enthusiastic.
On the same program, Stock included The Bamboula by British composer Samuel Coleridge-Taylor. Coleridge-Taylor, who had died twenty-one years earlier at just thirty-seven, was the son of a Krio man from Sierra Leone, and was hailed during his lifetime as "the African Mahler." His music was much performed, and among other honors, he was invited to Teddy Roosevelt's White House. After his death, performances did continue, particularly in the case of the cantata Hiawatha's Wedding Feast. But many of Coleridge-Taylor's works were neglected by the classical music establishment, and he didn't ascend to the exalted place in the canon many believe he deserved. As for Price, after her death in 1953, her music was to a significant extent forgotten. 
Nine decades later, Coleridge-Taylor and Price have been musically reunited, this time in a chamber music setting, as cornerstones of UNCOVERED, a project by the Catalyst Quartet designed to help secure these and other neglected composers their deserved place in the repertoire. It's an ambitious project, intended to encompass the making of recordings and the dissemination of musical scores. So far, UNCOVERED has yielded two albums, one released in February 2021 featuring Coleridge-Taylor, the second released in February 2022, featuring Price. A third, to be released next February, will include music by African American composers Coleridge-Taylor Perkinson, William Grant Still, and George Walker; while a fourth will add Chevalier de Saint-Georges, the eighteenth-century French composer/virtuoso violinist/fencer/horseman/soldier born in Guadeloupe. Possible further installments could add works by Ethel Smyth, Teresa Carreño, Amy Beach, Rebecca Clarke, and Miguel Bernal Jiménez.
"We wanted to not only have all of these incredible pieces in one place where people could find them under the UNCOVERED umbrella," explains Catalyst violinist Karla Donehew Pérez, "but for these works to have high-quality professional recordings—and that that would inspire other people to record them as well.
"We have Beethoven, Brahms, and Mozart in a zillion different interpretations," Pérez continues. "Without that multitude of interpretations, we wouldn't have knowledge of how to approach these works … We want people to do that with the repertoire from UNCOVERED." Cellist Karlos Rodriguez emphasizes: "The goals of the project do also include that the music enters or is reconsidered as part of our repertoire as chamber musicians, that it promotes more widespread performance and conversation."
UNCOVERED was conceived in 2018, at a propitious moment, especially with respect to Price's music. The previous year, violinist Er-Gene Kahng made a much-ballyhooed premiere recording of Price's two violin concertos. And in 2018, G. Schirmer acquired rights to Price's substantially unpublished output. In 2020, Heart of a Woman, a biography by the late Price scholar Rae Linda Brown, was published. 
The same year, the social justice movement following George Floyd's murder engendered what Rodriguez describes as "a need for this music" and an explosion of performances of works by all the composers included in UNCOVERED. Says Rodriguez: "From a tragedy comes something hopefully good."
UNCOVERED is of a piece with previous Catalyst activities, which have focused, according to Rodriguez, on "changing the landscape of what the traditional string quartet is expected to do." The ensemble, founded in 2010 by the Sphinx Organization, made a recording debut with its own arrangement of Bach's Goldberg Variations. This was followed by an album of compositions by then-member Jessie Montgomery, and collaborations with jazz singer Cécile McLorin Salvant on her Grammy-winning Dreams and Daggers and bandoneonist J.P. Jofre on Bandoneon y Cuerdas. 
UNCOVERED's first album presents three works—the Piano Quintet in G (with pianist Stewart Goodyear), the Five Fantasiestücke for String Quartet, and the Clarinet Quintet in F-sharp minor (with clarinetist Anthony McGill)—all written between 1893 and 1895, when Coleridge-Taylor was between eighteen and twenty years old. Despite his youth, says Goodyear, the composer's "language was fully formed—there was great lyricism, great timing, just a full-fledged composer right from the very beginning." Coleridge-Taylor was a fan of Dvořák and Grieg, and this music inhabits the same lyrical, folk-adjacent world as theirs, while asserting its own originality. "I think the magic is his sense of harmony that was quite unique," says Goodyear, "and that whole spirit of youth, full of optimism, spirit, and daring. Within the structure of the sonata form there are some very unexpected moments, how he chooses to end the first and the fourth movement, throwing caution to the wind …" (Goodyear, who has become a big Coleridge-Taylor fan, believes that Hiawatha's Wedding Feast "should probably be performed just as much as Handel's Messiah. It is incredible.") The clarinet quintet was composed after Coleridge-Taylor's teacher, Charles Villiers Stanford, remarked that, after Brahms, no one would be able to write another such piece. When Coleridge-Taylor shared his work, Stanford saw how wrong he was, going so far as to show the quintet to Brahms' friend, Joseph Joachim, who played it and reportedly loved it. Like the Piano Quintet and the Fantasiestücke, the piece is lushly melodic and totally engaging.
UNCOVERED's Price album features six works. In addition to the Piano Quintet in A minor and another possibly unfinished piano quintet—both performed with pianist Michelle Cann—there are string quartets in A minor and G Major, Negro Folksongs in Counterpoint, and Five Folksongs in Counterpoint. Written over several decades, they display a range of styles forged in Price's complex and in many ways uncommon life experience. 
Price attended New England Conservatory—where she initially represented herself as Mexican to avoid discrimination—and graduated in 1906, aged 19. After a stint as head of the music department at Clarke Atlanta University, she returned to Arkansas, where she married and had children. Facing escalating threats of racist violence in Little Rock, the family fled to Chicago in 1927. In Chicago, their livelihood was decimated during the Great Depression, and her husband became abusive; in 1930, she began the arduous process of divorcing him, gaining full custody of the children in 1931. Throughout this period, Price composed and performed partially out of financial necessity, sometimes using a pen name that obscured her identity, but also managed to further her studies and form foundational artistic friendships, including with the pianist Margaret Bonds. It was not until the years that followed that she was able to pen her most substantial works. 
We have Beethoven, Brahms, and Mozart in a zillion different interpretations," Pérez said. "Without that multitude of interpretations, we wouldn't have knowledge of how to approach these works.
Price was clear-eyed about the intense barriers she faced. In an oft-quoted 1943 letter to the conductor Sergie Koussevitzky, to which there was no apparent reply, she introduced herself by writing: "To begin with I have two handicaps—those of sex and race. I am a woman; and I have some Negro blood in my veins." In that same letter, she offered a frank description of her compositional style: "Having been born in the South and having spent most of my childhood there," she wrote, "I believe I can truthfully say that I understand the real Negro music. In some of my work I make use of the idiom undiluted. Again, at other times it merely flavors my themes. And at still other times thoughts come in the garb of the other side of my mixed racial background. I have tried for practical purposes to cultivate and preserve a facility of expression in both idioms."
Idioms coexist in what Rae Linda Brown termed Price's Afro-Romantic style, heard in the UNCOVERED album's two weightiest pieces, the A minor Quintet and the A minor Quartet. For Catalyst violist Paul Laraia, the Quartet is the most exciting UNCOVERED release to date: "It's so emotive," he enthuses, "it has so much flavor, it has complexity … I think it's the piece that needs many other groups to record it, because it can go so many different ways. I'm excited to look back in thirty years and, if there have been thirty recordings of it, see where we've come with the culture of string quartets—what more are we going to discover about that piece?"
In preparing the two contrapuntal sets, which treat songs such as "Shortnin' Bread," "Swing Low Sweet Chariot," and "Go Down Moses," the Catalyst studied recordings by Mahalia Jackson, the Fisk Jubilee Singers, and others. "We really dug into the different interpretations of these folksongs and spirituals," says Rodriguez, "in order to explore a tradition we're not privy to, given our own ethnic backgrounds." Adds Laraia, "The information we learned from that did permeate the other works."
The Price album features four premiere recordings. This is reason for excitement—but also demonstrates the neglect her music has suffered. Many of Price's works only came to light in 2009, when new owners of her dilapidated former summer house in St. Anne, Illinois found a trove of manuscripts there. The music found a new home at the University of Arkansas. There, Er-Gene Kahng, an Arkansas professor, became acquainted with the concertos and chamber music. She describes finding the manuscripts "mold-damaged" and largely disorganized.
"The score (handwritten) and the parts (handwritten) weren't checked for errors," she explains. "The handwriting is extremely legible, and it creates this deceptive feeling from a performer's standpoint that it's ready to be performed with just minor inconveniences … But then if you were to rehearse it and say, 'Let's start from so and so measure number,' you would find very quickly that the parts and the score didn't necessarily match—not to mention note questions that might arise would not be illuminated by simply referencing the score. These are things that many performers, including myself, never had to deal with. We take for granted the team of editors and musicologists who, through years and years dedicating their professional lives to research, will have often cleaned up a lot of these questions." 
Kahng believes this process "from acquisition, how do we get the music, to—once you have it in hand—what do we do with all these inconsistencies, is probably a new experience for many performers who haven't dealt with composers who would be underrepresented. From a historical standpoint, it also points to the ways in which maybe fame in the broadest sense of that word is highly curated. Florence Price never really having her own team of people to go through these manuscripts, and access to performers to workshop pieces, it shows. And I think often performers themselves get discouraged because, not having experience with this kind of research, they'll bring to the table an expectation to just get the music and basically only dedicate their time and efforts to practicing the notes. And that's really the end part of the process."
Rodriguez connected with Kahng when, unable to locate Price scores, he found her via Instagram message. Kahng was able to lend the quartet her expertise, but arduous work remained. Describing the Catalyst's painstaking collation of the A minor Quartet from three separate sources, months spent determining whether the Negro Folksongs and the Five Folksongs were actually distinct works, and the general inadequacy of published materials, violinist Abi Fayette concludes, "If the process is going to continue to be this difficult, a lot of people are just going to feel exhausted by it and not pursue it—which is really sad." The group's struggles continued even after the recording of the work, when an unresolved disagreement with Naxos led to what the quartet believes is an incorrect track-listing on the company's streaming service as well as on the iTunes store. The quartet attributes this to insufficient research on the part of staff musicologists. But, Fayette hopes, the UNCOVERED project may encourage "more attention to detail and care in how these composers are presented and organized." 
Laraia similarly sees a direct connection between the "ease, access, and exactness of the edition" and the work's likelihood of being widely performed. He points to Price's Five Folksongs, which the quartet considers to be "the best [edition] that Schirmer has released," as a clear example. But while the new, cleaner editions are much more "performable," they also come with greater financial costs. "Recording Florence Price is a lot more expensive and a lot more inaccessible than it used to be," says Kahng. "We've replaced one barrier with another."
With such monumental challenges to performing and recording, UNCOVERED's further goal of disseminating scores is something that Rodriguez says "we can't quite think about yet." But the goal of popularizing the music has already borne fruit. Says Rodriguez, "The entire project was inspired by our friends who would be playing this repertoire at summer festivals. Any time we heard any of it … it was like, 'Why aren't people playing this more?' Since then, other people playing the music here and there have been looking to us for guidance. So I think it takes a village in a way. And hopefully this conversation, while it's deep and important and meaningful, will be less relevant moving forward, because of this work."