Articles
| Q&A
Alicia Hall Moran:
A Kind of Yes
In her role as Chamber Music Artist-in-Residence at the Frost School of Music, Alicia Hall Moran seeks both small and large moments of transformation.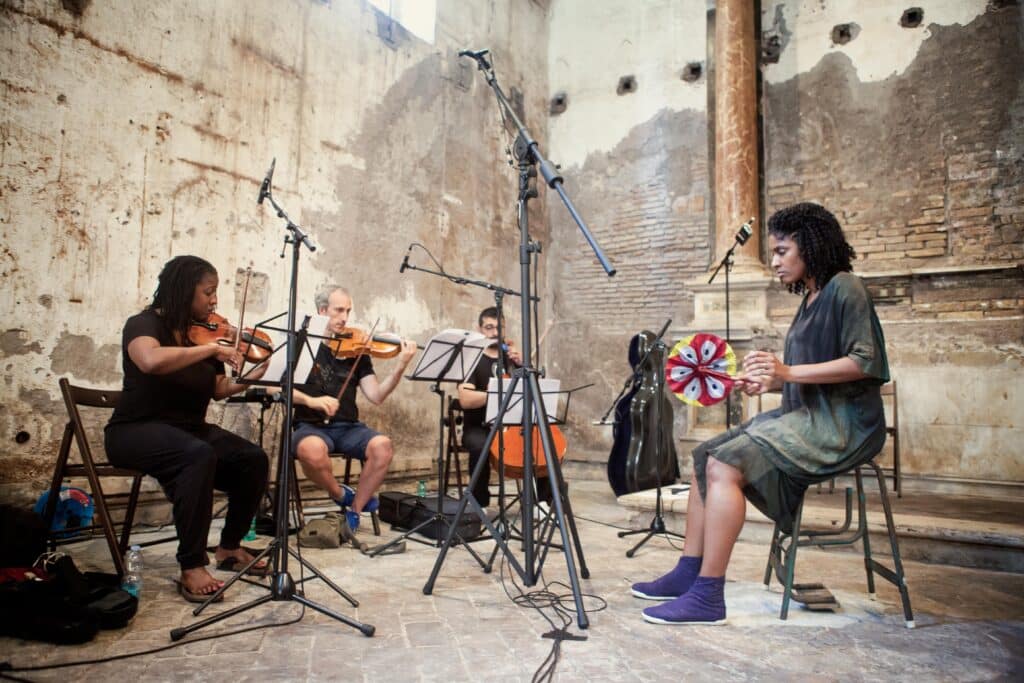 When Alicia Hall Moran first heard the Stamps Woodwind Quintet play Valerie Coleman's "Umoja," it was just a rehearsal. Yet Moran felt transported by these sounds. She was also seized by ideas about what might happen before and after the music was played, and what could be communicated beneath and around the performance.
"I couldn't control myself," Moran said. She jumped onstage. She talked to the musicians about their relationships to their instruments, to each other and to the audience that would later fill the hall. "Alicia turned that rehearsal into a life lesson," said Coleman, who is director of the Frost School of Music's Chamber Music Program, where the Stamps quintet, an ensemble of scholarship students, is based.
A classically trained mezzo-soprano, Moran has a voice that shapes melodies like figure skaters trace arcs in the ice, with a grace and precision that turns diligence into ease. Her comportment is inseparable from her music. Her music speaks to the present moment but is rooted in history: her family's, including the legacy of her great-great-uncle Hall Johnson, whose arrangements helped codify African American spirituals; and a broader inheritance, from opera to art songs and jazz to pop. Such grounding informs her realizations of operatic characters (she made her Broadway debut in the Tony-winning revival, "The Gershwins' Porgy and Bess") and her own genre-bending recordings. (One album, Here Today, begins by combining "L'amour est un oiseau rebelle," the aria that introduces Carmen in Bizet's 1875 opera, with Stevie Wonder's "Signed, Sealed, Delivered I'm Yours," which topped the R&B chart nearly a century later.) Moran establishes a mindful presence within a piece of music and with an audience, filling both the material and the listener with a sense of unconstrained possibility—or, as she puts it, "a kind of yes."
Now she inspires similar approaches for students at the University of Miami's Frost School, where she has served since the Fall as inaugural Chamber Music Artist-in-Residence. The invitation came from Coleman, with whom Moran has collaborated on more than one occasion. "As a flutist and a composer," Coleman said, "I have realized that although Alicia is not an instrumentalist, her way of sharing art serves the chamber music setting quite wonderfully and specifically. She has an ability to tie musicianship to comportment in ways that can change our art form." Moran's work at Frost has involved close interaction with ensembles (albeit virtually, given the pandemic) and deep discussions drawn from her own published writings about music history.
We spoke recently via Zoom, about music-school education—her own, and those she now helps shape—and about its changed context.
How did your new role at the Frost School of Music come about?
At the Frost School, they have a tradition where the incoming professors in the music department present a recital. When Valerie Coleman joined the faculty, her recital had many dimensions to it, including guest musicians. She invited me to recite a Langston Hughes text to a piece she had composed, "Portraits of Langston." The afternoon of the recital, after we completed our sound check, another group took the stage to rehearse, the Stamps Woodwind Quintet. These were scholarship students, playing Valerie's music. They walked on looking like a bunch of kids. They played, and it was glorious. And then they just kind of walked off. I don't know what got into me, but I jumped onto the stage and I just started interacting with them: Can I show you another way you could walk onstage, one that acknowledges for how gloriously your sound fills the room? Can we talk about your footsteps, and about your eyeballs?
Were they receptive to that sort of inquiry?
I could tell from their body language that they were open and available. First, I shared with them: Let me show you how you made me feel. Here's the change in me, right here. I talked to them about the instruments they were carrying, and about that time in between when we first see them and when they first make those sounds. And then when they leave, to embrace how beautiful that was, in their bodies, as they walked off: How would one do that? Then I ran out into the audience, and we went over some of the things I had talked about, the first of which was the level of their eyes and their sense of one another as they come out.
They came out again. They were transformed with the power of an acknowledgement of themselves. If you give too much to the audience but you have not yet done what you came to do, you can overexpose yourself and lose focus. You make it about the audience. But sometimes, before you have even given the audience a chance to embrace you, you shut them off. And your reasoning may be: I need to focus. But really, you have just created a hurdle to capturing your audience before you have even begun. It's a very careful process. It's like parallel parking, not into the audience or into the music, but into yourself.
How did that experience translate into a year-long appointment at the Frost School?
Well, I did the recitation for Valerie's piece. I flew home. I got a call a few months later from Valerie: "Hey, Alicia, you know that thing you did with that one group without being asked, in like 25 minutes? Can you do that with all the chamber music artists?" That was it. That's how it started.
When you were a music student, what was empowering or not about your experiences?
I went to Manhattan School of Music after graduating from Barnard College. When I got to Barnard, I knew I wanted to be a music major because I liked music the most—but mostly as an abstract concept. The first day, I got my schedule and every class in the music major was being taught at Columbia University, on their campus. I went from having a very women-oriented experience in reading, writing and so on into one dominated by a lot of guys, smoking cigarettes. Columbia is famous as a birthplace of electronic music. It is known for composers like Edgar Varèse. I mean, he was brilliant, that music is great. But I was singing songs by Schubert on a stage made of wood. So that was a culture shock for me. For me, music was a community based around live sonic vibrations coming from wood and metal and strings and voices. I was coming from a place focused on our mouths, our faces, our eyes, and found myself in a place with lots of composers and lots of computers. I'm turning in two-page art songs for composition class, and these students are turning in suites for electric cello. I got intimidated.
How did that affect your study of music?
I began veering more into anthropology of music—the music of Africa, the music of the Americas—to get back to where it was about people. Then one day, I was walking not far from Columbia's Prentiss Hall, where all those early electronic instruments are, and I heard some brass coming from a sixth-floor window at Manhattan School of Music. I don't know why, but I thought that was the sound I wanted. So, I applied to Manhattan School of Music.
Did you find what you wanted there?
Well, yes, as well as what I didn't know I wanted. I was already in love with classical singing. I was doing it for so long before I was introduced to the rigor of the technique, of languages, of understanding layers of resonance and, definitely, in terms of body posture. Also, I realized I had never heard another person my age sing in these ways. At Barnard, there was no vocal department. If you're studying to be a writer, you might be at the newspaper or a literary journal. You're with colleagues, you see their maturation. I was just in my own head. There's revelation in hearing other people your own age singing classical music, finding their identification with that music.
And it was not only my classical training, but also the fact that the school had jazz. The only thing separating you from the other departments in that school were invisible belief systems. The jazz guys, and a few women, were available and interested in talking to you about anything. They were relaxed. In jazz, especially in the '90s, some of the greatest of all time were also still alive. Or even if they had passed, their knowledge was still very much alive in their younger bandmates, in their students and their former bands. The jazz students pursued their goals within a completely different timeline and context than the people auditioning for young artists programs for classical voice.
Of course, your proximity to the jazz program also led you to [pianist] Jason Moran, your frequent musical collaborator and husband…
Jason took me to hear Cecil Taylor and Henry Threadgill. Those doors needed opening for me. But on a deeper level, he helped me grasp how important each individual instrument and personality is in music. And we could create together. We'd sit in practice rooms that had two pianos and play together.
That jazz community changed things for me. Classical artists often become familiar with the parts of the creative world that go, "No, no. You can't do this, you can't do that." Also, our history is fundamentally rooted an ocean away. This jazz world was so young, so cool, so loud, and so comfortable in their American-ness. And they were working, performing. The message from classical was always, wait. And the message from jazz was, Well, what you got? I liked that. That's one way of turning no to yes. But I didn't know what the no's were, anyway. We're talking about an ignorance that has served me well. In the absence of being told no every day, of hearing no in my head, I'm filled with a kind of yes.
Is much of your role now to help these young musicians turn no to yes?
That sounds like it. It's fashionable now for people to say, "We're going to think outside the box." But there's a huge difference being in a box and then trying to get out, thinking your way out of it, and in never seeing the box. That box only refers to itself. It limits an artist, it limits art.
A lot of it comes from awareness. One thing that I told Jason early on was, "Hey, you know we can see you, right? But you come onstage all raggedy with greasy little crumbles of paper, not looking up." Where I come from, it's all about transforming an audience. When I said that to Jason, it turned on a light bulb for him that has stayed on.
I'm dealing with a comportment that grow directly out of musicianship, and in connection to repertoire, and is never quite the same with each artist or ensemble or composition or performance.
How do you turn on that light bulb for students now?
I know that if I can help an artist become aware of their body and what they are communicating, I don't have to ask them to make changes. The awareness itself creates identity. It's that idea I mentioned of parallel parking. It's difficult until it becomes easy.
But aren't many music students conditioned to perform and just to be in a particular way?
If it still is the way, yes. But generally, the artistry is so difficult to master, and every instrument has its own lineage or choreography. It is so hard, what these musicians are trying to do in the first place. And then when they go to do it, they are in a unit that is also well-defined by its silhouette. The long history of classical and symphonic music is a man in a tuxedo with black shoes on: A man, first off. They are also inside of a form that doesn't change. String quartet, for instance, is string quartet. The silhouette and positioning really doesn't change much.
Yet we have reached a moment of change, even if long overdue. How do you help young musicians negotiate those changes?
Well, I think I would look carefully at the who, what, when, where and why of everything we're talking about. Take string quartet: There's a lot of energy now around who is in the string quartet. That has changed in the past hundred years. What they are playing is necessarily expanding, yet it's not really changing. During Franz Schubert's time, you couldn't have an Elliot Carter, for instance, you couldn't play what Amy Beech composed. But then an Amy Beech comes along, and now you can play Amy Beech. So, it has expanded and it will keep expanding.
Let's talk about the when—that needs to change. The when is contentious because, historically, classical music has such a close tethering to power and industry and wealth and ceremony. There is a huge opportunity in that area now.
In what way?
Well, for instance, we'll play, we'll all bring our string instruments to a protest in honor of George Floyd —that was not ever imagined.
But it happened.
But it happened.
I feel like the point we're discussing now addresses when, where and why…
Yes. When, where and why has, historically, been when, where and why the institution needs us to play for the highest in the hierarchy of wealth and society.
Do you see your role as helping change all of that?
To prepare them for the change? Yes. Because it's already happening. Because what happens when you are not being presented on a stage with gilding behind you and the audience chairs are not bolted to the ground, facing you? When the presentation ceases to force an audience to be captive for you and only you, inside a rigid, limited, and therefore noble and masterly repertoire exchange with an audience? What happens when you're presenting music that is not known by the people for whom it's intended to be performed? How can you possibly relate that music to an audience if you don't know that they can see you, and that you exist and that you can see them? What happens when, as has happened, you must present yourself, perhaps by virtual means?
I'm dealing with a comportment that grows directly out of musicianship, and in connection to repertoire, and is never quite the same with each artist or ensemble or composition or performance. I'm dealing with an artist's intention through the fourth wall. The audience wants to be led on a journey. They want to be taken somewhere. These big ideas about transforming the when, where and why involve all those little moments of transformation that happen from the time a musician takes the stage until they leave.