Articles
| Features
A Greater
Power
The legacy of the Association for the Advancement of Creative Musicians keeps growing, one musician at a time.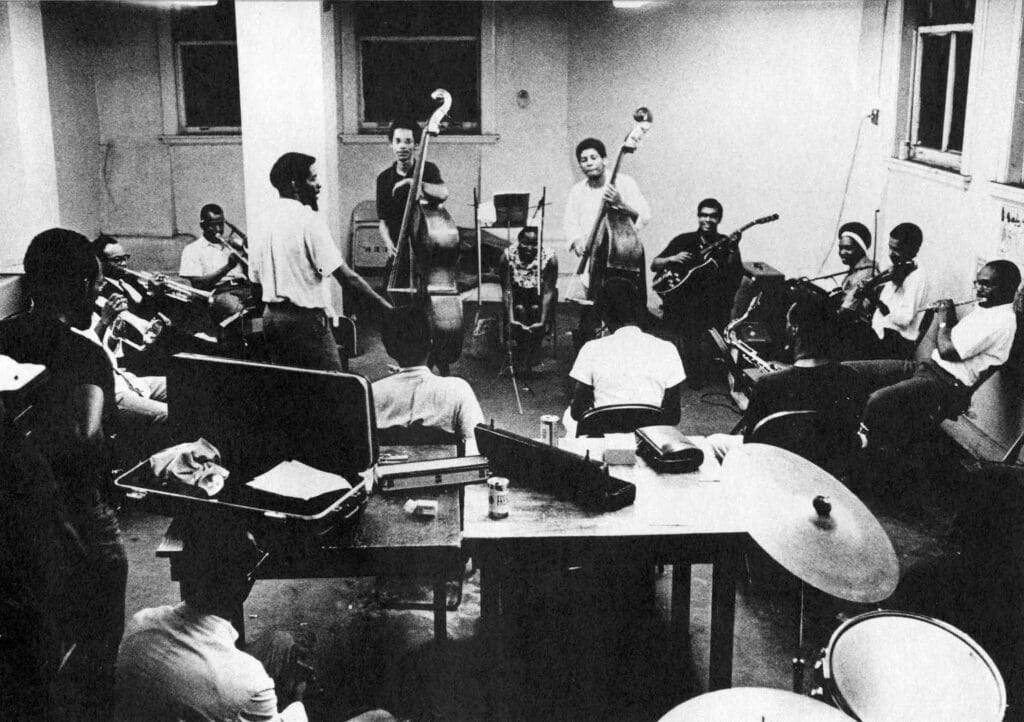 In the middle of the 300-page booklet that accompanies The Art Ensemble of Chicago and Associated Ensembles, a boxed set of 21 compact discs spanning nearly 40 years, is an essay by George Lewis, the trombonist and composer who is Edwin H. Case Professor of American Music at Columbia University. Here, Lewis recounts his first encounter with The Art Ensemble of Chicago, the ground-breaking group that consistently and in ever-changing ways advanced the motto, "Great Black Music: Ancient to the Future." 
Lewis describes being "completely baffled" by a 1968 Art Ensemble performance in Chicago, at a theater across the street from the high school he was attending, back when he was "really only fooling around with music." Three years later he joined the Association for the Advancement of Creative Musicians, after which "these composers and improvisers had become my mentors, providing an outpouring of support that counts as one of the most important experiences of my life." In 1977, Lewis got the chance to perform with the Art Ensemble: "Boundaries between solo and accompaniment often became deliberately obscured," he wrote of the experience, "based on real-time analysis of where the music might be headed, rather than ideologies of egalitarianism or 'democracy.'"
If the Art Ensemble is the most famous outgrowth of the nonprofit collective now best known by its abbreviation, AACM, it is just one of many that have by now transformed our cultural landscape. That boxed set tells just a part of the Art Ensemble's story, which began 50 years ago and continues this year through a reconstituted version of the group. It begins with a 1979 release, Nice Guys, and ends with Made in Chicago, a 2015 album that gathered one founding Art Ensemble member, multi-instrumentalist Roscoe Mitchell, alongside other musicians with essential AACM connections—drummer Jack DeJohnette, bassist Larry Gray, and saxophonist/flutist Henry Threadgill—and pianist Muhal Richard Abrams, who died last January and was the AACM's clearest animating presence and spiritual guide. The set's mass of music—alternatively meditative and frenetic, acoustic and electric, drawing with equivalent emphasis on jazz history, classical forms and folk music from various traditions—displays what Lewis got at in his essay: a blurring of boundaries between soloist and ensemble, between composition and improvisation and across lines that signify genre or style. The empowerment Lewis described—an awakening of individuality, and the larger idea that the music itself (and no particular ideology) guides creative direction—is the boldest resonance of the AACM's remarkable tale.
"Truth be told, however, the 'real' story, if there is one, will not be captured in a set of recordings or an archive of texts," Lewis wrote in his 2008 book, A Power Stronger Than Itself: The AACM and American Experimental Music, which nevertheless tells the organization's story clearly enough to constitute essential reading. "Here, Lewis wrote, "I take my cue from an unnamed AACM musician's answer to a query from writer Whitney Balliett: 'If you take all the sounds of all the AACM musicians and put them together, that's the AACM sound, but I don't think anyone's heard that yet.'" No clutch of recordings, however varied and glorious, captures the full depth, reach and vitality of what the AACM established, or its influence today.
—
At Chicago's DuSable Museum of African American History in 2015, a portable oxygen tank, painted vivid colors and fashioned with a drumhead, sat near a wooden crutch adorned with bells, beads, and wheels. These objects—improvised instruments and freestanding sculptures—were made by multi-instrumentalist Douglas Ewart from items found on Chicago streets. Among the 83 pieces in "Free at First: The Audacious Journey of the Association for the Advancement of Creative Musicians," an exhibition commemorating the AACM's 50th anniversary, they 
suggested appropriate metaphors. The AACM has long lent sustenance and support to musicians steeped in jazz tradition yet unwilling to be confined by it. It has grown from a collective of ambitious Chicago musicians to an engine of creative inspiration and practical outreach touching nearly all corners of modern music.
Ewart, who was once the organization's president, moved from his native Jamaica to Chicago in 1963. In 2015, while standing in front of his creations at the DuSable, he described being mentored as a teenager at the AACM's music school, which was established in 1967 and still operates, free of charge, at Chicago State University. "The AACM was my birth mother for music, and in other ways," he said. "I'd heard a lot of great music and been around great musicians. But in Chicago, through the AACM, I encountered people who were working hard, who were unstoppable. You couldn't help but recognize the power of what they were doing. And it was a special kind of power. We were watering each other to see how each one would grow on their own. That's what makes it an organism. That's the unique magnetism of the organization." In his role as an educator today, he said, "I often tell students what I learned back then: If there were a formula for revolution, it wouldn't mean anything to be revolutionary."
Mr. Lewis's book framed the conditions that gave rise to this movement, both in terms of the Great Migration, which doubled Chicago's black population between 1950 and 1965, and the specific context for these musicians' careers: a legendary jazz and blues scene that was quickly evaporating; creative ferment that coincided with political tumult; a transformation of African-American identity and its representations; and newfound focus on wherever collective improvisation and individualized composition might lead gifted black musicians. 
The clearest precursor for the AACM's genesis was Abrams's Experimental Band, which developed from jam sessions at the C&C Lounge on Cottage Grove and 63rd Street in Chicago's South Side. As directed by Abrams, it became what Lewis calls "a site for exchange, learning and experimentation across generations." Saxophonist Joseph Jarman, a first-wave AACM musician and founding Art Ensemble member, described the environment in Lewis's book: "There was no judgment thing. We might say thumbs down or thumbs up individually or personally, but no one would ever say that publicly. I might bring a piece in and they'll play it. They won't say whether they like it or not but they'll do their darnedest to play it as best they could." Not that the environment was free-wheeling; the community demanded both rigor and clarity of intent. (In his book, Lewis compared characterizations of the Great Migration as a "spontaneous, leaderless combustion" to clichés about black music and improvisation in general that lack "tropes of deliberation, planning, and organization on the part of musicians.") Also, the sheer range of information being absorbed and shared was notable—from bebop and blues pedagogy to European classical music, from the Schillinger system of musical composition that so fascinated Abrams to the members' specific interests in both ancient African systems of organization and nascent forms of electronic music. "Muhal and I were up at the crack of dawn back then," Roscoe Mitchell told me. "We'd have our breakfast, and we'd work on some Handel. We had the idea that the music would always be there and would always grow as long as we were diligently working on it. We'd be studying composition and working on improvisation."
The Experimental Band gave young musicians a challenging and high-level incubator for new music, without the competitive atmosphere of a typical jam session or the commercial compromises and practical pressures of gigs (besides, gigs would not have supported this brand of music-making). It was a point of congregation for the community that was gathering around Abrams, a brilliant autodidact who radiated authority and spiritual purpose, and who welcomed (or, rather, demanded) each musician's focus on their original ideas. It was a rehearsal band, a workshop; thus, very few recorded documents exist of the band sound that led to the AACM's formation. There is, however, ample documentation of the thinking that gave rise to the organization. The earliest meetings were held with tape recorders rolling.
The revolution was set in formal motion in 1965, when Abrams, pianist Jodie Christian, drummer Steve McCall, and trumpeter Phil Cohran sat around the kitchen table of the McCall family home in a South Side housing project. They sent out postcards inviting the cream of Chicago's African American musicians to meet on May 8, 1965, in order to set the AACM's course and credo. "First of all, number one, there's original music, only," Abrams said at that initial meeting. ("Don't give me a name," he later said of "jazz," which is notably absent from the association's name. "I'm not taking it.") "All of us are creative musicians," Cohran explained, "and that's why we were invited together to form an organization or a group, so that we can play our music, or the music that's in our hearts, and the music of our experience and training, and desires… Because we're all being denied the privilege of expressing what is in us." 
In the decades since its formation, the AACM has perhaps been caricatured for its contributions to jazz's avant-garde—an impact that, while significant, is hardly defining. The deeper truth is that jazz's mainstream has gradually and importantly grown closer to the AACM's ideas now than it was a half-century ago, largely through the direct influence of the association's musicians. The yet broader truth—the one most relevant to the organization's founding and essence—is that however firmly rooted the organization's founders were in jazz tradition, and as much as they were inspired by the so-called "free jazz" movement, the AACM's musicians have drawn from and affected many communities, including those focused on contemporary classical and electronic music, multi-media arts, and especially within academia. 
Well beyond Chicago, the AACM (which includes a New York chapter, formed in the late 1970s by Abrams and pianist Amina Claudine Myers, among others) has achieved singular status. Its key elders now form a roll call of distinguished African-American musicians, with National Endowment for the Arts Jazz Master Fellowships, MacArthur Foundation grants, and prestigious academic appointments. (In 2016, Henry Threadgill was awarded the Pulitzer Prize for Music.) What's most striking is that these musicians' individual expressions reveal no core strategy; they sound nothing alike. Their careers trace a shared ascendance that reflects a common sense of purpose and history, not of voice or style. At that first meeting in 1965, the question arose—"What are we calling it?… The Association for the Advancement of Creative Music? Or Musicians?" To which Cohran replied, "We can all create music and somebody else can take it and use it. The musicians are the ones who need the help." If the AACM is one of culture's great collectives, its impact is best revealed through stories of personal growth and realization; its history plays out from musician to musician.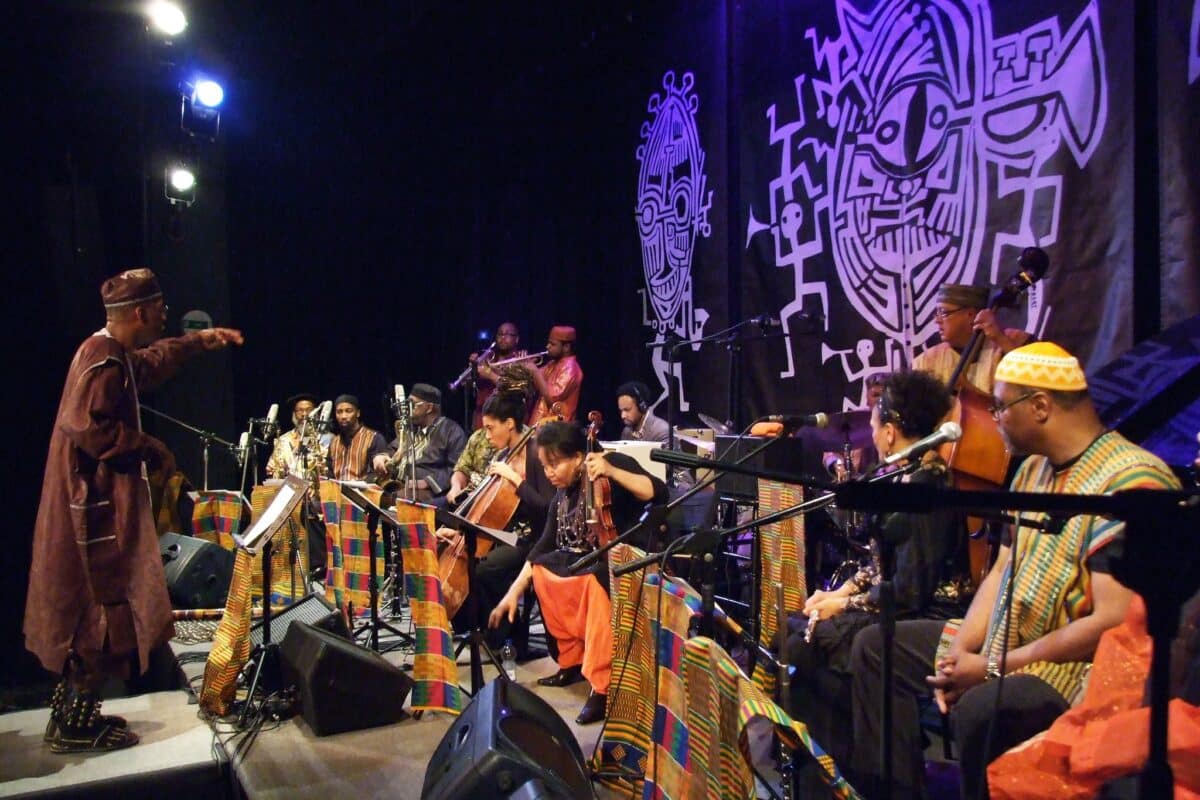 While completing his military service in Colorado in the 1960s, trumpeter Wadada Leo Smith, a towering presence these days as both player and composer, read some accounts of the AACM in Down Beat magazine. Around that same time, he met a musician who had played with Anthony Braxton. After his discharge, he headed for Chicago and, soon after, met other formative AACM members, including Jarman and Mitchell and the brilliant trumpeter Lester Bowie, all of whom offered warm welcome. By then, the system Smith would later name "Ankhrasmation"— "a musical language as opposed to a musical notation system," he says, incorporating directives about the music's density, velocity, and finely calibrated tensions and releases—was already mostly in place. He first achieved its full expression through his composition, "The Bell," on Braxton's 1968 recording 3 Compositions of New Jazz.
"I composed that on a Saturday morning at my house in Chicago," Smith said. "Later that day, at the AACM building where we would often meet and perform and discuss, I had the opportunity of putting it into practice to see how it worked." And Smith felt a broader impact in the context of then-turbulent times. "The AACM, when I first went there, had poets and writers and dancers as well as musicians—people who were exploring and demonstrating similar ideas," he said. "We thought of our music as politically weighted. We identified our freedom along with the freedom that was being engaged in the streets through protest and resistance. And when we played in Chicago, people would feel transformed. They would tell us that they felt a clarity, a purpose, that was useful to them."
Smith has since become an important mentor to and close collaborator with pianist Vijay Iyer. (George Lewis was Iyer's adviser for his graduate work at Columbia University.) Iyer, a pianist whose creativity and erudition have earned not just consistent critical praise but also a MacArthur Fellowship and an endowed professorship at Harvard University, sees such connections as elemental. "I'm here because of a series of generous African-American people who let me be here, particularly those connected to the AACM," he said. His appreciation of the AACM's acknowledges not just generosity of spirit but also a sense of personal and political empowerment, of a larger door of identity being at last unlocked and swung open. In a 1996 essay, he cited the organization's "self-conscious emphasis on awareness of African cultures, concepts, and philosophies." "In theorizing about the music they were making," he wrote, "some of the AACM musicians reasoned that since the music of their ancestors had been essentially robbed from them, the only access they had to it was through the channels of consciousness…. Hence the musical activities not only served as a grounds for communication between the musical identities of the participants, but also as a chance for the musicians' true—that is, ancestral—identities to manifest themselves." For Iyer, the son of immigrants from India, the AACM's legacy has helped him to recover points of personal identity and communal connection related to the "the Brown and Black Atlantic."
If there exists a sonic "big bang" announcing the AACM's presence, it was surprisingly soft-spoken, even playful. Roscoe Mitchell's 1966 album Sound, which featured seminal AACM musicians, elegantly balanced sound and silence. Along with masterful instrumental technique were the unexpected and pan-cultural sounds of toys, bells, gongs, and an array of "little instruments." Drummer Mike Reed, who has served as an AACM officer, was just finishing college in Ohio when he heard that album. "I knew instantly that this was the sort of thing I wanted to sink my teeth into," Reed said. Once he relocated to Chicago, he found musicians working in that spirit. "They were of my generation," he said. "They were doing this, and I thought I should be doing it, too." 
One of the musicians he met was Nicole Mitchell, a flutist with dazzling technical skills and searching spirit, who, in 2009, became the AACM's first female president, and whose recent recordings have consistently topped critical polls. When Mitchell first arrived in Chicago in 1990, she looked up the organization in the phone book. "Back then, I was afraid to be a composer even though I was writing music," she said. Through the organization, she found "a nurturing positive environment in which to bridge the familiar with the unknown." The AACM, which formed in concert—if not direct collaboration—with 1960s Chicago visual-arts collectives such as AfriCOBRA, was, for Mitchell, a direct extension of the Black Arts Movement she first encountered while growing up in Syracuse, N.Y. In 2015, in celebration of the organization's 50th anniversary, Mitchell wrote an essay for Wire magazine. It included this passage: "Instruments, new improvisational languages and new notational systems were invented. Orchestras were created. Computers learned to improvise. Operas, interdisciplinary projects and pieces for spinning tops and saxophones were written and neighborhood children learned new navigational systems. The idea of the AACM is one that bends and binds diverse minds that are similarly defiant, where aesthetic growth and resilience are keys to truth, where mimicry is abandoned for the authentic real of individuality."
That same year, Mitchell, Reed, and cellist Tomeka Reid formed a collective trio, Artifacts, to interpret compositions of AACM composers and extend its legacy. The AACM had ushered Reid into a more satisfying musical life, she told me. It helped her reconcile her classical training with her desire to take chances, and to find a comfortable identity in which "blackness did not cast me as an outsider." And it provided far more. "It may sound corny, but it's true that we all lead improvised lives," she said. "The AACM brought me into a constant state of learning, in which I can find comfort in discomfort. How do you react? These are principles you can apply to your life."
Drummer and composer Tyshawn Sorey has studied and worked closely with AACM pioneers: with Braxton, while pursuing his Master's degree at Wesleyan University (he now occupies Braxton's former faculty position there); with Lewis, at Columbia University, where he earned his Doctorate; and with Abrams, in whose group he gained early experience. A conversation with Braxton more than a decade ago helped set Sorey on his way. "I felt like, since I am a drummer, not a lot of people would take my music seriously," he said. "Why did it matter? But Anthony told me it does matter. He helped me understand that you create a book of music you believe in, and eventually there will be people who are interested in performing your work. And you'll be inspired to create more."
That's how it has played out. Sorey, who was awarded a MacArthur Fellowship in 2017, stands prominently at the vanguard of a movement invested in more fully erasing the lines between jazz and contemporary classical music, and between notions of improvisation and composition. His recent release, "Pillars," a sprawling and abstract triptych of nearly four hours, reflects what he has absorbed from AACM mentors, he said—"an aesthetic that is about inclusion and rigor, and results from becoming interested in the composite musical environment that is where we really live." In conversation, Lewis amplified that last point for me. "The organization's legacy fosters not hybridity or fusion, but mobility," he said. "As an artist or as a person, if you're mobile you can be here and the next day you're there. You still carry with you your entire history."
—-
In Chicago, Mike Reed has had an impact not just as a musician but also as a presenter. Constellation, a club he founded, draws in spirit from the Velvet Lounge, which was run by saxophonist and beloved AACM member Fred Anderson. In 2015, when a group of elder AACM legends including Muhal Richard Abrams needed a rehearsal space in Chicago, Reed offered up his club. "Muhal walked in and told me, 'You know, this was what we always dreamed of.' And what that meant to me was that Muhal was saying, 'Yes, you're part of this family, this thought we had all those years ago and that's still happening.'"
In February, at a memorial for Abrams, who had died a month earlier, musicians gathered at the Community Church of New York, where the city's AACM chapter still presents concerts. Anthony Braxton described Abrams's role as impetus, guardian, and spiritual center for the organization, and his presence as "a distinctly American hero," who demanded that we "respect both our similarities and our differences" and that we "create culture from the perspective of community rather than personal achievement." These collective goals, and the community itself, have been shaped each musician's decisions, big or small. Earlier at the memorial, vocalist Thomas Buckner had recalled once asking Abrams, before a concert, what the musicians should wear. Abrams had shot back: "How do you want to present yourself?"
"The AACM is always expanding but in a specific way," Abrams once said. "It's collecting individuals." And so it goes, more than 50 years on.