Articles
| Features
Tuning
In
Jon Batiste's deeply social approach to jazz. 
Five nights a week, stage left of the top-rated late night host in America, a skinny young man sits at his piano bench, engine idling. Jon Batiste, the 31-year-old musician who rocketed from New Orleans' musical royalty to millions of TVs every night, and millions more phone screens the next day, riffs along as Stephen Colbert lampoons the day's blunders and dramas. He eggs him on, yukking heartily from off-camera, sometimes chiming in like a spirited parishioner, and punctuating, with cartoonish piano "ker-splats!", the man whose marquee tumbles down the side of the Ed Sullivan Theater on Broadway just north of Times Square, the brightest name on the brightest street in the world.
Jon Batiste has arrived early to just about everything in his life: A scion of one of the bayou's premiere families, Jon was playing percussion with his seven uncles and father in the Batiste Brothers Band at age 8; at 17 he left Louisiana for Juilliard, where he earned his master's. That was the same year he released his first album as a bandleader, and just three before he headlined Carnegie Hall, in 2007. By 2012, he was a director at the National Jazz Museum in Harlem. At 27, he was showing his future boss up in an interview on The Colbert Report, and then, at 28, Batiste was chosen as the bandleader for The Late Show with Stephen Colbert, CBS's flagship talk show.
But now he's late. I'm on hold, waiting to speak on the phone with the man who's receiving CMA's 2018 Visionary Award, and he's nowhere to be found. Calls are made, and ultimately an assistant is dispatched to his apartment in New York, where the young maestro is roused. When I finally get him, he's relaxed, profuse, and full of ideas.
CMA's Visionary Award is given out every year to recognize small ensemble music professionals leading the field in creative thinking and innovation. Last year, Eighth Blackbird won the award for its deeply influential and boundary-pushing approach to performance practice. Batiste follows this high bar with an impossible slate of achievements of his own: In addition to helming the music for Colbert's show, he's its bandleader and music director, toting his longtime band Stay Human, a super-team culled from Berklee, Juilliard, and the New School. Even at his young age, Batiste has been playing with the group and its affiliates for over a decade. Its rotating cast of characters includes bright, vibrant players like Joe Saylor, Louis Cato, Ibanda Ruhumbika, Negah Santos, Maddie Rice, Patrick Bartley, Cecile McLorin Salvant, Aaron Diehl, Sullivan Fortner, Christian Scott, Trombone Shorty, and Jazzmeia Horn.
"From the time I was a kid, I always felt that music, to me, was more than just a vehicle for me to express myself and to have fun. I always knew that there was something powerful that you could do with music for other people."
The title of the group's most-recent album, 2013's Social Music, was chosen to speak to the greater purpose Batiste sees for his work. For Jon, music is the great equalizer. It has a unique catalyzing power to bring people from diverse backgrounds together in a single spirit. It's one thing to claim this philosophy; there's no paucity of doomsayers bemoaning technology's destructive, dissociating powers. But Batiste's real magic is to make music do the trick. And the proof is there: In 2011, he made an album entirely on New York City's subway cars and platforms, roving past commuters waiting for the L train, winding around straphangers to get the atomized, ear-budded masses listening and connecting and even dancing along with him. "From the time I was a kid, I always felt that music, to me, was more than just a vehicle for me to express myself and to have fun," Batiste says. "I always knew that there was something powerful that you could do with music for other people." 
Witness one of his "love riots", for example: Batiste, wielding his signature melodica—he calls it a "harmonaboard"—and, trailed by the merry members of Stay Human, takes to the streets of New York in a kind of homage to New Orleans' signature second line. Would-be strangers form behind the pork-pied pied piper, transforming a side street in Manhattan's East Village or Brooklyn into a fizzing processional where the journey is the destination.
"You know, it's a beautiful blessing to have been born in New Orleans," Batiste tells me, "because it's one of the last cities where there's music for everything." New Orleans is famous not just for its music, but for the way music suffuses the everyday, making it indivisible from living. "It's a part of your daily existence, to see people playing," Batiste says. "For funerals there's music, when people are born, there's music. There's music for when you're eating, there's music on Sundays for second line. It's kind of just one of those things that I kind of don't know if I actually realized it in a specific moment. I kind of just took it for granted that everywhere in the world was like that."
The rest of the world is not like New Orleans. Batiste's hometown boasts a lineage of bold-faced entertainers, the founders of American music, that he reveres and emulates: Jelly Roll Morton, Louis Armstrong, and the late Fats Domino, who Batiste eulogized in the New York Times in the days after his death. "They're kind of like the Founding Fathers of the Constitution," he says. "They set a course for us all to follow." For Batiste, discovering Domino through the fog of nu-metal and rap-rock that had become ascendant on the radio of his youth in the 1990s was a powerful opportunity not only to understand music, but to connect with the place he came from.
As intoxicating as the music in the air and water of his hometown was, it was the influence and example of his family that demonstrated the catalyzing power of music. His surname sits alongside Toussaint and Marsalis in New Orleans' musical governorship, and his tutelage was less a personal interest than it was a birthright. "More than even being in New Orleans, it was being around my father, my uncles, and the family band," he says. He remembers being thrown into the fire early, switching to piano in the Batiste Brothers Band at his mother's suggestion at 11. "They just really knew how to get people to jam and be happy. Basic good times." 
Batiste took in the power of music and became one of the most visible young savants in music in New Orleans, and that inspiration ultimately led him to New York, thanks to Juilliard. "It may have been something that was latent at first, but it was definitely innate from the beginning," he explains. "But I just never really knew how to describe it until years after leading my own band and being on my own in New York I was able to figure out how to articulate that, that vision."
At Juilliard, Batiste tapped into a metropolis that was in some ways reminiscent of his home, yet wholly unique. "There's similarities in that it's a mix, it's a mix of different cultures and people are very open to that," he told me. But New York differs in its heterogeneity, its mix of the whole world. "So much of the arts that you can experience, just in Lincoln Center," Batiste explains. "Then you go down to the Village and there's another scene, the East Village is another scene, go to Harlem is another scene, go to Chinatown—I was discovering all these things. Go to the Cloisters uptown. It was amazing. I don't know if I felt shocked more than I felt a sense of belonging. I felt a burst of energy, like I was in the right place."
Batiste's mention of Lincoln Center isn't accidental: He has a long and close relationship with Wynton Marsalis, who directs Jazz at Lincoln Center, and, like Batiste, Marsalis is a fellow bayou-prince-in-exile. With his dual roles at The Late Show and the National Jazz Museum, Batiste now stands with Wynton in heading three of New York City's most influential musical institutions. Like Marsalis, he's committed to using his perch to open ears. Five hundred people in the Late Show's studio audience—plus three million at home—bear weekday witness to Batiste's virtuosity and ecumenical tastes. "We'll be on the show and we'll be playing music from all different types of artists, from contemporary artists, we played all Bach one night, some nights we'll play Duke Ellington, or we'll play Steven Foster, or Nina Simone. Fats Domino passed away and we played a night that was all his music."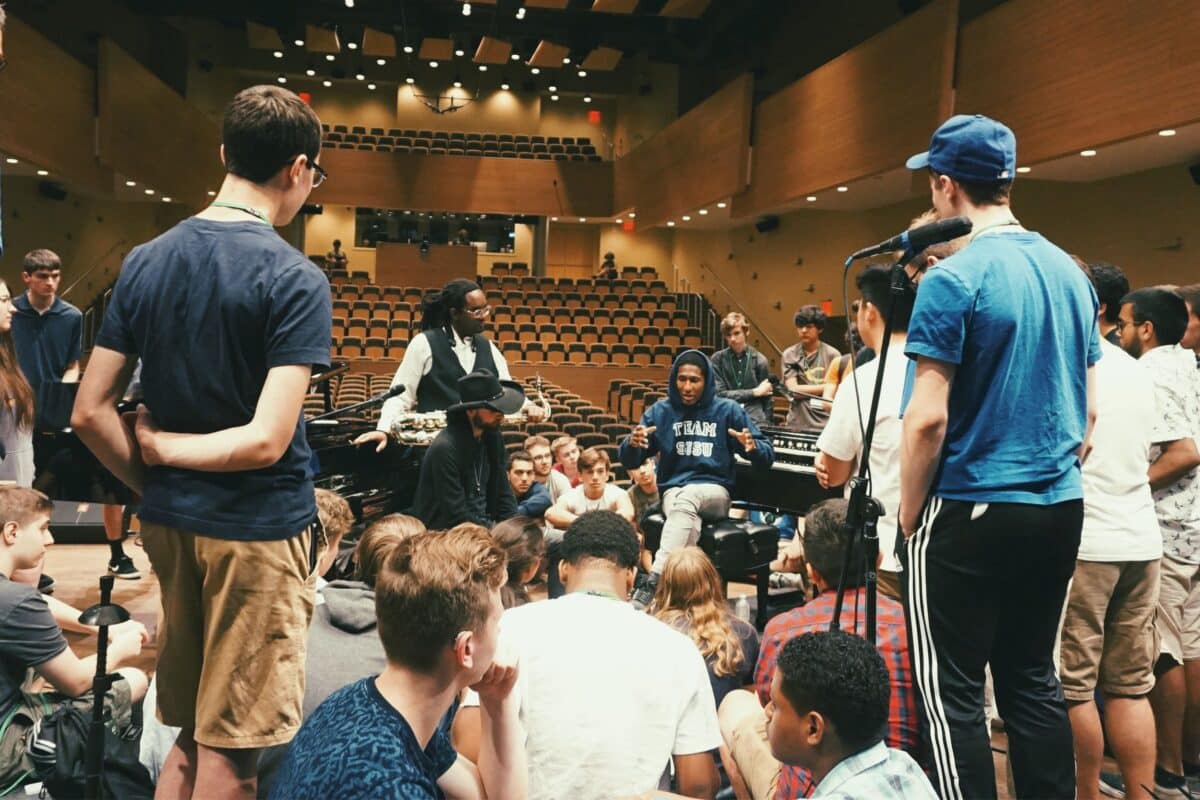 These myriad tastes meet his tens-of-thousands of followers on Twitter by way of Batiste's #fastiste videos, 12-second video explosions of virtuosity. There, he films a bird's-eye view of the keyboard as he interprets the classics beside the songs of his youth, pouring Drake samples and Scott Joplin standards with original flair and abundant facility. It's all a way, he explains, of "planting the seed." Watching that seed grow is a daily pleasure for him. "It's amazing the kind of stuff we've seen on the road already," he attests. "Kids who are coming up to me, 17 years old, that are like, quoting stuff that I've played online, or like quoting stuff from records and playing it back for me, and I'm like 'Wow. There are people out here who are taking this stuff, and being inspired by it, and building on it, and doing stuff I didn't even think of doing with it.'"
For Batiste, exposing viewers to styles they might not be accustomed to hearing coming out of the commercial break is itself a deed. "That's the kind of stuff that, over time, over years, five nights a week, doing that, and Wynton doing what he's doing at Lincoln Center, and having done that for the last 30 years, it just keeps this music and this history out there for people, and we become a link in that chain. And the more we know about where we came from, the more we can know where we're trying to go."
Where we're trying to go. Batiste's embrace of music's history explains what he intends to build, on The Late Show and beyond. But as critical as this young visionary's ideas for the future are to his story, perhaps more inspiring is his lens of the past. He recently linked up with blues phenom Gary Clark Jr. and soul revivalist Leon Bridges to cover Crosby, Stills, Nash, & Young's "Ohio" for Ken Burns' harrowing PBS historical documentary The Vietnam War, and sees his contributions as part of a larger recognition of music's space in the conversation.
"I don't think people understand the impact of jazz to the world, and what that means in terms of everything that followed it," he relays. "Historically, I just think we should understand, especially Americans, that this is one of our greatest achievements." It's only by understanding Batiste's appreciation of the history of jazz that you can understand why he feels it is so critical to use it as a means of uniting people socially, and why he sees the term "social music" as instructive and guiding to his work. "Jazz was one of the first things that was integrated in America," he says. "Bands like Benny Goodman's band [were some] of the first things to integrate, way before we abolished all of the Jim Crow laws in the civil rights movement. I mean, jazz had such a profound tie to the history of America and race relations and understanding how we've grown."
But Batiste is a performer who believes in the transformative power of music, so don't let his historical perspective obscure his true belief about the art form: That it touches the heart before the head. "A basic enjoyment of jazz is something that I think a lot of people could be enriched by, not just the historic perspectives of it and everything like that," he explains. "I think that's the biggest thing, that people feel like they have to have a degree, or understand a litany of things before they can actually tap into the enjoyment and the beauty of jazz, when really, I think it's just an experience like anything else. You don't have to know anything, you just have to be open to the experience of it, and again, have access to it at the highest level. And I think that's more on the musicians than anyone else."
 "I think that a lot of people don't really understand how to present the music, and how to really take it and put it in a context that is entertaining, but also still maintains the level of depth and virtuosity and nuance that the greats did," Batiste says. "But if you look at the history, that's what they did! Duke Ellington was an incredible entertainer. Jelly Roll Morton—incredible entertainer. Louis Armstrong—incredible entertainer. Dizzy Gillespie, Sarah Vaughan, Billie Holiday, Ella Fitzgerald, Count Basie, Frank Sinatra—everyone I'm naming, I'm just thinking of all the greats that I love and am inspired by from the golden era of music."
"I actually believe we're missing a huge portion of the culture of jazz, we're missing a huge portion of the culture that would make it 100 times more accessible." So that's Jon Batiste's mission, or at least a big part of it: Help reintroduce people to the qualities that made them–Batiste included-–fall in love with the music in the first place, and, while he's at it, use it to connect the disconnected. "That's what I think I can contribute, culturally, and socially, and politically, really," he explains. "It's just about bringing people together, that's it."
He can judge how well he's doing just by taking a look around at the reaction of his audience. "Whatever you hear that resonates with you, it's because it's in you," he says. "It's somewhere in you, you just have to find it." From his piano chair, five nights a week, Batiste is playing for you.