Articles
| Audience Engagement
The Inside
Story
How Fifth House Ensemble harnesses the power of narrative to reach new audiences.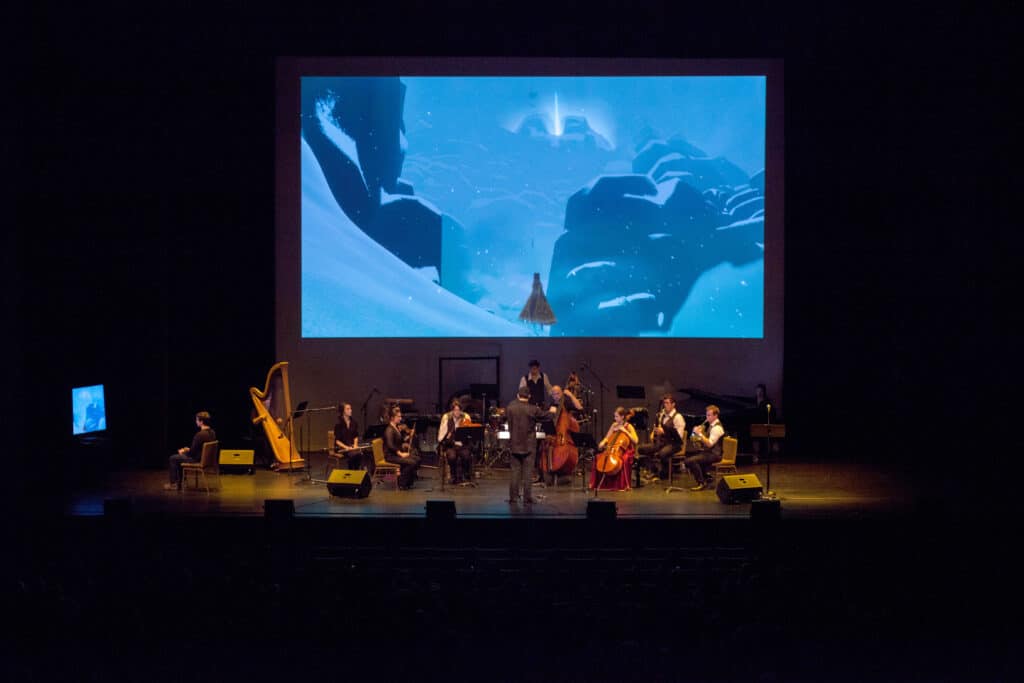 It may seem like there's little common ground among the testimonies of incarcerated men, a musical score composed for a video game, original blues tunes written by women experiencing homelessness… and a chamber music group. But then, there's Chicago's Fifth House Ensemble, uniting disparate audiences under its three-pronged approach of studio practice, education, and civic engagement. Underlying this broad array of programmatic interests is a core focus on storytelling, achieved by asking whose stories need to be told, and how they can best be shared with the world. That impulse to share stories, combined with the power of music, allows 5HE to generate trust in a variety of sectors, and reach populations that might not otherwise experience chamber music. "We use storytelling to give people what they need in order to engage actively," says Melissa Snoza, executive director of 5HE, be it within their school, their neighborhood, or their own creative community.
Strength in Numbers
One of Fifth House Ensemble's latest projects is "Journey Live," something the artists describe as both the fulfillment of a ten-year-long dream and an event with a huge capacity-building component. Journey is a video game—often considered to be the most artful ever made—and "Journey Live" is an interactive performance of its score, the first of its kind to be nominated for a Grammy Award. During a "Journey Live" event, the game is played in real time, and the musicians respond to what's happening on-screen. As a result, no two performances are the same, and the audience—typically composed of a mix of video game fans, new music listeners, and the merely curious—gets a unique window into of the "live-ness" of the event.
5HE's Eric Snoza says the game's plot, in which a solitary character finds their place in an inhospitable world, inspires people on a deep level. "There's an immense amount of fan art and an incredible sense of community built around it," he says. It's a community 5HE has happily gained access to—and learned from—all while charting a potential new avenue for future collaborations.
Mutual learning of this sort extends throughout many of the ensemble's projects, perhaps none more centrally than its educational programs. 5HE created its first integrated educational residency the month it was founded, in 2005, and hasn't looked back. "We've been co-designing with classroom teachers ever since," says Ms. Snoza. But the ensemble hasn't always had an easy time finding receptive partners. Rather than graduating to a steady stream of willing collaborators and project opportunities, 5HE struggled to find peers within the chamber music community who were equally interested in centering education. "We looked outside of chamber music and learned best practices from other teaching artists," she says. The ensemble's classroom partners always drive the curriculum, and it's essential to 5HE that students, too, feel like mutual collaborators throughout the project.
Collaborative learning, with an emphasis on personal stories, figures into 5HE's work outside of K-12 and higher education settings, as well. When the ensemble took up residence at Deborah's Place, a Chicago organization that serves women experiencing homelessness, the artists learned that the women's preferred form of expression was poetry. Rather than force the participants to study music in a way that was unrelated to their interests, 5HE used blues music and lyrics as a clear bridge between the musical and the personal. "We started with blues poetry," says bassist Eric Snoza. "Then we started teaching them chord progressions, rhythm, and how to write their own melodies. By the end, the women were writing their own blues songs." 5HE went on to perform the participants' songs with them. "Our goal," says Ms. Snoza, "is to train artists who are in the process of building their own authentic life in music, with their own vision and values."
Call to Attention
The stories that animate 5HE's projects run the gamut from the hyper-personal, like those of the women at Deborah's Place, to broad political narratives affecting large swaths of the world. Often, the subject matter is potentially divisive. A few years ago, when 5HE started its project "Broken Text," amalgamating testimonies from formerly incarcerated men and high school students, the group was surprised to see how powerful storytelling could defuse a polarizing issue, making way for meaningful connections among community members. "It was basically a musical collaboration at the Raven Theater with students from a local high school," says cellist and teaching artist Herine Coetzee Koschak. "It was the first time we went into a more politically charged space. But seeing something like this first-hand gives it a lot of nuance."
In order to bridge the gap between the two populations who had contributed to the piece, 5HE brought the men to see a performance and facilitated a discussion among them and the students. It proved to be powerful for the students to meet the men whose narratives they performed. And that impact had positive fiscal results too. "Audience members were really moved by the performance, and I remember lots of people writing checks afterward," Koschak says. Ms. Snoza thinks the resonance made sense because the personal narratives of "Broken Text" broached a taboo topic in an accessible way. "The audience might not have understood that these are people in our communities. They can't ignore the issue."
5HE expanded on that model this year with "Degenerate Art," a still-running program focusing on music censored under Stalin, Hitler, and McCarthy, and artists who have otherwise been marginalized or suppressed. 5HE's partnerships with the American Civil Liberties Union (ACLU), Chicago street art collective CMK, and other community organizations allows the ensemble to cultivate a rich post-performance discussion about censorship and hear artists' stories from around the world. The ensemble has even hosted "Degenerate Art" parties, in which audience members are encouraged to create their own paintings and engage in conversation about free speech issues and the slippery slope of censorship in the 21st century.
Self-Evaluation and Capacity-Building
Because of its dual investment in civic engagement and artistic experimentation, Fifth House Ensemble take a methodical approach to cultivating both its creative partnerships and audience relationships. "It goes along a spectrum," says Mr. Snoza. "In our studio practice, we grow audiences through our collaborations in and out of the music industry. That allows us to reach new people and combine audiences." For the ensemble's civic and educational models, though, the group generally engages directly with a specific, non-musical organization or community, and would-be audience members become participants. "Communities have a desire to come to the concert because we've spent time talking with them about a particular topic," he says. "We work to determine which elements we can use to better tell their stories."
Part of that work is an extensive self-evaluation process. In school settings, the ensemble implements pre- and post-residency assessments for students and teachers. At social service organizations, 5HE hosts focus groups with the participants, teachers, and staff. "We already had documentation in place, but when we started working with the Loyola University Center for Urban Research and Learning, we discovered that it wasn't good enough to show, empirically, the effect our residencies were having," Ms. Snoza says. 5HE had already identified that its presence in educational settings resulted in higher retention rates and an increased likelihood that educators would continue to use 5HE's teaching methods. But continued research revealed greater layers of complexity. "We thought we would see skills-based gains," Ms. Snoza says. "But no matter the curriculum or location, we saw mindfulness, agency, collective decision making, and creativity, or the ability to envision a better world." Loyola University researchers tied these findings back to the adaptable mindsets and behaviors of the teaching artists, who co-designed the curriculum with the participants. "We do community work with the understanding that nothing happens without listening," Mr. Snoza says. "People want to be heard, and it's our goal to make sure that happens."
9 Effective Practices for Building Arts Audiences
The work of Fifth House Ensemble offers broadly applicable lessons in how an ensemble or presenting organization can proactively engage a broad spectrum of audiences, and both sustain and build upon its existing base. To demonstrate how to apply these strategies to your own work, we've broken down one of 5HE's recent projects, Nedudim, into the Nine Effective Practices for Building Audiences for the Arts, a model devised by The Wallace Foundation
Recognize When Change Is Needed:

Relevancy is on the mind of nearly everyone in the chamber music field. 5HE takes a ground-up approach, designing projects around collaborative partnerships with diverse organizations, many of them with no direct arts affiliation, to access new audiences. In Nedudim, 5HE partnered the Mediterranean folk ensemble Baladino, as well as a series of cultural organizations across Chicago, representing Israel, Iran, Germany, and Spain.

Identify the Target Audience That Fits:

With help from its creative partners, 5HE reached out to a diverse array of communities in the Chicago area whose cultures were reflected in the work. The subsequent conversations were used to shape the performance itself.

Determine What Kind of Barriers Need to be Removed:

Making Nedudim accessible to the aforementioned communities was of paramount importance, as was establishing a respectful and sensitive dialogue around the work. 5HE staged performances in easily accessible and culturally-appropriate locations, and partner organizations helped bridge the gap with unfamiliar constituencies.

Take Out the Guesswork:

Audience research can be indispensable in crafting an audience-building strategy. 5HE utilized a rigorous research process before Nedudim was premiered, establishing their target audiences' interests, musical preferences, and other relevant information.

Think Through the Relationship:

In Nedudim, as in many of 5HE's projects, the ensemble drew relevant communities into the work in various stages, from research, to workshopping, to performances.

Provide Multiple 'Ways In':

Members of 5HE attended various cultural events and also staged their own, bringing disparate communities together for informal dialogues, and offering hospitalities like culturally appropriate food. Offering a variety of engaging experiences can help solidify relationships with new patrons.

Align the Organization Around the Strategy:

5HE's performers and teaching artists also serve in leadership positions in the ensemble. Ensuring that an organization's various members are aligned around its audience-building strategies increases the likelihood of success.

Build in Learning:

5HE uses an extensive documentation and self-evaluation process, and seeks out projects with extensive capacity-building components. Read some of 5HE's Case Studies at www.chamber-music.org/extras.

Prepare for Success:

As its programs have grown more ambitious, 5HE has increased its capacities to meet new challenges and opportunities.